Fantasy Baseball: Daily Pitcher Rankings (August 6th)
Fantasy Baseball: Daily Pitcher Rankings (August 6th)
By Muntradamus
You Can see my Pitcher Rankings From yesterday by clicking here.
BEAST DOME NATION.
After winning my second seat in the Q, I hope you enjoy my content even more below.
RYAN HOWARD: Got a walk-off single and treated the moment like a true G not getting excited.  Look for him to pick it up.
JOSH REDDICK: Finally did something with a runner in scoring position, launched a 3 run HR. He could get very hot again.
MIGUEL CABRERA: Hit a walkoff 2 run HR that was part of a 5 run 10th. Chris Perez gave up the big INN, he has to bounce back or Pestano will take over.
EDWIN ENCARNACION: Got it going with a HR in that huge ball park in Oakland.  Look for him to have a big week now that he is out of spacious Seattle and Oakland.
ANTHONY RIZZO: Hit his 2nd Sunday HR in a row.
Look out for the BEAST DOME FANTASY FOOTBALL DRAFT GUIDE tonight.

Ask me any fantasy questions about players.
PLAYER RANKINGS (August 6th):
*Top 5 at each Position will be back Saturday.

C:
A.J. PIERZYNSKI
WILIN ROSARIO
A.J. ELLIS
JARROD SALTALAMACCHIA
MIKE NAPOLI
1B/DH:
RYAN HOWARD
PRINCE FIELDER
ADRIAN GONZALEZ
ALBERT PUJOLS

ADAM DUNN
2B:
IAN KINSLER
CHASE UTLEY
ROBINSON CANO
DUSTIN PEDORIA
OMAR INFANTE
3B:
MIGUEL CABRERA
KEVIN YOUKILIS
CHASE HEADLEY
RYAN ZIMMERMAN
WILL MIDDLEBROOKS
SS:
JOSH RUTLEDGE
ELVIS ANDRUS
JOSE REYES
MIKE AVILES
JIMMY ROLLINS
OF:
MIKE TROUT
MATT KEMP
CARL CRAWFORD
MICHEAL MORSE
CARLOS QUENTIN

HR PICKS OF THE DAY (August 6th):
New week..
Week 13= 22.8%
Week 14= 20.2%

Week 15= N/A.

Week 16= 20.2%
Week 17 = 23.9%
Week 18 =18/67 = 26.8%
Week 19 =

SELECTIONS:

RYAN HOWARD
JOSH HAMILTON
CARLOS QUENTIN
ALFONSO SORIANO
STARLIN CASTRO
ADRIAN GONZALEZ
PRINCE FIELDER
NELSON CRUZ
MATT KEMP
JAY BRUCE
RYAN BRAUN

DAILY DRAFTSTREET TEAM (August 6th):
*To say thank you for my picks all week.  Please use the BEAST DOME logo below as your DRAFTSTREET ICON.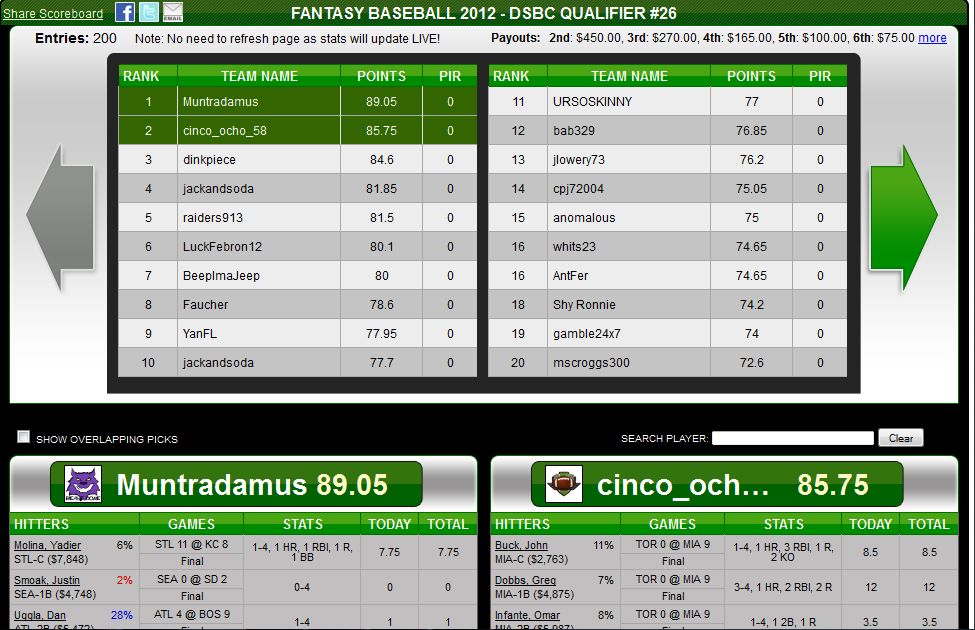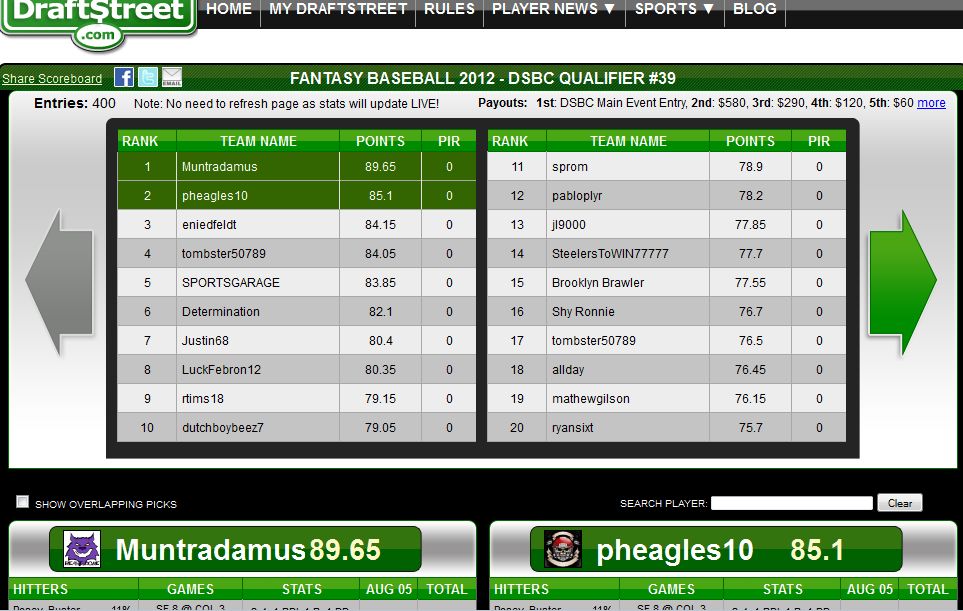 I will give my Pick'em Teams for now the next two weeks.  Since I have two seats in the upcoming DSBC, I will not be showing my hand of strategy.
Feel free to use this in the survivor.
Tier 1: CHRIS CAPUANO
Tier 2: MATT KEMP
Tier 3: ADRIAN GONZALEZ
Tier 4: PRINCE FIELDER
Tier 5: AUSTIN JACKSON
Tier 6: CARLOS QUENTIN
Tier 7: ADAM DUNN
Tier 8: CHASE HEADLEY
BET OF THE DAY (August 6th:)
Week 12: 6-1
Week 13: 5-2
Week 14: 3-4
Week 15: 1-2
Week 16: 4-3
Week 17: 5-2

Week 18: 5-2
CHICAGO WHITE SOX MONEY LINE
Chris Sale has owned the Royals in the past. Despite coming off of a nice Win, I expect Sale to continue his dominance while Luis Mendoza will do his best to allow less than 4 ERs.  It will not take much run support to get Sale his W.
Daily Pitcher Rankings (August 6th):
ELITE STARTS:
1. JERED WEAVER @ OAK
2. CHRIS SALE VS. KC
GOOD STARTS:
3. SCOTT DIAMOND @ CLE
4. CHRIS TILLMAN VS. SEA
5. JASON VARGAS @ BAL
6. MATT CAIN @ STL
7. JARROD PARKER VS. LAA
8. ERIK BEDARD VS. ARI
9. WADE MILEY @ PIT
10. JUSTIN VERLANDER VS. NYY
ROLL THE DICE:
11. YOVANI GALLARDO VS. CIN
12. EDWIN JACKSON @ HOU
13. ZACH MCALLISTER VS. MIN
14. CHRIS CAPUANO VS. COL
15. BEN SHEETS @ PHI
16. VANCE WORLEY VS. ATL
17. JAKE WESTBROOK VS. SF
18. ERIC STULTS VS. CHC
RISKY:
19. LUIS MENDOZA @ CWS
20. BRONSON ARROYO @ MIL
21. IVAN NOVA @ DET
22. TRAVIS WOOD @ SD
23. DREW POMERANZ @ LAD
24. YU DARVISH @ BOS
25. AARON COOK VS. TEX
26. DALLAS KUECHEL VS. WAS
Muntradamus is a Fantasy Sports Expert who specialize in Fantasy Football/Baseball/Basketball. He is currently in his first season as a Pro on FantasyPros where he is the only expert to have Adam Dunn, Mike Aviles, and Wilin Rosario in his top 20 at each position. Muntradamus not only leads many to championships with his great advice, and outlooks into the future. He is also consistently on the top of leaderboards in DraftStreet. In August he will compete in a $200K tournament that he qualified for of 40 people, he won two seats.