Fantasy Baseball Daily Pitcher Rankings (August 31st)
Fantasy Baseball
Daily Pitcher Rankings (August 31st)
By Muntradamus
To see yesterday's Daily Pitcher Rankings follow the link.
BEAST DOME NATION.
It's now or never time.  Ask me your fantasy baseball questions as we head towards the end stretch of the season!  #NowOrNever.
* PLAYOFF PLAYER RANKINGS COMING THIS WEEKEND!
RONALD BELISARIO: Is a Must-ADD in all leagues as Kenley Jansen is dealing with heart problems.  I'm no doctor, but usually a heart problem could result in being out the rest of the season.  Belisario will be an ELITE closer option.
JAMES LONEY: Finally figuring out how to hit the ball.  Probably not better than your current 1B option, but he is getting hot.
BRYCE HARPER: Hit his 3rd HR in two games.  Someone call the R.O.Y voting polls for the NL  Todd Frazier has the next move.
TODD FRAZIER: Is reported as likely to head back to the bench when Joey Votto returns.
KYLE KENDRICK: Is the best pitcher on the Phillies right now, solid sneaky add if you need a streamer next week.
SERGIO ROMO: Continues to get saves for the Giants, like I predicted.  
RAFAEL FURCAL: Could be out for the season, word waits on his elbow that appears to be torn.
STEPHEN STRASBURG: Will make two or three more starts this season.  Only if you could go back in time and listen to me.
ZACK GREINKE: Finally looking good in the AL after a rough start.  He is safe to use moving forward.
HOWIE KENDRICK: Could miss a game with a sore knee.
FERNANDO RODRIGUEZ: Blew a 2 run save while Axford took the night off.  What was once a great career, is now turning into a Kenny Powers type of story.
DAILY PLAYER RANKINGS (AUGUST 31st)
*Players I like by position. Is now exclusive to only V.I.P. #2 Package members.  Try it out for a week, if you do not win any day you get a 50% refund.  That is the Muntradamus guarntee.  Along with daily salary cap teams, you get all the players I like at each position to create your own.  Send me an e-mail at [email protected].
HR picks and Pitcher Rankings are still below for you seasonal owners to win that championship!


HR PICKS OF THE DAY (AUGUST 31st)
Take a moment of silence as I was just able to edge out my 8th straight week of 20% or greater.
*NEW NOTABLE MUNTRADAMUS HR SHOTS CALLED OF THE WEEK.

Monday: Robinson Cano 2 HR game.
Tuesday: Ryan Howard/Cover man of the day/ Grand Slam.
Wednesday: 7 right picks including Evan Longoria 2 HR game.
Thursday: Ryan Braun does it again.

Week 13= 22.8%
Week 14= 20.2%

Week 15= N/A.

Week 16= 20.2%
Week 17 = 23.9%
Week 18 = 26.8%
Week 19 =  23.01%
Week 20: = 23.31%
Week 21 = 20.4%
Week 22 =11/46 = 23.91%

SELECTIONS:
JASON KUBEL
TODD FRAZIER
JOSH HAMILTON
JOSH REDDICK
CHASE HEADLEY
CURTIS GRANDERSON
ROBINSON CANO
WILIN ROSARIO
RYAN BRAUN
JOSH RUTLEDGE
ADAM DUNN
PEDRO ALVAREZ
JOSH WILLINGHAM
IKE DAVIS
JASON KIPNIS
JOHN MAYBERRY JR.

DAILY DRAFTSTREET TEAM (AUGUST 31st)
*To say thank you for my picks all week.  Please use the BEAST DOME logo below as your DRAFTSTREET ICON.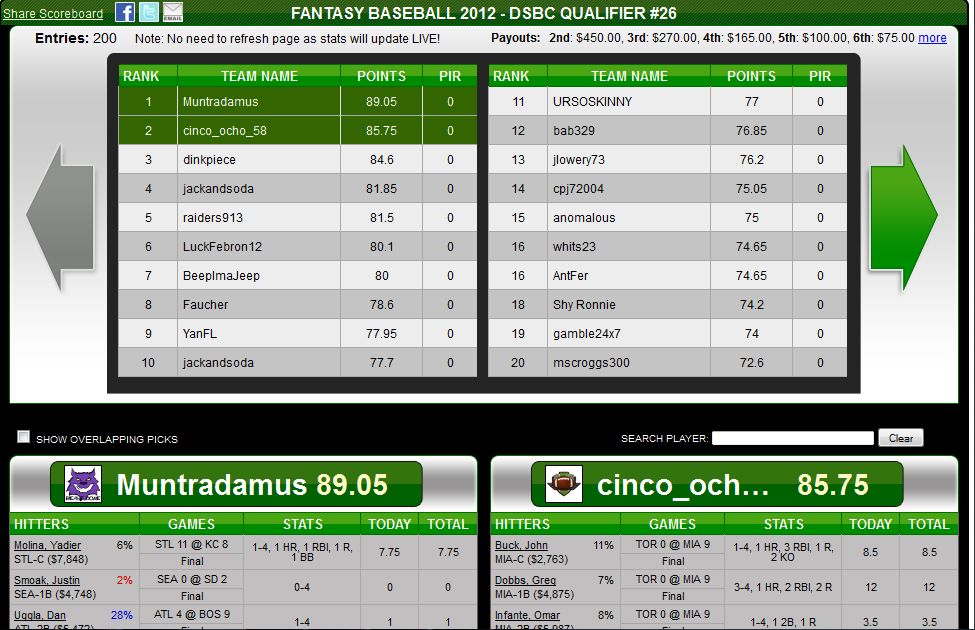 No more free picks.  If you want my picks for the week you can check out V.I.P package #2.  [email protected]. 50% money back guarantee if you do not win any games that week.

BET OF THE DAY (AUGUST 31st)
OVERALL RECORD = 43-22
*Want all my picks to do parlays?  E-mail [email protected]
Week 12: 6-1
Week 13: 5-2
Week 14: 3-4
Week 15: 1-2
Week 16: 4-3
Week 17: 5-2
Week 18: 5-2
Week 19 : 4-3
Week 20: 5-0
Week 21: 5-2
Week 22: 3-1
REDS MONEY LINE
Mike Leake may not be the safest pitcher, but the Astros are the worst team in baseball at this moment.  I like Leake to get by with a QS while the Astros send Abad and his terrible control to all those power hitting right handed hitters.  Watch out.

DAILY PITCHER RANKINGS (AUGUST 31st)
ELITE STARTS:
1. MADISON BUMGARNER @ CHC
2. R.A. DICKEY @ MIA
GOOD STARTS:
3. HIROKI KURODA VS. BAL
4. JAKE PEAVY @ DET
5. GIO GONZALEZ VS. STL
6. JEREMY HELLICKSON @ TOR
7. MIKE MINOR VS. PHI
8. DAN HAREN @ SEA
9. BRANDON MCCARTHY VS. BOS
ROLL THE DICE:
10. MIKE LEAKE @ HOU
11. ADAM WAINWRIGHT @ WAS
12. BRANDON MORROW VS. TB
13. RYAN DEMPSTER @ CLE
14. NATE EOVALDI VS. NYM
15. WILL SMITH VS. MIN
16. ROY HALLADAY @ ATL
17. MARK ROGERS VS. PIT
18. DOUG FISTER VS. CWS
19. TREVOR CAHILL @ LAD
20. JEFF KARSTENS @ MIL
21. CLAYTON RICHARD @ COL
22. KEVIN MILLWOOD VS. LAA
23. MIGUEL GONZALEZ @ NYY
RISKY:
24. ALEX WHITE VS. SD
25. COLE DE VRIES @ KC
26. AARON COOK @ OAK
27. UBALDO JIMENEZ VS. TEX
28. FERNANDO ABAD VS. CIN
29. AARON HARANG VS. ARI
30. CHRIS VOLSTAD VS. SF

Muntradamus is a Fantasy Sports Expert who specializes in Fantasy Football/Baseball/Basketball. He is currently in his first season as a Pro on FantasyPros where he is the only expert to have Adam Dunn, Mike Aviles, and Wilin Rosario in his top 20 at each position. Muntradamus not only leads many to championships with his great advice, and outlooks into the future. He is also consistently on the top of leaderboards in DraftStreet.