Fantasy Baseball Daily Pitcher Rankings (August 30th)
Fantasy Baseball
Daily Pitcher Rankings (August 30th)
By Muntradamus
To see yesterday's Daily Pitcher Rankings follow the link.
BEAST DOME NATION.
Thank you for your patience as our server returns to normal. Should be all systems go very soon.

It's now or never time.  Ask me your fantasy baseball questions as we head towards the end stretch of the season!  #NowOrNever.
CC Sabathia: Falls to the hopeless Blue Jays at home.  Did not see that one coming.
Pedro Alvarez: Continues BEAST MODE, and I called him out before any Fantasy Expert did on the waiver wire.
Bryce Harper: Finally got a 2 HR game.  Mike Trout stole his rookie thunder.
Jon Axford: Is the Brewers closer in case he is sitting on any waiver wire.
Trevor Plouffe: Hit a HR, time to get your fantasy radar guns out.
Huston Street: Will be the closer for the Padres on Sunday, Must-Own/Must-Start for him.
* PLAYOFF PLAYER RANKINGS COMING THIS WEEKEND!
Ask me or anyone in the BEAST DOME NATION fantasy questions about players.
DAILY PLAYER RANKINGS (AUGUST 30th)
*Players I like. 
C
RYAN DOUMIT
MATT WIETERS
JOE MAUER
CARLOS SANTANA
1B
PAUL KONERKO
PRINCE FIELDER
MARK REYNOLDS
ADRIAN GONZALEZ
IKE DAVIS
ALBERT PUJOLS
PAUL GOLDSCHMIDT
ANTHONY RIZZO
BRANDON MOSS
2B
AARON HILL
SCOTT MOORE
GORDON BECKHAM
JASON KIPNIS
HOWARD KENDRICK
3B

ARAMIS RAMIREZ
KEVIN YOUKILIS
EVAN LONGORIA
KYLE SEAGER
MIKE MOUSTAKAS
SS
ALEXEI RAMIREZ
ALCIDIES ESCOBAR
ASDRUBAL CABRERA
STARLIN CASTRO
OF
MIKE TROUT
RYAN BRAUN
MARK TRUMBO
COREY HART
JACOBY ELLSBURY
ANGEL PAGAN
DAYAN VICIEDO
ANDRE ETHIER
ALEX GORDON
VERNON WELLS

HR PICKS OF THE DAY (AUGUST 30th)
Take a moment of silence as I was just able to edge out my 8th straight week of 20% or greater.
*NEW NOTABLE MUNTRADAMUS HR SHOTS CALLED OF THE WEEK.

Monday: Robinson Cano 2 HR game.
Tuesday: Ryan Howard/Cover man of the day/ Grand Slam.
Wednesday: 7 right picks including Evan Longoria 2 HR game.

Week 13= 22.8%
Week 14= 20.2%

Week 15= N/A.

Week 16= 20.2%
Week 17 = 23.9%
Week 18 = 26.8%
Week 19 =  23.01%
Week 20: = 23.31%
Week 21 = 20.4%
Week 22 =10/37 = 27.02%

SELECTIONS:

RYAN BRAUN
COREY HART
ARAMIS RAMIREZ
DAYAN VICIEDO
IKE DAVIS
ALBERT PUJOLS
MIKE TROUT
SCOTT MOORE
PAUL GOLDSCHMIDT
MARK REYNOLDS
DAILY DRAFTSTREET TEAM (AUGUST 30th)
*To say thank you for my picks all week.  Please use the BEAST DOME logo below as your DRAFTSTREET ICON.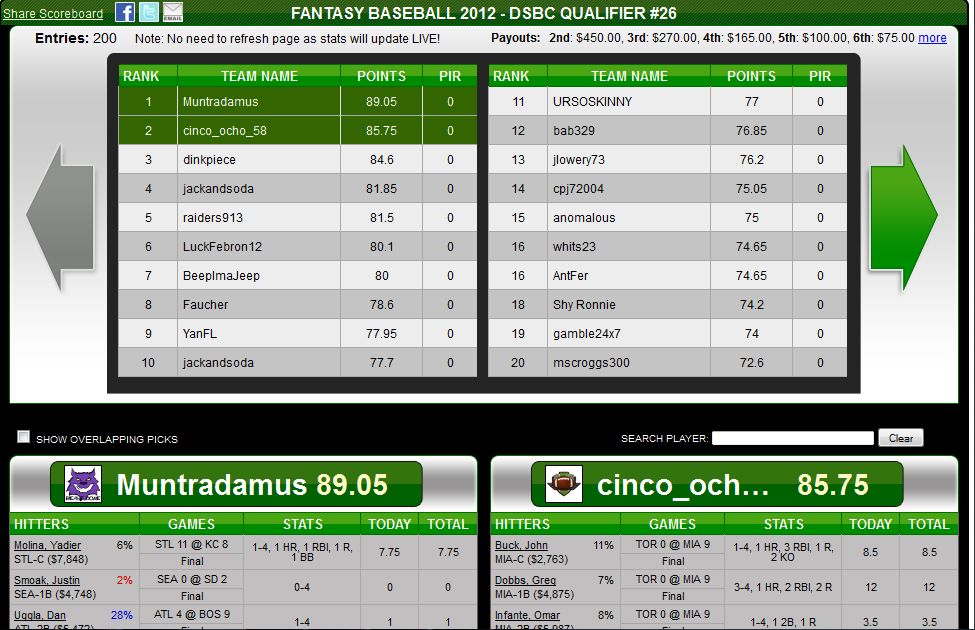 No more free picks.  If you want my picks for the week you can check out V.I.P package #2.  [email protected]

BET OF THE DAY (AUGUST 30th)
OVERALL RECORD = 42-22
*Want all my picks to do parlays?  E-mail [email protected]
Week 12: 6-1
Week 13: 5-2
Week 14: 3-4
Week 15: 1-2
Week 16: 4-3
Week 17: 5-2

Week 18: 5-2
Week 19 : 4-3
Week 20: 5-0
Week 21: 5-2
Week 22: 2-1
SF MONEY LINE
Vogelsong has not been himself since the All-Star Break, but he should be able to handle an Astros squad that is very beatable any day of the week.  Jordan Lyles takes the mound for the Stros, and that is not a good thing as this team has already thrown in the towel.  SF should put up some runs in this one.
DAILY PITCHER RANKINGS (AUGUST 30th)

ELITE STARTS:
1. MATT MOORE @ TOR
GOOD STARTS:
2. CLAYTON KERSHAW VS. ARI
3. RYAN VOGELSONG @ HOU
4. JUSTIN MASTERSON VS. OAK
5. JAMIE GARCIA @ WAS

6. JONATHAN NIESE @ PHI
7. ZACK GREINKE VS. BOS
8. JON LESTER @ LAA

ROLL THE DICE:
9. SHAUN MARCUM @ CHC
10. JARROD PARKER @ CLE
11. EDWIN JACKSON VS. STL
12. JOSE QUINTANA @ BAL
13. CARLOS VILLANUEVA VS. TB
14. KYLE KENDRICK VS. NYM
15. RICK PORCELLO @ KC
16. BLAKE BEAVEN @ MIN
17. IAN KENNEDY @ LAD
18. BRIAN DUENSING VS. SEA
19. JEREMY GUTHRIE VS. DET

RISKY:
20. ZACH BRITTON VS. CWS
21. JORDAN LYLES VS. SF
22. BROOKS RALEY VS. MIL


Muntradamus is a Fantasy Sports Expert who specializes in Fantasy Football/Baseball/Basketball. He is currently in his first season as a Pro on FantasyPros where he is the only expert to have Adam Dunn, Mike Aviles, and Wilin Rosario in his top 20 at each position. Muntradamus not only leads many to championships with his great advice, and outlooks into the future. He is also consistently on the top of leaderboards in DraftStreet.