Fantasy Baseball: Daily Pitcher Rankings (August 29th)
Fantasy Baseball
Daily Pitcher Rankings (August 29th)
By Muntradamus
To see yesterday's Daily Pitcher Rankings follow the link.
BEAST DOME NATION.
Thank you for your patience as our server returns to normal. Should be all systems go very soon.

It's now or never time.  Ask me your fantasy baseball questions as we head towards the end stretch of the season!  #NowOrNever
 Alfredo Aceves: Has officially handed the closer job to Bailey after blowing another save.
Pedro Alvarez: Has been a monster, and I called him out before any Fantasy Expert did on the waiver wire.
Chris Tillman: Proving he is a pitcher worth holding onto and is close to matchup proof at home.
Tom Milone: Pitches another shutout to earn the W.  He was one of my many great predictions in the 2nd half wavier wire All-Stars.
Sergio Romo: Has won the closer job.  Another great prediction in my 2nd half waiver wire all-stars.  Add him in all leagues.
Matt Kemp: Crashed into the wall.  He may miss a game, but he did stay in for a little while before getting pulled.
Yu Darvish: Pitched a gem with over double digit Ks. I would use him with confidence going forward despite whatever matchup he faces.
Ask me or anyone in the BEAST DOME NATION fantasy questions about players.
DAILY PLAYER RANKINGS (AUGUST 29th)
*Players I like. 
C
BUSTER POSEY
MIGUEL MONTERO
MATT WIETERS
SALVADOR PEREZ
CARLOS SANTANA
RYAN DOUMIT
1B
PAUL KONERKO
ALLEN CRAIG
ALBERT PUJOLS
BILLY BUTLER
IKE DAVIS
2B
DUSTIN PEDROIA
ROBINSON CANO
DANNY ESPINOSA
GORDON BECKHAM
IAN KINSLER
3B
DAVID WRIGHT
CHASE HEADLEY
EVAN LONGORIA
MIKE MOUSTAKAS
MIGUEL CABREA
PEDRO ALVAREZ
DAVID FREESE
HANLEY RAMIREZ
SS
STARLIN CASTRO
JHONNY PERALTA
JOSE REYES
ALEXEI RAMIREZ
ALCIDIES ESCOBAR
ELVIS ANDRUS
OF
MIKE TROUT
MATT HOLLIDAY
GIANCARLO STANTON
JOSH WILLINGHAM
JOSH HAMILTON
ALEX GORDON
DELMON YOUNG
YOENIS CESPEDES
BRYCE HARPER
JOSH REDDICK
ADAM JONES

HR PICKS OF THE DAY (AUGUST 29th)
Take a moment of silence as I was just able to edge out my 8th straight week of 20% or greater.
*NEW NOTABLE MUNTRADAMUS HR SHOTS CALLED OF THE WEEK.

Monday: Robinson Cano 2 HR game.
Tuesday: Ryan Howard/Cover man of the day/ Grand Slam.

Week 13= 22.8%
Week 14= 20.2%

Week 15= N/A.

Week 16= 20.2%
Week 17 = 23.9%
Week 18 = 26.8%
Week 19 =  23.01%
Week 20: = 23.31%
Week 21 = 20.4%
Week 22 =3/12 = 25%

SELECTIONS:
DAYAN VICIEDO
TYLER COLVIN
KENDRYS MORALES
MIKE TROUT
YOENIS CESPEDES
MATT HOLLIDAY
ALLEN CRAIG
DAVID FRESE
JOSH HAMILTON
PAUL KONERKO
NICK MARKAKIS
ROBINSON CANO
GIANCARLO STANTON
BUSTER POSEY
RYAN HOWARD
CHASE UTLEY
TODD FRAZIER
DUSTIN PEDROIA
CHASE HEADLEY
EVAN LONGORIA
JOSH WILLINGHAM
DELMON YOUNG
PEDRO ALVAREZ
HANLEY RAMIREZ
DAILY DRAFTSTREET TEAM (AUGUST 28th)
*To say thank you for my picks all week.  Please use the BEAST DOME logo below as your DRAFTSTREET ICON.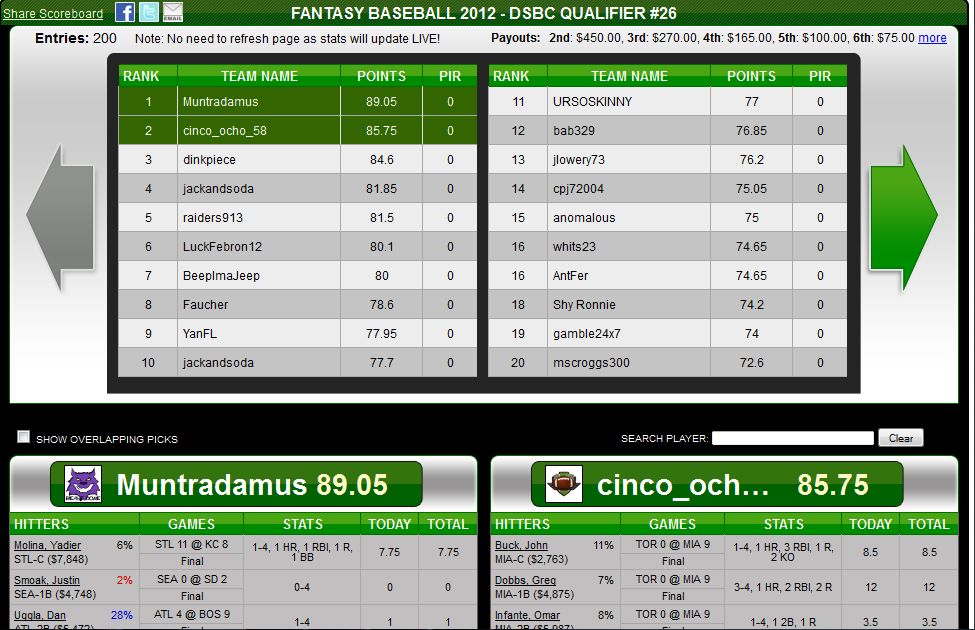 No more free picks.  If you want my picks for the week you can check out V.I.P package #2.  [email protected]

BET OF THE DAY (AUGUST 29th)
OVERALL RECORD = 42-21
*Want all my picks to do parlays?  E-mail [email protected]
Week 12: 6-1
Week 13: 5-2
Week 14: 3-4
Week 15: 1-2
Week 16: 4-3
Week 17: 5-2

Week 18: 5-2
Week 19 : 4-3
Week 20: 5-0
Week 21: 5-2
Week 22: 2-0
NYY MONEY LINE
CC on the mound against the Blue Jays in New York is a victory before he even steps on the mound.  The Jays have thrown in the towel.   Happ could surprise us with a good game, but he has to be nearly perfect to keep up pace with CC.
DAILY PITCHER RANKINGS (AUGUST 29th)

ELITE STARTS:
1. CC SABATHIA VS. TOR
2. COLE HAMELS VS. NYM
GOOD STARTS:
3. MATT HARRISON VS. TB
4. MAT LATOS @ ARI
5. TOMMY HANSON @ SD
6. MIKE FIERS @ CHC
7. JEFF SAMARDZIJA VS. MIL
8. BARRY ZITO @ HOU

ROLL THE DICE:
9. C.J. WILSON VS. BOS
10. JASON VARGAS @ MIN
11. MATT HARVEY @ PHI
12. PATRICK CORBIN VS. CIN
13. BRUCE CHEN VS. DET
14. TRAVIS BLACKLEY @ CLE
15. ERIC STULTS VS. ATL
16. DALLAS KEUCHEL VS. SF
17. ROSS DETWILER @ MIA
18. SAMUEL DEDUNO VS. SEA
19. JOE KELLY @ PIT
20. DREW POMERANZ VS. LAD
21.J.A. HAPP @ NYY
22. JACOB TURNER VS. WAS
RISKY:
23. JOE SAUNDERS VS. CWS
24. DYLAN AXELROD @ BAL
25. ALEX COBB @ TEX
26. WANDY RODRIGUEZ VS. STL
27. COREY KLUBBER VS. OAK
28. ZACH STEWART @ LAA
29. ANIBAL SANCHEZ @ KC
30. JOE BLANTON @ COL
Muntradamus is a Fantasy Sports Expert who specializes in Fantasy Football/Baseball/Basketball. He is currently in his first season as a Pro on FantasyPros where he is the only expert to have Adam Dunn, Mike Aviles, and Wilin Rosario in his top 20 at each position. Muntradamus not only leads many to championships with his great advice, and outlooks into the future. He is also consistently on the top of leaderboards in DraftStreet.