Fantasy Baseball: Daily Pitcher Rankings (August 28th)
Fantasy Baseball:
Daily Pitcher Rankings (August 28th)
By Muntradamus
To see yesterday's Daily Pitcher Rankings follow the link.
BEAST DOME NATION.
Thank you for your patience as our server returns to normal. Should be all systems go very soon.

It's now or never time.  Ask me your fantasy baseball questions as we head towards the end stretch of the season!  #NowOrNever
Erik Bedard:who I mentioned yesterday should not be on fantasy baseball team, is now not on any MLB team.
Luke Gregerson: Got the save for the Padres with Thayer back.  Time to add one of the best setup men in the game until Street returns.
David Phelps: Not as bad as people expected him to be, but still not someone you want to trust.  Think high-end Freddy Garcia.
Casey Kelly: Did well in his first MLB start.  Not the best short-term value, your wire likely has more to offer.
Brett Anderson: Continues to deal and is a MUST-OWN pitcher moving forward.
Jacoby Ellsbury: Launched HR #2, here he comes.
Aramis Ramirez: Hit 2 HRs to continue to remind us that he is one of the best 2nd half players in the game.
Ask me or anyone in the BEAST DOME NATION fantasy questions about players.
DAILY PLAYER RANKINGS (AUGUST 28th)
*Players I like. 
C
Wilin Rosario
Jesus Montero
Joe Mauer
Brian McCann
Ryan Doumit
Russell Martin
Alex Avila
1B
Adrian Gonzalez
Ryan Howard
Corey Hart
Ike Davis
Edwin Encarnacion
Prince Fielder
Freedie Freeman
Allen Craig
Adam Dunn
2B
Brandon Phillips
Chase Utley
Neil walker
Kelly Johnson
3B
Aramis Ramirez
Adrian Beltre
Kevin Youkilis
Chase Headley
Hanley Ramirez
Miguel Cabrera
Pedro Alvarez
Kyle Seager
SS
Jimmy Rollins
Josh Rutledge
Jose Reyes
OF
Ryan Braun
Mike Trout
Josh Hamilton
Josh Reddick
Matt Kemp
Jason Heyward
Matt Holliday
Colby Rasmus
Nelson Cruz
Bryce Harper
Ryan Ludwick
Josh Willingham

HR PICKS OF THE DAY (AUGUST 28th):
Take a moment of silence as I was just able to edge out my 8th straight week of 20% or greater.
*NEW NOTABLE MUNTRADAMUS HR SHOTS CALLED OF THE WEEK.

Monday: Robinson Cano 2 HR game.

Week 13= 22.8%
Week 14= 20.2%

Week 15= N/A.

Week 16= 20.2%
Week 17 = 23.9%
Week 18 = 26.8%
Week 19 =  23.01%
Week 20: = 23.31%
Week 21 = 20.4%
Week 22 =2/3 = 66%

SELECTIONS:
IKE DAVIS
RYAN LUDWICK
ADRIAN GONZALEZ
COREY HART
RYAN BRAUN
RYAN HOWARD
ARAMIS RAMIREZ
JOSH HAMILTON
ADAM DUNN
EDWIN ENCARNACION
DAILY DRAFTSTREET TEAM (AUGUST 28th)
*To say thank you for my picks all week.  Please use the BEAST DOME logo below as your DRAFTSTREET ICON.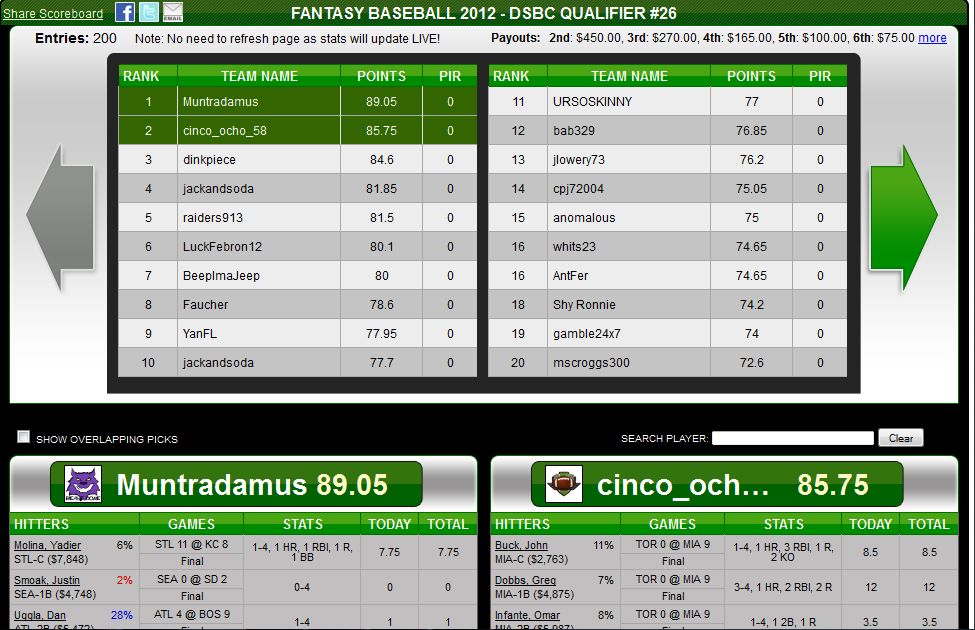 No more free picks.  If you want my picks for the week you can check out V.I.P package #2.  [email protected]

BET OF THE DAY (AUGUST 28th)
OVERALL RECORD = 41-21
*Want all my picks to do parlays?  E-mail [email protected]
Week 12: 6-1
Week 13: 5-2
Week 14: 3-4
Week 15: 1-2
Week 16: 4-3
Week 17: 5-2

Week 18: 5-2
Week 19 : 4-3
Week 20: 5-0
Week 21: 5-2
Week 22: 1-0
 MILWAUKEE MONEY LINE
Gallardo on the mound should result in a great game for the Brewers, a team that wants to finish the season strong as they kept their core intactintract to build for next season.  The Cubs have Travis Wood going on the mound, and that is not a good thing as the brewers had 15 runs and 21 hits the night before.
DAILY PITCHER RANKINGS (AUGUST 28th)

ELITE STARTS:
1. MATT CAIN @ HOU
2. STEPHEN STRASBURG @ MIA
3. KRIS MEDLEN @ SD
4. CHRIS SALE @ BAL

GOOD STARTS:
5. JERED WEAVER VS. BOS
6. YOVANI GALLARDO @ CHC
7. JOHNNY CUETO @ ARI
8. JUSTIN VERLANDER @ KC
9. TOM MILONE @ CLE

ROLL THE DICE:
10. WADE MILEY VS. CIN
11. YU DARVISH VS. TB
12. SCOTT DIAMOND VS. SEA
13. JAMES SHIELDS @ TEX
14. CHRIS TILLMAN VS. CWS
15. PHIL HUGHES VS. TOR
16. JAMES MCDONALD VS. STL
17. BUD NORRIS VS. SF
18. JAKE WESTBROOK @ PIT
19. VANCE WORLEY VS. NYM
20. CHRIS YOUNG @ PHI

21. LUIS MENDOZA VS. DET
22. CHRIS CAPUANO @ COL
23. CLAY BUCHHOLZ @ LAA
24. RICKY NOLASCO VS. MIA
25. ZACH MCALLISTER VS. OAK
26. HISASHI IWAKUMA @ MIN
27. ANDREW WERNER VS. ATL
RISKY:
28. RICKY ROMERO @ NYY
29. TYLER CHATWOOD VS. LAD
30. TRAVIS WOOD VS. MIL
Muntradamus is a Fantasy Sports Expert who specializes in Fantasy Football/Baseball/Basketball. He is currently in his first season as a Pro on FantasyPros where he is the only expert to have Adam Dunn, Mike Aviles, and Wilin Rosario in his top 20 at each position. Muntradamus not only leads many to championships with his great advice, and outlooks into the future. He is also consistently on the top of leaderboards in DraftStreet.