Fantasy Baseball: Daily Pitcher Rankings (August 27th)
Fantasy Baseball:
Daily Pitcher Rankings (August 27th)
By Muntradamus
To see yesterday's Daily Pitcher Rankings follow the link.
BEAST DOME NATION.
Thank you for your patience as our server returns to normal. Should be all systems go very soon.

It's now or never time.  Ask me your fantasy baseball questions as we head towards the end stretch of the season!  #NowOrNever
Erik Bedard: Is someone that can be on every waiver wire.
Scott Feldman: Train is over, he is hittable again.
Aaron Harang: Could be the worst pitcher in the NL right now.
Aaron Hill: Quietly making his way as the top 2B option.
Luke Gregerson: Got the save as Thayer is temporarily away from the team for personal matters.
Ask me or anyone in the BEAST DOME NATION fantasy questions about players.
PLAYER RANKINGS (AUGUST 27th)
*Players I like.  Coming back Tuesday.

HR PICKS OF THE DAY (AUGUST 27th):
Take a moment of silence as I was just able to edge out my 8th straight week of 20% or greater.
*NEW NOTABLE MUNTRADAMUS HR SHOTS CALLED OF THE WEEK.

Week 13= 22.8%
Week 14= 20.2%

Week 15= N/A.

Week 16= 20.2%
Week 17 = 23.9%
Week 18 = 26.8%
Week 19 =  23.01%
Week 20: = 23.31%
Week 21 = 20.4%

SELECTIONS:

HANLEY RAMIREZ
CURTIS GRANDERSON
ROBINSON CANO


DAILY DRAFTSTREET TEAM (AUGUST 27th)
*To say thank you for my picks all week.  Please use the BEAST DOME logo below as your DRAFTSTREET ICON.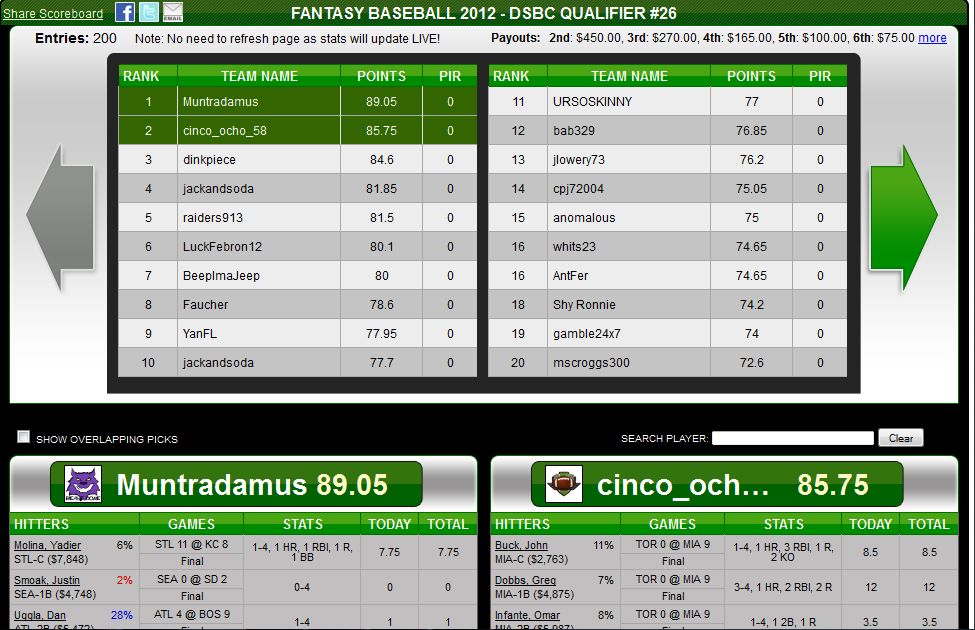 No more free picks.  If you want my picks for the week you can check out V.I.P package #2.  [email protected]

BET OF THE DAY (AUGUST 26th)
OVERALL RECORD = 40-21
*Want all my picks to do parlays?  E-mail [email protected]
Week 12: 6-1
Week 13: 5-2
Week 14: 3-4
Week 15: 1-2
Week 16: 4-3
Week 17: 5-2

Week 18: 5-2
Week 19 : 4-3
Week 20: 5-0
Week 21: 5-2
SEA MONEY LINE

Felix Hernandez is the best pitcher in the game right now, facing a Twins team that is not that great and Liam Hendriks on the mound should spell a victory.

DAILY PITCHER RANKINGS (AUGUST 27th)

ELITE STARTS:
1. FELIX HERNANDEZ @ MIN
GOOD STARTS:
2. PAUL MAHOLM @ SD
3. BRETT ANDERSON @ CLE
4. DAVID PRICE @ TEX
5. MARCO ESTRADA @ CHC
6. KYLE LOHSE @ PIT

ROLL THE DICE:
7. DAVID PHELPS VS. TOR
8. DEREK HOLLAND VS. TB
9. FRANCISCO LIRIANO @ BAL
10. WEI-YIN CHEN VS. CWS
11. A.J. BURNETT VS. STL
12. JUSTIN GERMANO VS. MIL

RISKY:
13. CASEY KELLY VS. ATL
14. FAUSTO CARMONA VS. OAK
15. JOSH BECKETT @ COL
16. HENDERSON ALVAREZ @ NYY
17. LIAM HENDRIKS VS. SEA
18. JEFF FRANCIS VS. LAD
Muntradamus is a Fantasy Sports Expert who specializes in Fantasy Football/Baseball/Basketball. He is currently in his first season as a Pro on FantasyPros where he is the only expert to have Adam Dunn, Mike Aviles, and Wilin Rosario in his top 20 at each position. Muntradamus not only leads many to championships with his great advice, and outlooks into the future. He is also consistently on the top of leaderboards in DraftStreet.