Fantasy Baseball: Daily Pitcher Rankings (August 26th)
Fantasy Baseball:
Daily Pitcher Rankings (August 26th)
By Muntradamus
To see yesterday's Daily Pitcher Rankings follow the link.
BEAST DOME NATION.
Thank you for your patience as our server returns to normal. Should be all systems go very soon.

It's now or never time.  Ask me your fantasy baseball questions as we head towards the end stretch of the season!  #NowOrNever
Kyle Seager: Knocked 2 more HRs to give him 15 on the season.  He is a great keeper and will likely be undervalued next season in re-draft leagues.
Jose Bautista: Is likely done for the season.  Another victim of the hand injury.
Andrew Bailey: Threw another shutout INN on back-to-back days.  Time to add him in all leagues.
Dan Haren: Pitched well on the road in Detroit. The same happened to Greinke yesterday which makes me think Detroit's offense is not that solid.  Ervin Santana will be the deciding factor.
Brandon Phillips: Hit his first HR since July 31st.  14 HRs/10 SBs, not a great season.
Ian Kinsler: The coverman of yesterday's article hit a HR and drove in a two run triple.  My favorite Fantasy 2B option.
Edwin Encarnacion: Completing his first full consistent season, one more month to go.
Jason Heyward: 23 HRs/18 SBs, he is a man on a mission for a possible 30/25 if he stays this hot.
Giancarlo Stanton: Is a monster and should be drafted in the 2nd round of all leagues next season.  28 HRs so far, he has been hurt and did not hit a HR in April.
Vernon Wells: Finding his power stroke with 2 HRs in the last three days.  This will hurt Kendrys Morales.
Ask me or anyone in the BEAST DOME NATION fantasy questions about players.
PLAYER RANKINGS (AUGUST 26th)
*Players I like.

C:

CARLOS SANTANA
JOE MAUER
MIGUEL MONTERO
CHRIS SYNER
SALVADOR PEREZ
JARROD SALTALAMACCHIA
1B:
EDWIN ENCARNACION
BILLY BUTLER
FREDDIE FREEMAN
ANTHONY RIZZO
ADAM DUNN
CHRIS DAVIS
PRINCE FIELDER
JUSTIN MORNEAU
GARRETT JONES
ALLEN CRAIG
COREY HART
2B:
DUSTIN PEDROIA
IAN KINSLER
BRANDON PHILLIPS
IAN KINSLER
AARON HILL
JASON KIPNIS
HOWIE KENDRICK
RICKIE WEEKS
3B:
HANLEY RAMIREZ
ADRIAN BELTRE
KYLE SEAGER
DAVID WRIGHT
ARAMIS RAMIREZ
CHASE HEADLEY

SS:

MIKE AVILES
ERIK AYBAR
JJ HARDY
JOSE REYES
ASDRUBAL CABRERA
RAFAEL FURCAL
JOHNNY PERALTA
OF:
GIANCARLO STANTON
JOSH HAMILTON
MATT KEMP
ADAM JONES
JASON HEYWARD
RYAN BRAUN
JAY BRUCE
MIKE TROUT
MATT HOLLIDAY
CAMERON MAYBIN

HR PICKS OF THE DAY (AUGUST 26th):
4/23 on Saturday brings me right to an epic performance needed to clinch  my 8th straight week of 20% or more correct.
*NEW NOTABLE MUNTRADAMUS HR SHOTS CALLED OF THE WEEK.

Monday: Giancarlo Stanton: Mult-HR game.
Tuesday: Garrett Jones: Multi-HR game.
Wednesday: Jay Bruce: TOWER POWER shot.
Thursday: Cody Ross: First HR in two weeks, shot in the dark pick.
Saturday: John Mayberry JR: shot in the dark pick of the day.
Week 13= 22.8%
Week 14= 20.2%

Week 15= N/A.

Week 16= 20.2%
Week 17 = 23.9%
Week 18 = 26.8%
Week 19 =  23.01%
Week 20: = 23.31%
Week 21 = 21/111 = 18.9%

SELECTIONS:

ADAM DUNN
IAN KINSLER
JOSH HAMILTON
GARRETT JONES
ROBINSON CANO
CURTIS GRANDERSON
ANTHONY RIZZO
EDWIN ENCARNACION
FREDDIE FREEMAN
BILLY BUTLER
COREY HART
MATT KEMP
HANLEY RAMIREZ


DAILY DRAFTSTREET TEAM (AUGUST 26th)
*To say thank you for my picks all week.  Please use the BEAST DOME logo below as your DRAFTSTREET ICON.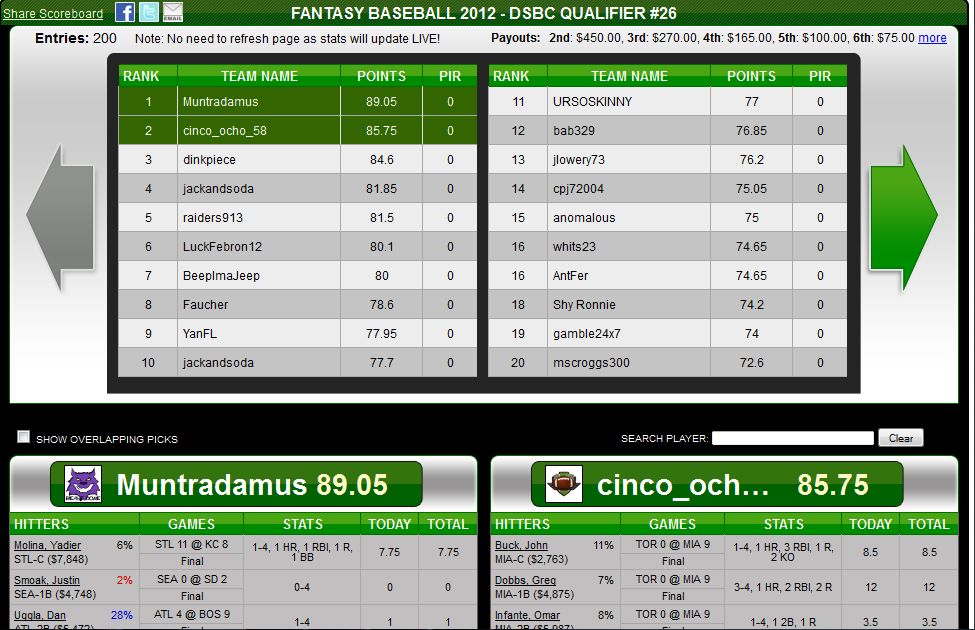 Because of yesterday's technical difficulties.  Here is my team for Sunday.  If you use the BEAST DOME Logo and e-mail me with proof.  I will give you one free days worth of picks.  [email protected]

BET OF THE DAY (AUGUST 26th)
Week 12: 6-1
Week 13: 5-2
Week 14: 3-4
Week 15: 1-2
Week 16: 4-3
Week 17: 5-2

Week 18: 5-2
Week 19 : 4-3
Week 20: 5-0
Week 21: 5-1
TEX MONEY LINE
The Rangers are back to playing ELITE baseball after that weird slump.  Texas will be scoring runs at a ridculous rate to close out the season, they should show Cole De Vries that he is for a wild ride.  Scott Feldman has been pretty consistent as of late.

DAILY PITCHER RANKINGS (AUGUST 26th):
ELITE STARTS:
GOOD STARTS:
1. JORDAN ZIMMERMAN @ PHI
2. CLIFF LEE VS. WAS
3. CHRIS TILLMAN VS. TOR
4. GAVIN FLOYD VS. SEA
ROLL THE DICE:
5. TIM LINCECUM VS. ATL
6. ADAM WAINWRIGHT @ CIN
7. TIM HUDSON @ SF
8. MAX SCHERZER VS. LAA
9. SCOTT FELDMAN VS. MIN
10. LUCAS HARRELL @ NYM
11. FELIX DOUBRONT VS. KC
12. HOMER BAILEY VS. STL
13. ERIK BEDARD VS. MIL
14. MARK BUEHRLE @ LAD
15. EDINSON VOLQUEZ @ARI
16. JEREMY HEFNER VS. HOU
17. ERVIN SANTANA @ DET
18. JOE SAUNDERS VS. SD
19. FREDDY GARCIA @ CLE
20. MARK ROGERS @ PIT
RISKY:
21. UBALDO JIMENEZ VS. NYY
22. JHOULYS CHACIN @ CHC
23. KEVIN MILLWOOD @ CWS
24. AARON HARANG VS. MIA
25. HENDERSON ALVAREZ @ BAL
26. CHRIS VOLSTAD VS. COL
27. COLE DE VRIES @ TEX
28. WILL SMITH @ BOS
Muntradamus is a Fantasy Sports Expert who specializes in Fantasy Football/Baseball/Basketball. He is currently in his first season as a Pro on FantasyPros where he is the only expert to have Adam Dunn, Mike Aviles, and Wilin Rosario in his top 20 at each position. Muntradamus not only leads many to championships with his great advice, and outlooks into the future. He is also consistently on the top of leaderboards in DraftStreet.