Fantasy Baseball: Daily Pitcher Rankings (August 16th)
Fantasy Baseball: Daily Pitcher Rankings (August 16th)
By Muntradamus
To see yesterday's Daily Pitcher Rankings follow the link.
BEAST DOME NATION.
I have added more content to the DRAFTSTREET section of this article.  Enjoy.
Melky Cabrera: Is done.  No he did not head butt his wife, but he was taking performing enhancement drugs.  I knew something was too good to be true with him this season moving to that huge ball park.
King Felix: Was ranked as an Elite pitcher yesterday, and he showed us why with the perfect game.  Rarely do I put anyone in the ELITE category, and King Felix showed us why.
Huston Street: Is going to be out a lot longer than we thought, Dale Thayer is MUST-OWN in all leagues.
Yadier Molina: Will miss a couple of games to rest his back.
Neil Walker: May hit the DL with a dislocated pinkie.
Jemile Weeks: Will possibly lose his job to get Brandon Hicks and Adam Rosales more playing time, that's when you know it's bad.
Josh Hamilton: Is the hottest power hitter in baseball, give him two more solo shots Wednesday.
Jaime Garcia: Returns to the Cardinals rotation Sunday to most likely mean the end for Joe Kelly.
David Ortiz: Not doing nay better.  What appeared to be a nothing injury when it occurred, could be season ending.
Emilio Bonifacio: Started his rehab.
Michael Cuddyer: Started his rehab earlier this week.
Tommy Hanson: Started his rehab on Sunday.
Eric Young Jr: Hottest hitter in baseball, more on him later this week.
Pablo Sandoval & Andrew Bailey: Are back.  Bailey set-up man until he proves he is ELITE again.
Ask me any fantasy questions about players.
PLAYER RANKINGS (August 16th):
*Top 5 at each Position.

C:
WILIN ROSARIO
MATT WIETERS
BRIAN MCANN
SALVADOR PEREZ
A.J. PIERZYNSKI
1B:
ALBERT PUJOLS
EDWIN ENCARNACION
MARK TEIXEIRA
GARRETT JONES
FREDDIE FREEMAN
2B:
ROBINSON CANO
DAN UGGLA
IAN KINSLER
BRANDON PHILLIPS
DAN UGGLA
3B:
DAVID FREESE
MIKE MOUSTAKAS
TODD FRAZIER
HANLEY RAMIREZ
KEVIN YOUKILIS
SS:
JOSE REYES
RAFAEL FURCAL
ALCIDIES ESCOBAR
JOSH RUTLEDGE
YUNEL ESCOBAR
OF:
CARLOS GONZALEZ
MIKE TROUT
JOSH HAMILTON
JAY BRUCE
ERIC YOUNG JR.
HR PICKS OF THE DAY (August 16th):
3/21 to start my return.  No idea why Miguel Cabrera did not make my list…
*NEW NOTABLE MUNTRADAMUS HR SHOTS CALLED OF THE WEEK.

Josh Hamilton: Mult-HR game.

Week 13= 22.8%
Week 14= 20.2%

Week 15= N/A.

Week 16= 20.2%
Week 17 = 23.9%
Week 18 = 26.8%
Week 19 = 29/126= 23.01%
Week 20: = 3/21 = 14.2%

SELECTIONS:

MARK TEIXEIRA
EDWIN ENCARNACION
MARK TRUMBO
JAY BRUCE
ARAMIS RAMIREZ
GARRETT JONES
JOSH HAMILTON
JASON HEYWARD
ADRIAN GONZALEZ
RYAN HOWARD
MIKE MOUSTAKAS
DAVID FREESE
ALBERT PUJOLS
MIKE TROUT
GIANCARLO STANTON
CARLOS GONZALEZ

DAILY DRAFTSTREET TEAM (August 16th):
*To say thank you for my picks all week.  Please use the BEAST DOME logo below as your DRAFTSTREET ICON.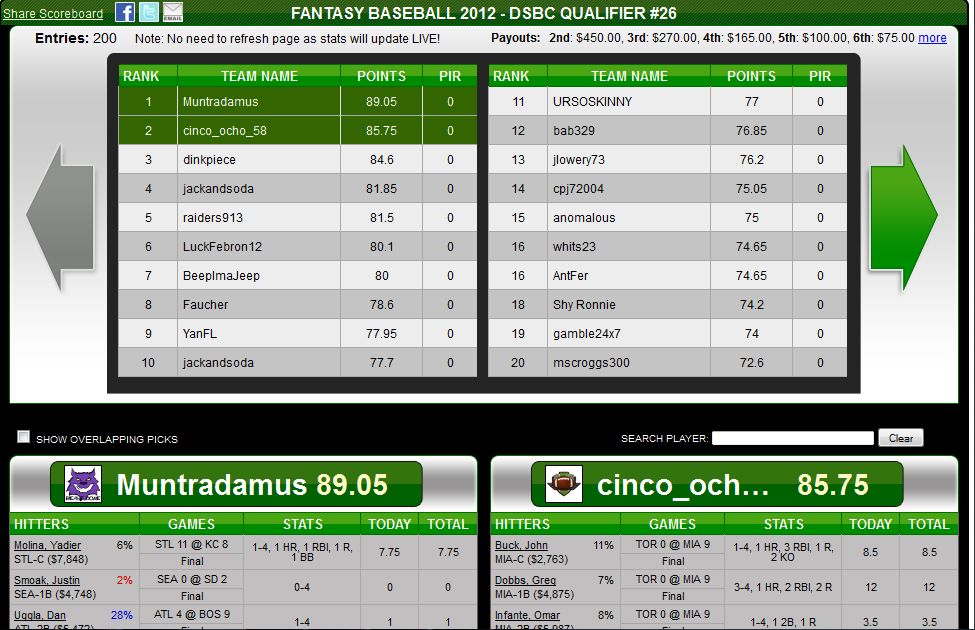 Salary Cap Team for 4:00 PM game (Check Updates.)   If you use it, please use the BEAST DOME logo as your avatar on DRAFTSTREET.

C: John Buck
1B: Ryan Howard
2B: Dan Uggla
3B: David Fresse
SS: Rafael Furcal
OF: Carlos Gonzalez
OF: Dayan Viciedo
OF: Mark Trumbo
UTI: Adam Dunn
UTI: Corey Hart
SP: Kris Medlen
SP: Homer Bailey
RP: Dale Thayer
P: Dan Haren
STACK OF THE DAY (AUGUST 16th)
**NEW. NEW. I pick the stack of the day, you pick the hitters and see the points rally up.
Week 20 Average Fantasy Points Per Game: 27.75 Points
Stack of the Day:
COLORADO
Ricky Nolasco on the road spells blowout.  In Colorado spells as many runs as the Rockies want to rack up.
*The More BEAST DOME icons I see all-around DRAFTSTREET, the more info I will publish publicly.  If you want a team e-mailed use the BEAST DOME icon, and e-mail [email protected] saying you've uploaded the icon and want a team.

BET OF THE DAY (August 16th:)
Week 12: 6-1
Week 13: 5-2
Week 14: 3-4
Week 15: 1-2
Week 16: 4-3
Week 17: 5-2

Week 18: 5-2
Week 19 : 4-3
Week 20: 1-0
ATL MONEY LINE
Went with them yesterday, and Kris Medlen who is one of the hottest pitchers in the bigs will take them on Thursday.  Expect an ELITE start against the Padres who could be at the end of their hot hotting.  Jason Marquis takes the mound for the Padres, sooner or later teams will catch up to his ways.
Daily Pitcher Rankings (August 16th):
ELITE STARTS:


GOOD STARTS:
1. KRIS MEDLEN VS. SD
2. DAVID PRICE @ LAA
3. CLIFF LEE @ MIL
4. A.J. BURNETT VS. LAD
5. HOMER BAILEY VS. NYM
6. DAN HAREN VS. TB
7. KYLE LOHSE VS. ARI


ROLL THE DICE:
8. FRANCISCO LIRIANO @ TOR
9. CLAY BUCHHOLZ @ BAL
10. LUKE HOCHEVAR VS. OAK
11. TREVOR CAHILL @ STL
RISKY:
12. MATT HARVEY @ CIN
13. CHRIS TILLMAN VS. BOS
14. DEREK HOLLAND @ NYY
15. IVAN NOVA VS. TEX
16. MARCO ESTRADA VS. PHI
17. DAN STRAILY @ KC
18. JASON MARQUIS @ ATL
19. JOE BLANTON @ PIT
20. ALEX WHITE VS. MIA
21. AARON LAFFEY VS. CWS
22. RICKY NOLASCO @ COL
Muntradamus is a Fantasy Sports Expert who specializes in Fantasy Football/Baseball/Basketball. He is currently in his first season as a Pro on FantasyPros where he is the only expert to have Adam Dunn, Mike Aviles, and Wilin Rosario in his top 20 at each position. Muntradamus not only leads many to championships with his great advice, and outlooks into the future. He is also consistently on the top of leaderboards in DraftStreet.