Fantasy Baseball: Daily Pitcher Rankings (August 15th)
Fantasy Baseball: Daily Pitcher Rankings (August 15th)
By Muntradamus
To see yesterday's Daily Pitcher Rankings follow the link.
*DRAFTSTREET UPDATED (3:30 PM pacific)
BEAST DOME NATION.
Tough DSBC, I lived, I learned, I did way too much research and went away from the strategy that got me there.  I will conquer moving forward.  To all my loyal BEAST DOME members I have added more content to the DRAFTSTREET section of this article.  Enjoy.
Web aka BEAST TECH is working around the clock trying to figure out the connection problems.
Albert Pujols: Is a fire breathing beast right now.  Anything you throw near him, crushed.
Garrett Jones: Is swinging a very hot stick.
Miguel Montero: Kills weak righties.
Ask me any fantasy questions about players.
PLAYER RANKINGS (August 15th):
*Top 5 at each Position.

C:
MATT WIETERS
CARLOS SANTANA
MIGUEL MONTERO
BRIAN MCCANN
DEREK NORRIS
1B:
ALBERT PUJOLS
PRINCE FIELDER
MARK TEIXEIRA
FREDDIE FREEMAN
CHRIS CARTER
2B:
ROBINSON CANO
DAN UGGLA
IAN KINSLER
HOWIE KENDRICK
JASON KIPNIS
3B:
DAVID WRIGHT
ARAMIS RAMIREZ
HANLEY RAMIREZ
MIGUEL CABRERA
ADRIAN BELTRE
SS:
JOSH RUTLEDGE
JHONNY PERALTA
RUBEN TEJADA
RAFAEL FURCAL
ASDRUBAL CABRERA
OF:
CARLOS GONZALEZ
MATT HOLLIDAY
MATT KEMP
MIKE TROUT
JONNY GOMES
HR PICKS OF THE DAY (August 15th):
Trying to do what I can to stay above 20% for the 8th consecutive week.
*NEW NOTABLE MUNTRADAMUS HR SHOTS CALLED OF THE WEEK.

Week 13= 22.8%
Week 14= 20.2%

Week 15= N/A.

Week 16= 20.2%
Week 17 = 23.9%
Week 18 = 26.8%
Week 19 = 29/126= 23.01%
Week 20:

SELECTIONS:

MATT HOLLIDAY
DAVID FREESE
JASON HEYWARD
ALBERT PUJOLS
CARLOS SANTANA
CHRIS CARTER
DAVID WRIGHT
HANLEY RAMIREZ
MATT KEMP
JONNY GOMES
MARK TEIXEIRA
CURTIS GRANDERSON
ROBINSON CANO
JOSH HAMILTON
COREY HART
RYAN BRAUN
ARAMIS RAMIREZ
CARLOS GONZALEZ
ADRIAN GONZALEZ
MATT WIETERS
JUSTIN MORNEAU
PRINCE FIELDER
DAILY DRAFTSTREET TEAM (August 15th):
*To say thank you for my picks all week.  Please use the BEAST DOME logo below as your DRAFTSTREET ICON.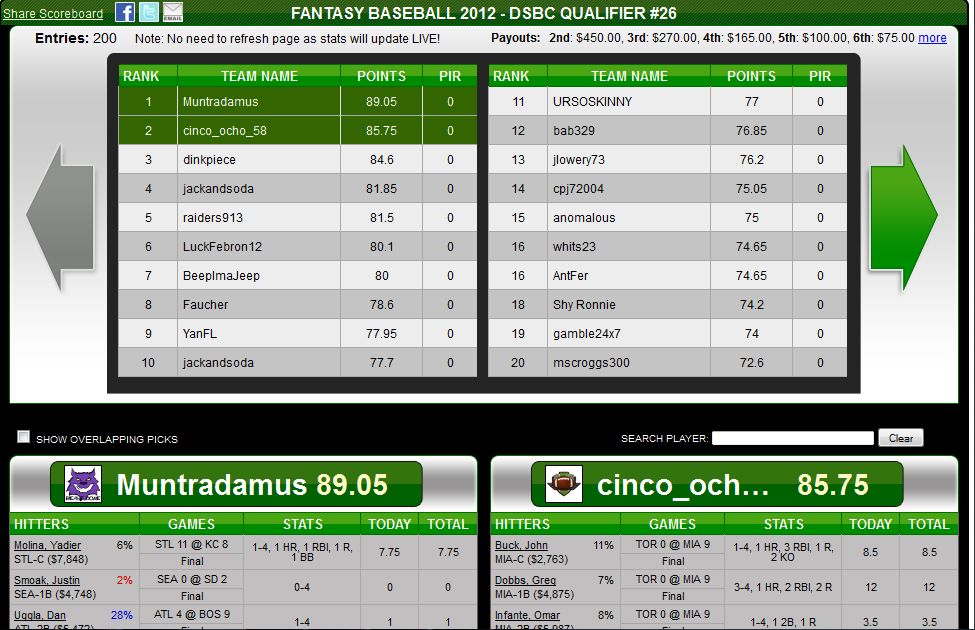 Salary Cap Team for 4:00 PM game (Check Updates.)  This is a sick NASTY team.  If you use it, please use the BEAST DOME logo as your avatar on DRAFTSTREET.

C: DEREK NORRIS
1B: MARK TEIXEIRA
2B: MARK ELLIS
3B: HANLEY RAMIREZ
SS: RAFAEL FURCAL
OF: MATT HOLLIDAY
OF: CURTIS GRANDERSON
OF: MATT KEMP
UTI: JONNY GOMES
UTI: ALLEN CRAIG

SP: FREDDY GARCIA
SP: MIKE LEAKE
RP: CASEY JANSSEN
RP: ADDISON REED

STACK OF THE DAY (AUGUST 20th)
**NEW. NEW. I pick the stack of the day, you pick the hitters and see the points rally up.
Week 20 Average Fantasy Points Per Game:
Stack of the Day:
MILWAUKEE

The Brewers are over due after screwing me on back-to-back days of letting my team down.  If the Brewers fail to score double digits at least once in Coors, then the trip was a disappointment.
*The More BEAST DOME icons I see all-around DRAFTSTREET, the more info I will publish publicly.  If you want a team e-mailed use the BEAST DOME icon, and e-mail BEAS[email protected] saying you've uploaded the icon and want a team.

BET OF THE DAY (August 15th:)
Week 12: 6-1
Week 13: 5-2
Week 14: 3-4
Week 15: 1-2
Week 16: 4-3
Week 17: 5-2

Week 18: 5-2
Week 19 : 4-3
Week 20:
ATL MONEY LINE
SD has trouble on the road.  The Braves are coming off of a convincing win off of the pretty hot Clayton Richard.  It only helps that Paul Maholm is on the road for ATL who has been unhittable.
Daily Pitcher Rankings (August 15th):
ELITE STARTS:
1. FELIX HERNANDEZ VS. TB

GOOD STARTS:
2. R.A. DICKEY @ CIN
3. STEPHEN STRASBURG @ SF
4. PAUL MAHOLM VS. SD
5. CLAYTON KERSHAW @ PIT
6. ROY HALLADAY @ MIA
7. JEREMY HELLICKSON @ SEA
8. MARK BUEHRLE VS. PHI
9. ADAM WAINWRIGHT VS. ARI
10. BRANDON MCCARTHY @ KC
11. TIM LINCECUM VS. WAS


ROLL THE DICE:
12. MAX SCHERZER @ MIN
13. BUD NORRIS @ CHC
14. JUSTIN GERMANO VS. HOU
15. MIKE LEAKE VS. NYM
16. MIGUEL GONZALEZ VS. BOS
17. GAVIN LOYD @ TOR
18. RICKY ROMERO VS. CWS
19. SCOTT FELDMAN @ NYY
20. AARON COOK @ BAL
21. ROBERTO HERNANDEZ @ LAA (FAUSTO CARMONA)
22. FREDDY GARCIA VS. TEX
RISKY:
23. JOE SAUNDERS @ STL
24. ERVIN SANTANA VS. CLE
25. WILL SMITH VS. OAK
26. WANDY RODRIGUEZ VS. LAD
27. EDINSON VOLQUEZ @ ATL
28. COLE DE VRIES VS. DET
29. MARK ROGERS @ COL
30. GUILLERMO MOSCOSO VS. MIL
Muntradamus is a Fantasy Sports Expert who specializes in Fantasy Football/Baseball/Basketball. He is currently in his first season as a Pro on FantasyPros where he is the only expert to have Adam Dunn, Mike Aviles, and Wilin Rosario in his top 20 at each position. Muntradamus not only leads many to championships with his great advice, and outlooks into the future. He is also consistently on the top of leaderboards in DraftStreet.