FANTASY BASEBALL: BEASTS OF WEEK 19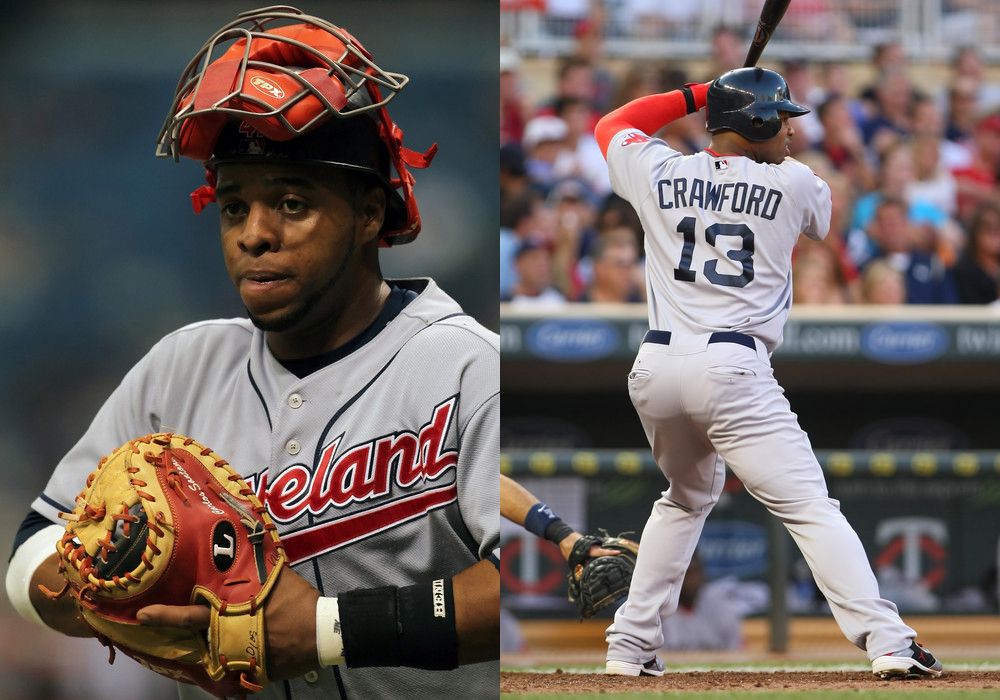 FANTASY BASEBALL: BEASTS OF WEEK 19
By Muntradamus
BEAST DOME NATION.
Another week as we are only three weeks away from the playoffs. If you see a player on this list, and you are playing a cold hitter.  I would make the move.  Feel free to ask questions on the bottom.
*Pitcher Rankings coming at 1:00PM pacific.
Use this article for:
1) Hottest Hitters. (Helps with lineup decisions/Free Agent Plug-In Options)
Each week I will start off with all the hot hitters, based off of how I have seen the player play over this past week.  If you look at the stats of each player, you will see the potential I see.  This is good tool for that tough lineup dilemma, or a possible plug-in-play for your fantasy team off the waiver wire.
2) Hottest Hitting Teams. (Helps with Pitching match-ups)
After I rank the hottest hitters by position, I then do the power-rankings of the hottest teams.  You should use that tool to figure out which pitchers to use in this upcoming week.
3) Two Start Sleepers. (If you are looking for a Big Time Sleeper)
In weekly leagues the advantage of having a pitcher pitch twice could give you an extra Win, more K's, and possibly a lower ERA and WHIP if he gets the job done.  I will only list two start pitchers I would consider putting in my weekly lineup.
4) Power Schedule. (Teams that have very favorable offensive matchups with pitchers and ballparks)
Have a tough lineup decision to make.  This section breaks down a few possible breakout candidates.
This week in DRAFTSTREET, I will be giving ALL OF MY PICKS.  Article will be out before 1:00pm pacific time.

(You can play for Free if you don't want to risk cash)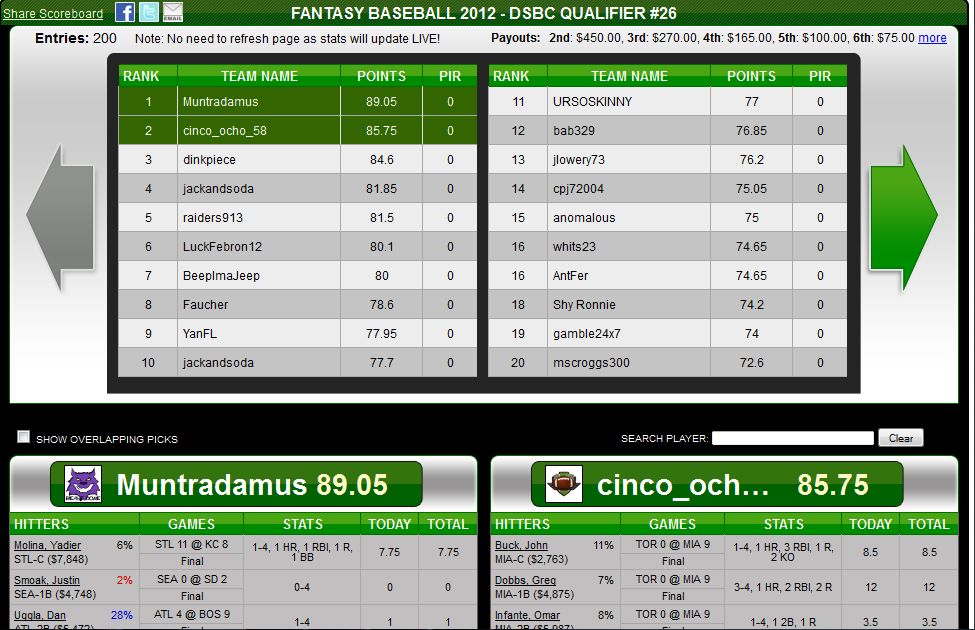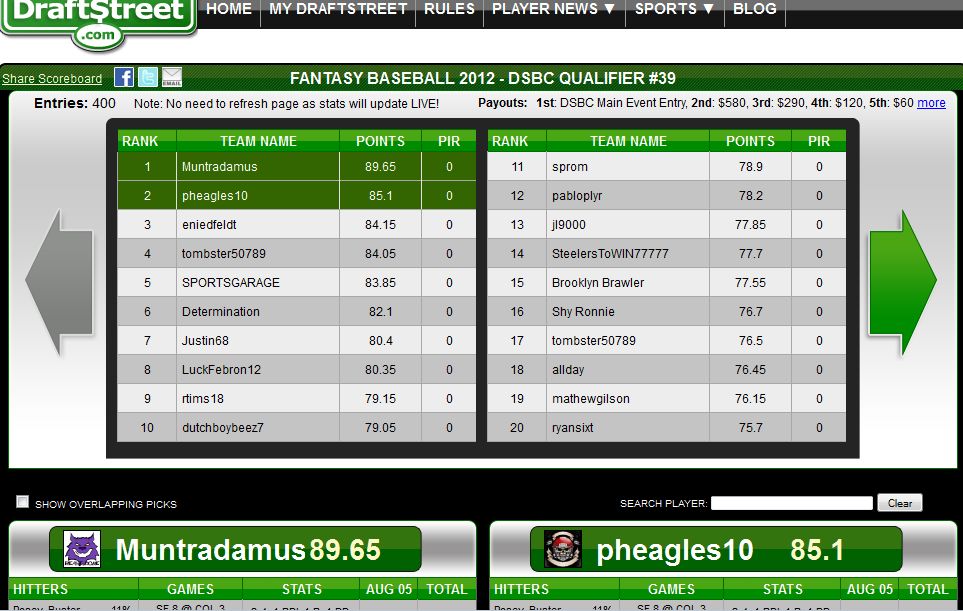 BEASTS OF (18) Who are ready for Week (19):
*Ranked in order.
C:
A.J. PIERZYNSKI
BUSTER POSEY
CARLOS SANTANA
YADIER MOLINA
WILIN ROSARIO
MIGUEL MONTERO
MICHAEL MCKENRY
ERIK KRATZ
1B/DH:
ALBERT PUJOLS
ADAM LAROCHE
PRINCE FIELDER
PAUL GOLDSCHMIDT
ADRIAN GONZALEZ
KENDRYS MORALES
ANTHONY RIZZO
EDWIN ENCARNACION
2B:
IAN KINSLER
ROBINSON CANO
OMAR INFANTE
NEIL WALKER
CHASE UTLEY
DUSTIN ACKLEY
3B:
MIGUEL CABRERA
KEVIN YOUKILIS
CHASE HEADLEY
CHRIS JOHNSON
ARAMIS RAMIREZ
TODD FRAZIER
SS:
JOSH RUTLEDGE
STARLIN CASTRO
JIMMY ROLLINS
JOSE REYES
MIKE AVILES
ALCIDIES ESCOBAR
OF:
MATT HOLLIDAY
MIKE TROUT
CARL CRAWFORD
DREW STUBBS
MELKY CABRERA
ALEX RIOS
ANGEL PAGAN
CARLOS QUENTIN
JARROD DYSON (5 SBs last week)
CARLOS BELTRAN
NELSON CRUZ
JUSTIN MAXWELL
BEN REVERE
AUSTIN JACKSON
RAUL IBANENZ
HOTTEST HITTING TEAMS ENTERING WEEK 19:



*Number in "(#)" is their ranking from week 18.


1 (22).  San Francisco Giants
2 (8).   Texas Rangers
3 (18).  Los Angeles Angels
4 (13).    Detroit Tigers
5 (3).   New York Yankees
6 (1).  Chicago White Sox
7 (2).  Oakland Athletics
8 (5).  Washington Nationals
9 (7).    Cincinnati Reds
10 (6).   St. Louis Cardinals
11 (9). Milwaukee Brewers
12 (11). Kansas City Royals
13 (4).  Los Angeles Dodgers
14 (12).  Boston Red Sox
15 (26).   Cleveland Indians (Cannot hit lefties)
16 (15).  Atlanta Braves
17 (14).   Toronto Blue Jays
18 (29).   San Diego Padres
19 (17). Philadelphia Phillies
20 (16).   Pittsburgh Pirates
21 (10).  Minnesota Twins
22 (21).  Arizona Diamondbacks
23 (23).    Colorado Rockies
24 (24).   Chicago Cubs
25 (19).    Baltimore Orioles
26 (25).  New York Mets
27 (20). Miami Marlins
28 (30).  Houston Astros
29 (28).   Seattle Mariners
30 (27). Tampa Bay Rays


TWO START SLEEPERS:
*NEW.NEW.NEW. Only listed are pitchers I would consider putting in my lineup.

1. SCOTT DIAMOND (@CLE, VS. TB)
2. CHRIS TILLMAN (VS. SEA, VS. KC)
3. ERIK BEDARD (VS. ARI, VS. SD)
4. ROSS DETWILER (@ HOU, @ ARI)
POWER SCHEDULE:
*NEW.NEW. This is great to determine those tough lineup decisions by looking at the most favorable schedules.
1. MILWAUKEE (VS. CIN, @ HOU)
2. WASHINGTON (@HOU, @ ARI)
3. LA DODGERS (VS. COL, @ MIA)
4. TEXAS (@BOS, VS. DET)
5. SAN FRANCISCO (@STL, VS. COL)
6. CINCINNATI (@ MIL, @ CHC)
7. BOSTON (VS. TEX, @ CLE)