FANTASY BASEBALL: BEASTS OF WEEK 14
FANTASY BASEBALL: BEASTS OF WEEK 14
By Muntradamus
BEAST DOME NATION.
Get ready for a full week to give you the edge to have your team ready for the second half.
1) Hottest Hitters. (Helps with lineup decisions/Free Agent Plug-In Options)
Each week I will start off with all the hot hitters, based off of how I have seen the player play over this past week.  If you look at the stats of each player, you will see the potential I see.  This is good tool for that tough lineup dilemma, or a possible plug-in-play for your fantasy team off the waiver wire.
2) Hottest Hitting Teams. (Helps with Pitching match-ups)
After I rank the hottest hitters by position, I then do the power-rankings of the hottest teams.  You should use that tool to figure out which pitchers to use in this upcoming week.
This week on days that I played in DRAFTSTREET, I will be putting up my picks:
(You can play for Free if you don't want to risk cash)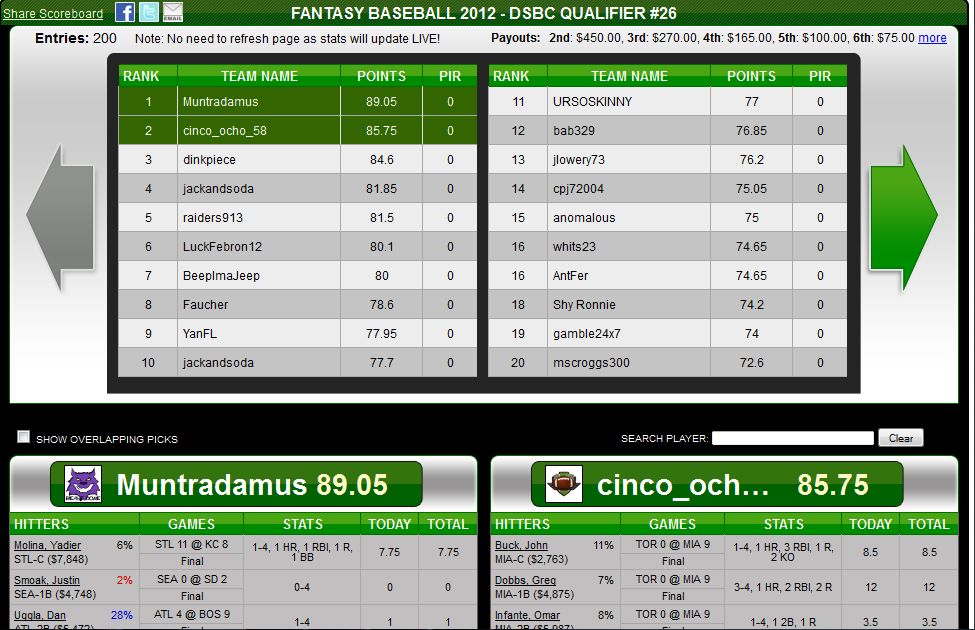 BEASTS OF (13) Who are ready for Week (14):
*Ranked in order
C:
YADIER MOLINA
A.J. PIERZYNKSI
MATT WIETERS
BUSTER POSEY
JOE MAUER
MICHAEL MCKENRY
J.P. ARENICIBIA
SALVADOR PEREZ
MIGUEL MONTERO
DEREK NORRIS
JOHN BUCK


1B/DH:
FREDDIE FREEMAN
ALLEN CRAIG
PRINCE FIELDER
ADAM LAROCHE
BILLY BUTLER
PAUL KONERKO
IKE DAVIS
2B:
ROBINSON CANO
AARON HILL
DANIEL MURPHY
3B:
RYAN ZIMMERMAN
PEDRO ALVAREZ
HANLEY RAMIREZ
ADRIAN BELTRE
SS:
TREVOR PLOUFFE
ASDRUBAL CABEREA
JIMMY ROLLINS
DEE GORDON
ELVIS ANDRUS
ERIK AYBAR
ALCIDIES ESCOBAR


OF:
MIKE TROUT
MARK TRUMBO
GIANCARLO STANTON
JOSE BAUTISTA
JASON HEYWARD
ANDREW MCCUTCHEN
JOSH WILLINGHAM
COLBY RASMUS
RYAN BRAUN
HUNTER PENCE
MATT HOLLIDAY
DESMOND JENNINGS
TORII HUNTER
JASON KUBEL
YOENIS CESPEDES
CURTIS GRANDERSON
JOSH HAMILTON
MELKY CABRERA
ALEX RIOS
HOTTEST HITTING TEAMS ENTERING WEEK 14:

*Number in "(#)" is their ranking from last week.


1 (5).  Los Angeles Angels
2 (6).   Toronto Blue Jays
3 (10).  Chicago White Sox
4 (26).  Washington Nationals
5 (1).   New York Yankees
6 (28).   Pittsburgh Pirates
7 (15).  Minnesota Twins
8 (2).   Texas Rangers
9 (12). Kansas City Royals
10 (3).   St. Louis Cardinals
11 (8).  Atlanta Braves
12 (4).  Boston Red Sox
13 (21).   Cleveland Indians
14 (18).    Detroit Tigers
15 (9).    Cincinnati Reds
16 (7).  Oakland Athletics
17 (14). Miami Marlins
18 (20).    Colorado Rockies
19 (13). Philadelphia Phillies
20 (24).    Baltimore Orioles
21 (11). Milwaukee Brewers
22 (17).  Arizona Diamondbacks
23 (25).  New York Mets
24 (23).  San Francisco Giants
25 (29).   Chicago Cubs
26 (19).  Houston Astros
27 (16). Tampa Bay Rays
28 (27).   Seattle Mariners
29 (22).  Los Angeles Dodgers
30 (30).   San Diego Padres