BEAST DOME SHEEP (BUST) OF THE WEEK (7): CJ'Bust'K
BEAST DOME SHEEP (BUST) OF THE WEEK (7):
CJ'Bust'K
By Muntradamus
BEAST DOME NATION.
Below you will see the R.O.S Packages for Daily Rankings so you can BEAST your Daily Fantasy Leagues and get closer and closer to hitting the Big One.
FANTASY FOOTBALL
BUST OF THE WEEK 7
Carson Palmer vs. BAL
Muntradamus Rank QB #14
ECR QB #1
I get that Carson Palmer is having a big season. I also get that he is performing well against easy defenses as he has not been challenged by a tough road game all year. Once again Palmer finds himself at home, and once again it is not a tough matchup as the Ravens secondary has been exposed with teams avoiding the run against that defense. Still, I can name 13 other QBs I would rather have this week on my Fantasy Team. This Carson Palmer hype will die down eventually this season, either injury or the Seahawks will shut him up. Until then, borderline QB#1/2 and his TD limit could be dropped if this game gets out of hand quickly.
Todd Gurley vs. CLE
Muntradamus Rank RB #16
ECR RB #2
Gurley is the most over hyped Rookie RB we have come across. Two long runs against the Cardinals in the second half saved him in his first big game, his second big game once again he needed a big 4th quarter run for his game to standout. This week against a Browns team that has not been great against the run will finally rebound. The Rams passing game is so weak that the Browns can afford to leave their CB's on an Island and focus on stopping the run. This Browns defense is very underrated and we will see it come to life this week.
Chris Johnson vs. BAL
Muntradamus RB Rank #36
ECR RB Rank #18
Ok it is one thing to rank Carson Palmer #1, CJ2K top 20 is too much for me. The Ravens do shutdown the run as one of the best in the AFC. CJ2K was running through pretty easy opponents this season, and this is where the road stops. With Andre Ellington getting closer to 100% and David Johnson being the goal line RB, CJ2K or (NewK) is about to have his party come to an end.
John Brown vs. BAL
Muntradamus WR Rank #36
ECR WR Rank #12
Been wrong on this guy 2 weeks in a row, I am willing to roll the dice for #3 to prove he is not real. The Steelers Secondary did not have the speed for Brown, and it is debatable if the Ravens do either. Still, I expect Michael Floyd to have his role grow larger and larger making John Brown a consistent, inconsistent, TY Hilton.
Willie Snead @ IND
Muntradamus WR Rank #37
ECR WR Rank #23
When you finally trust Snead, he turns his back on you. There is no doubt he gets his fair share of targets from Drew Brees, but this is a Saints team that is going to rely on running the football to win games. Brees will not throw it deep so you are talking about 8 routes that are less than 15 yards. Without that TD, Snead is a guy that borderline gets it done and is better left as true option in Deep Leagues. With Ben Watson likely having an expanded role and the return of the 'Chemistry Superstar' Marques Colston, that target rate should start to drop.
Gary Barnidge @ STL
Muntradamus TE Rank #12
ECR TE Rank #6
Two Redzone TDs saved Barnidge and his 3 catch game. Both times TJ Ward was not on him, which is what I was planning to be the case and look what happened. Rams Defense plays at a different speed at home, a speed that you do not see other teams play, and Gary Barnidge does not make a living because of those quick feet. With the Rams being 10 steps faster than the Browns, this is a week to avoid Barnidge.
REST OF SEASON DAILY FANTASY PACKAGES
I have knocked more than 50% of the Price Per Week offer to close out the Fantasy Football Season. If you buy any package all you have to do is make over $50 per week to make a profit. My goal is to make all of you so much money that you keep coming back for NBA and through MLB back to NFL.
Below is an image from a Client who purchases my Daily Rankings every Week, and I created this price for him and now passing on the price to all of you.

R.O.S Daily Packages
Normally $1100 ($100 per Week)
R.O.S. Package $500 (+1 Free Week NBA Daily Rankings)
All Statistic Predictions + Analysis + Rankings. Everything you need to BEAST your Daily Fantasy Leagues and stand out from the Sheep.
Daily Team Selection Week 7-17
Normally $1100 ($100 per Week)
R.O.S. Package $500 (+1 Free Week NBA Daily Team Selection)
You name the site, I build the team. I will build your team for any slate you give me and give you the Muntradamus touch and thought process everytime I go to war against the DFS field.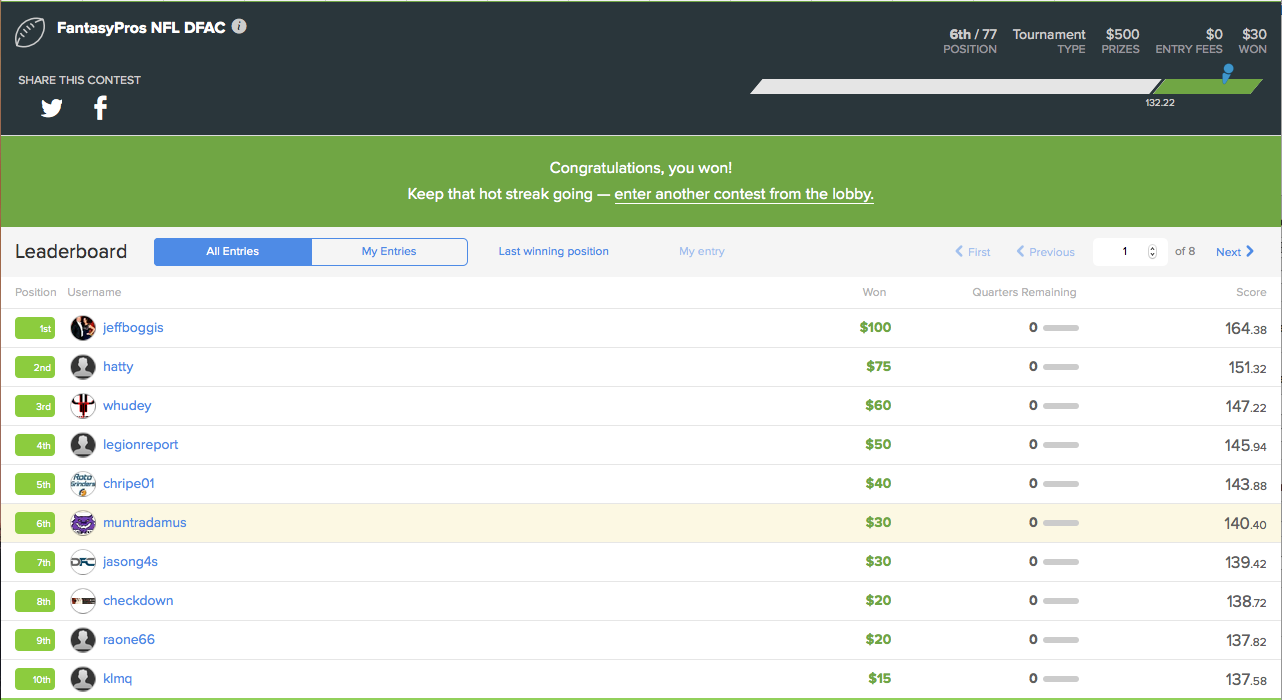 Both Packages combined Week 7 – 17
Normally $2200
R.O.S Package ($1,000) (+2 Weeks Free NBA Daily Rankings & Team Selection)
I want to make you money, because when you make money, I make money. I am making the prices very affordable as $50 profit per week is what you should expect from my results even with a bad week.
If you play Daily Fantasy Sports, my Analysis and Rankings as a 9 Time Major Championship Qualifier, will certainly give you the edge you need to BEAST all the Sheep.