BEAST DOME FANTASY FOOTBALL RECAP 2017 (TESTIMONIALS WELCOMED)
BEAST DOME FANTASY FOOTBALL RECAP
(TESTIMONIALS WELCOMED)
2017
By Muntradamus
BEAST DOME NATION.
Happy Hollidays and Happy New Year as we get closer to the end of 2017. If you have a Testimonial for me please post it on the bottom in the Comment Section.
Fantasy Football Season is always a journey that controls a large portion of your life. My goal at BEAST DOME each and every Fantasy Football Season is to give you the winning formula to make your life that much more enjoyable.
The Draft Guide changes every single season and improves every year, this year I would have to say is easily one of my favorites. It will likely not be the same strategy of 2018, as I continue to evolve as an Expert and the Sheep Experts are always at least 1 year behind the game.
Do you remember how every Expert was on Marcus Mariota and Andy Dalton? Ya BEAST DOME definitely was not.
PRESEASON TESTIMONIALS
BEAST DOME DRAFT STRATEGY 2017
1st 4 Rounds
GRONK + QB (Brady) + Saints RBs (Mark Ingram + Adrian Peterson)
Some clients were able to snag Gronk in Round 2 as all the Sheep Experts were against Gronk.
Gronk was a BEAST this year at TE. Yes he has missed two games heading into Week 17, yet he still leads all TEs in Yards and Co-Lead in TDs. If you had him on your roster in Week 15, a crucial week to advance in Playoffs. He picked up 9 Receptions for 168 Yards. If you were in the Fantasy Football Championship, Week 16, he picked up 67 Yards + a TD. Something that is always a thrill to have from your TE.
Next the Strategy was to grab Brady. Touchdown Tom was not the same Brady towards the strech run of the season. Despite that he will finish #1 in the NFL in Passing Yards as well as Top 3 in Passing TDs. Brady was MVP strong to start the season, but an injury to Chris Hogan along with defenses getting on their hands and knees praying that they would be beat by the run instead of the pass has allowed players like Dion Lewis to be Fantasy Football Saviors.
Speaking on Dion Lewis, when everyone in the world was higher on Gilli than the moon, I was alwas on the Dion train.
Here is a part of my Preseason Report on the Patriots, May 16th.
Dion Lewis Week 14: 5 Receptions. 67 Total Yards.
Dion Lewis Week 15: 1 Reception. 80 Total Yards. 1 TD
Dion Lewis Week 16: 5 Reception. 153 Total Yards. 2 TDs
NOT BAD FOR A LAST ROUND PICK
SAINTS RB STRATEGY
The RB Strategy was to grab both Saints RBs Mark Ingram, as early as Round 3, + Adrian Peterson as early as Round 4. I was firm on the belief that the Saints Running Game would dominate this year. Even when Adrian Peterson was ruining things in New Orleans, I was still confident in keeping Ingram + AP.
WHILE THERE IS NO DOUBT I DID NOT GIVE KAMARA ENOUGH CREDIT
The strategy was still there to dominate your league. Both Saints RBs ended up with monster seasons and all MVPs drafted Mark Ingram as he was a staple of the draft Guide. Mark Ingram will not only make it to the Pro Bowl, he was easily the best value on Draft Day from any of the Round 3-5 Picks anyone could grab.Those are the guys that will win you your league.
Adrian Peterson was a BEAST for a Few weeks, but he was playing with a Drew Stanton led Cardinals offense before getting injured in a Blaine Gabbert led Cardinals offense. Not the same Saints offense I saw him in when doing my preseason picks. Side note, I was not wrong about Kamara taking too many big hits as he did cost a ton of people their playoff game in Week 14 when he left with a concussion.
THE STRATEGY OF THEM ALL WAS D/ST
(SEAJAGUARS)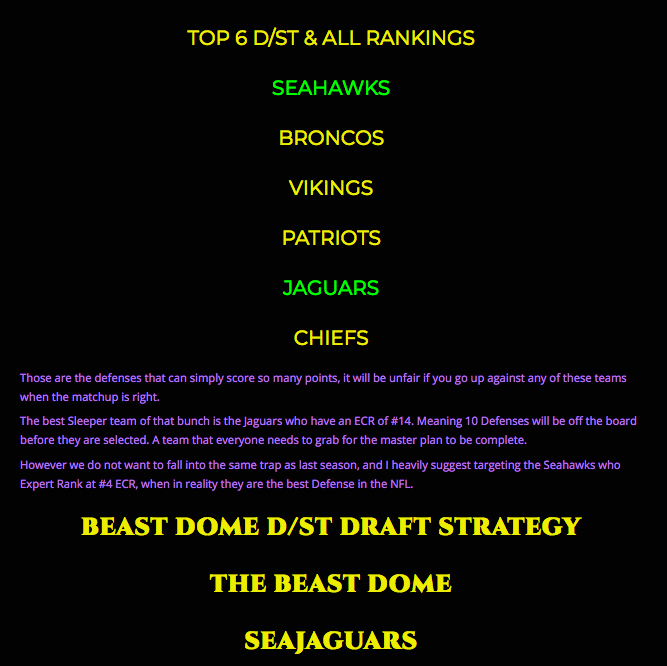 Yes the SeaJaguars.
Nearly every Expert wrote off the Jagaurs, I made them a MUST-DRAFT as a backup to your Seahawks Defense. While the Seahawks D suffered a ton of injuries nearly deflating the entire secondary. The Jaguars were the #1 Defense in Fantasy Football and it was evident from Day 1.
Name another Fantasy Site that told you to draft the Jaguars.
It was a Great year for a lot of MVPs
Thank you for all making this my Reality and Looking Forward to a BEAST 2018
What else is there to say about Muntradamus that has not said been said already. I know a lot of people push for him to put out free material but I understand the value of his knowledge, and do not even get me started on his Daily Fantasy Rosters and Projections. I use his projections along with the players I like to build dream teams, and he was very HEAVY on Mike Gillislee in Week 16 so I went big with him on my roster for season long as well as my Championship Game.
Munt Merry Xmas you made mine a great one!
I was not a believer of Brady & Gronkowski. No other site told me to go in that direction but in Munt We Trust. Am I right? Thank you Stefon Diggs and Marvin Jones as well. Great squad! Great year! Jags Defense was BEAST!!
THANK YOU AGAIN BEAST DOME NATION!!!
BEAST MVP 2018 PRE-SALE
*CONTENT STARTS WHEN 2018 NFL SCHEDULES ARE RELEASED*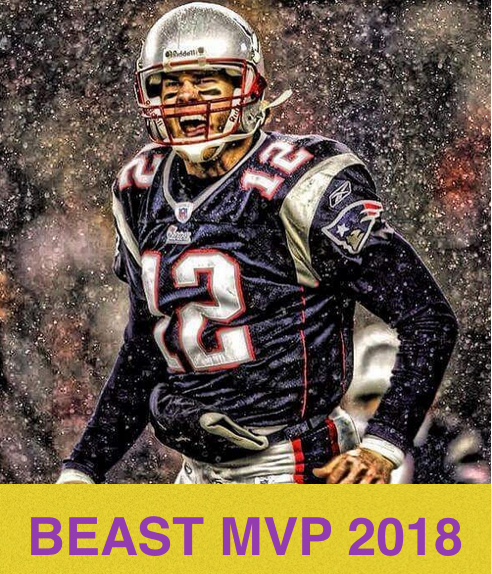 *CLICK TO PACKAGE TO LEARN MORE*
WHAT AM I DOING THIS OFF-SEASON?
While still providing MVP content to Subscribers for NBA + MLB Packages, because following sports will always be my passion.
Learn more at DigitalFantasySports.com
Crypto Coins are taking over and the Fantasy Sports Space is Wide Open. Watch the Process and see what happens with DFS which will be released on Exchanges in January.
Open up at an account (FREE) and recieve Free DFS Tokens to start trading and playing.
What makes Digital Fantasy Sports Unique?
Obviously we cannot be a coin and just be a coin like so many other companies are.
Obviously we cannot shoot out the same games as DraftKings + FanDuel and expect to compete, with DraftKings + FanDuel.
What we have is our own Library of games from different sites. You use your DFS Tokens to play Daily Fantasy Sports contests on certain sites, win more DFS Tokens, then exchange the DFS tokens on the Open Market. Instead of waiting for Bitcoin to jump from 15,000 to 20,000 (33% increase). You can play against users in Unique Fantasy Sports Games, get more tokens, then Exchange them on the Crypto Coin Exchange.