THURSDAY NIGHT HOOPS (BATUM RETURNS)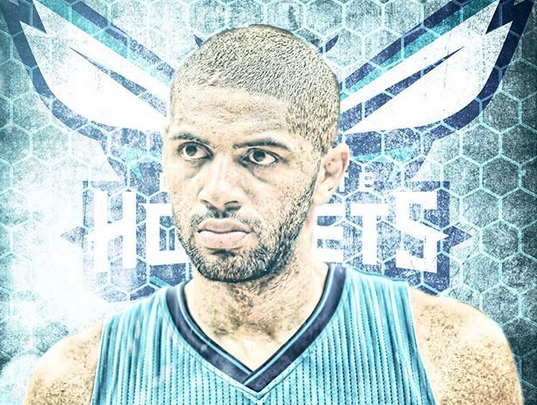 THURSDAY NIGHT HOOPS (BATUM RETURNS)
By Muntradamus
BEAST DOME NATION.
When you will see this article? Come back to BEAST DOME every night and who knows, you might get lucky. I know the teams, I know the Players, I know what to expect in each game. Enjoy.
NETS @ HORNETS
Running. Nothing but running. That is all the Nets do and the Hornets are too good on defense. Batum and MKG will likely limit the wing offense for the Nets, Dinwinddie dishing downlow to Allen will not work. If the Nets want to win this game they will need to shoot lights out.
Hornets should be able to pound the rock all game long. Dwight Howard going up against soft centers, and the Nets Guards do not play enough D to limit Kemba Walker. Nic Batum should run well and the Hornets will find ways to score points all game.
NETS 87
HORNETS 102
—
KNICKS @ MAGIC
No Porzingis to close out the season, Knicks might as well tank. The Magic on the other hand is a team that has been tanking since Day 1. However things are different, the Magic are finally healthy. Vucevic returns to a good matchup with Kanter, Aaron Gordon should go to work on Beasley. Tim Hardaway J will see tough D from Simmons, making this a game where the Magic can get enough offense and enough stops to win this game.
KNICKS 88
MAGIC 102
—
WIZARDS @ CAVS
If the Wizards had John Wall, this could be a game. However that is not the case and LeBron James is playing the best basketball of his career. The Cavs are incredibly hot as a team and the Wizards have too much to worry about on defense. Bradley Beal will have to lead the way, but in a heavy blowout and a game tomorrow, Beal is better off taking the night easy.
WIZARDS 85
CAVS 107
—
76ERS @ BULLS
76ers are ready to Trust the Process all the way to the Playoffs. The Bulls are still a hungry team, but this season is more or less a tank from here. Ben Simmons could have problems handling the ball against Kriss Dunn who is a steal machine, regardless the Bulls have no answer Joel Embiid. RoLo is too slow, Bobby Portis is too small, and Christian Felico the expected starter is really a D-League player at best. Look for Embiid to get all the work he can handle.
Zach Lavine, Lauri, & Dunn are the future, but the Bulls appear ready to split minutes with a lot of young talent to see what they have.
76ERS 109
BULLS 88
—
THUNDER @ KINGS
This is the time for the Thunder, the playoffs are in front of their eyes and it is time to DOMINATE teams that do not belong in their path. The Kings are a team that does not belong in their path as Westbrook/George/Melo would all be the best players on the Kings. Sacramento does play well at home and they have been surprising some teams, but this is a game where the Thunder should come out HUGE especially being rested. Kings have to play perfect basketball, because they are not stopping Westbrook + George all night. Zach Randolph also has no chance of guarding Melo.
THUNDER 109
KINGS 87
—
CLIPPERS @ WARRIORS
Avery Bradley is the one guy in the NBA who can guard Steph Curry tough. Klay Thompson can always drain 3s, and he will be a big X-Factor if the Warriors want to win. With Steph likely being limited, Kevin Durant will handle the ball a lot and goes up against a player in Danilo Gallinari who he can ball up against. However Danilo can ball up Durant pretty easily as well. Draymond Green will have his work cutout for him against Tobias Harris who can easily outscore him in this game. Most important for the Clippers is the expected dominance of DeAndre Jordan. While Jordan might not score a lot of points, he can control the paint and turn the Warriors into a shooting team. While the Warriors can definitely shoot lights out, that is the only way they can win. This is not going to be an easy game and Lou Williams is more than capable off the bench, you do not have to tell Lou Will that who dropped 50 on them in January.
NOTE, if Avery Bradley does not play or is not really close to 100%. Warriors will beat the Clippers.
If Bradley plays and is healthy.
CLIPPERS 109
WARRIORS 106
—
PG RANKS TOP 3
#1.RUSSELL WESTBROOK
Brodie, the nickname that makes no sense. Should see a potential 3×2 night against a Kings team that has no answer to stopping him. Fox/Mason/Temple, whoever guards Westbrook, stands zero chance.
#2. STEPH CURRY
If Avery Bradley plays D on Curry, the nigth can be tough. If Curry does not see Bradley due to injury, Curry can be vintage at home.
#3. KEMBA WALKER
Kemba should put up his signature 20+ with near 10 Assists. Nets have no chance in stopping Kemba.
SG RANKS TOP 5
#1. KLAY THOMPSON
Thompson can see a BIG Green Light if Avery Bradley plays to guard Steph. Warriors will look to shoot a lot against the Clippers, Klay should see plenty of targets.
#2. BRADLEY BEAL
George Hill will be a tough matchup, but Beal needs to do what he can to keep the Wizards in this game. Cavs are too talented for the Wizards to stay in the game, but Beal should get some nice numbers before it is too late.
#3. NICOLAS BATUM
Hornets will be running all game with Brooklyn, which means the long lengthy Batum will have plenty of action and opportunities to get steals/blocks and 3s. Throw in the assists and Batum can be vintage tonight.
#4. ZACH LAVINE
LaVine appears back to his vintage form, but now he has to play with Kriss Dunn who commands the ball more than Grant. LaVine is still the star of the Bulls, but the Bulls are in tank mode and there are a lot of people who are hungry to put up shots on that team.
#5. EVAN FOURNIER
Fournier should have the opportunity to get good assist numbers with both Gordon and Vucevic healthy. DJ Augustin is no stranger to handling the ball, which could hurt that department. Less shots attempts than normal from Fournier, but the superstar caliber game is possible.
SF RANKS TOP 4
#1. LEBRON JAMES
The Near Triple Double with 20+ Points is already written in stone. The only thing Lebron has to do is show up. Otto Porter can be a threat on defense, but Lebron is playing Hall of Fame Basketball and the entire offense runs through him. Magic Johnson style.
#2. KEVIN DURANT
KD will have to carry the Warriors if the Warriors have a chance. 30+ Shot attempts and the potential Triple Double is there, can be a very special night. Steph Curry will have his hands full with Avery Bradley.
#3. PAUL GEORGE
PG 13 is going up agains a team that has nobody that can guard him. Justin Jackson/Hield/Vince Carter, these guys do not belong in the ball park of Paul George. The only guy that can slow down Paul George, is Paul George.
PF RANKS TOP 3
#1. Ben Simmons
Ben will be leading the charge to a potential 3×2 against a Bulls team that is playing for Lottery balls and not playoff spots.
#2. AARON GORDON
Michael Beasley is a dream matchup for Gordon who is returning from a calf injury. Yes Vucevic is back, but Gordon should be back to putting up a vintage easy 20+ Points.
#3. Carmelo Anthony
Melo can still shoot and the Kings have nobody who can really guard him. While Westbrook + George get the spotlight, Melo can sneak in with an easy 20/10.
CENTER RANKS TOP 2
#1. JOEL EMBIID
Put it as simple as this. The Bulls have nobody who can guard him, and the Bull will miss shots. HUGE, HUGE night is in store for Embiid.
#2. Dwight Howard
Lots of running up and down the court for Dwight, he will get a lot of work all night with easy rebounds and easy dunks. Vintage Dwight night in store.