MUNTRADAMUS DOES IT AGAIN – BEAST DOME EXCLUSIVE
MUNTRADAMUS DOES IT AGAIN – BEAST DOME EXCLUSIVE
Your favorite fantasy expert has gone through the field for a second time to claim his second seat in the DSBC.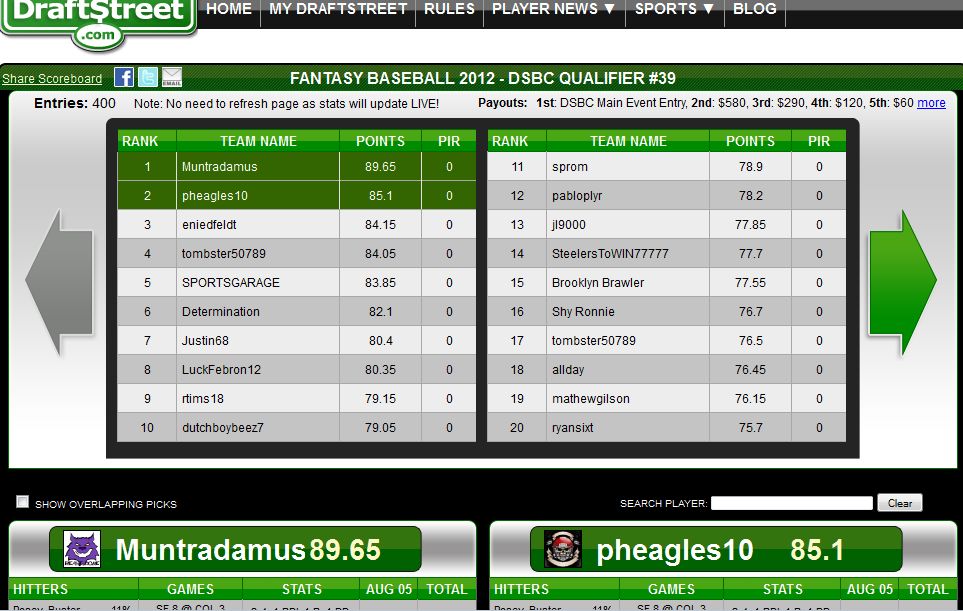 For those of you that do not know what the DSBC is, it is a $200K tournament on DRAFTSTREET that consists of 40 qualifiers.  To qualify you have to compete in tournaments that have over 200, sometimes 400 people.  Sunday Muntradamus took down the field of 400 thanks to a save by Jason Motte to wrap up the day and give him the lead.
The big DSBC tournament begins on Monday August 13th, and lasts two days where the field of 40 will but cut down to 12.  Having two entries, I am very confident in my chances of making it that far.   I will let you all know the outcome.
Since the tournament starts next week, I will be giving you my Pick'Em picks in all the Daily Pitcher Rankings this week.
Also for all of you Fantasy Football players out there.  Look out for the BEAST DOME FANTASY FOOTBALL STRATEGY GUIDE that comes out Monday evening.
Let's Win that Championship!