FANTASY FOOTBALL THURSDAY NIGHT LIGHTS Battle Ohio (WEEK 2)
FANTASY FOOTBALL THURSDAY NIGHT LIGHTS Week 2
By Muntradamus
BEAST DOME NATION.
Enjoy a BEAST THE ODDS previewing the Thursday Night Football game along with other topics going on in the world of sports. Recap of the TB/NO game, DAL/LAR, CHI/DET, and the Clippers losing to Denver?!
BENGALS @ BROWNS
The Bengals offense is already the most underrated offense in the NFL. For all those that doubted Joe Burrow, including myself, we will all find out the hard way that Burrow is a great QB who is good at moving the chains. Is Burrow a Hall of Famer?? I am not going that far, but he looks like a QB that can finally turn the Bengals into a winning team.
The offensive line for Cincy is not special, and the Browns pass rush is always one to dominate a game when the opportunity is there. Look for Burrow to be in Shotgun a lot, throwing quick targets to his favorite weapon in AJ Green. AJ Green is MUST-TRADE for this week in Fantasy Football if you can lock down a deal before the game begins, if you were SEASON BEAST you would have had all Wednesday to strike a deal.
That one is Free, next one will cost you. Joe Mixon may struggle because the Browns front line is that strong, however with a strong offensive showing from the air attack, the entire offense will open up for the Bengals. No Burrow is not Brady, he is more of Carson Wentz on the spectrum. However Carson Wentz with these weapons would put up good fantasy numbers, Burrow will do the same.
Things are looking very bad for the Browns early. Baker Mayfield does not look that improved, and Odell is not n-sync with his QB. Luckily for the Browns, they play a Bengals defense that is vulnerable pretty much to everything. Expect the Browns to go full throttle on offense with plenty of targets to Odell, plenty of runs with their two-headed monster, and contributions from Landy + other role players. The Browns offense needs to capitalize on this easy matchup and it all is going to start and end with their "Franchise" QB in Baker Mayfield.
In the end, I expect both offenses to show up as both these young QBs duel for who is the QB of Ohio. House money would be on Baker heading into the season, but Burrow already looks like the heavy favorite. We are going to see a shootout and it is going to be exciting!
BROWNS 27
BENGALS 24
GET WEEKLY BEAST FREE!
DO MONKEY KNIFE FIGHT OFFER BELOW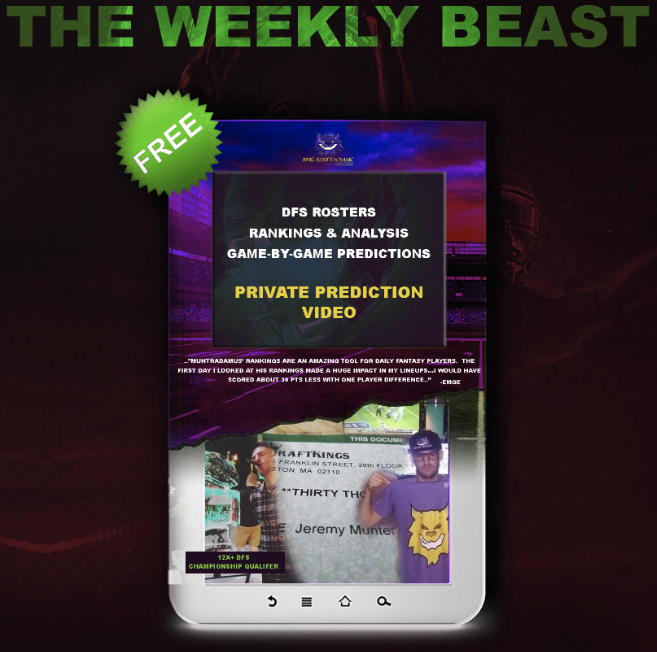 E-MAIL ME [email protected] for the Password + Special Gift.
E-Mail screenshot of Proof