FANTASY FOOTBALL PRESEASON WEEK 1 (BET GUIDE & DFS PLAYS)
FANTASY FOOTBALL PRESEASON WEEK 1
(BET GUIDE & DFS PLAYS)
By Muntradamus
BEAST DOME NATION.
The Preseason is officially upon us! Yes techinically the first preseason game already happened, but that game could not be more irrelevant to what we should expect this Football season. We had scrubs in the games basically instantly as those two teams still have four preseason games left.
With Thursday being the first day of the official Daily Fantasy Football Season in my eyes. It is still important to be honest when it is important to be honest.
Playing time is unpredictable.
Rookies first performances are unpredictable.
With that being said, do not break the bank if you are playing Daily Fantasy Football or betting on games this week. Instead, put out a couple dinners on the line. 25 more Weeks of Football, enjoy them.
NOTE AFTER THIS ARTICLE WAS PUBLISHED TEAMS HAVE MADE ROSTER NOTES CHANGING SOME OF THE SCENARIOS.
WAGER PLAYS STILL REMAIN THE SAME (BOTTOM OF ARTICLE)
DAILY FANTASY PLAYER OF THE DAY REMAINS THE SAME (BOTTOM OF ARTICLE)
CATCH BEAST THE ODDS (LIVE 4pm PST) on DFS PLAY BY PLAY
NFL REDZONE CHANNEL meets DAILY FANTASY. Meets Preseason.
JETS @ GIANTS
No Le'Veon which means the Jets will try to figure out who the best backup RB is. Ty Montgomerey is a great choice for a PPR format, he should thrive with both Darnold and Siemian. However do not sleep on McGuire and Powell who both have proved they are fantasy capable when given the opportunity. Jets WR core not the deepest, so expect a lot of running the Football this week. Darnold may play a quarter max.
The Giants want to see what they have in Daniel Jones, and at home they will do just that. So far all reports show he is the next Eli, but the 35+ Year Old Eli. T.J. Jones/Cody Latimer and Bennie Fowler all have had some NFL success at one point, they will all get their targets as the Giants likely go pass heavy. Rod Smith (RB) looked great for the Cowboys at times, him and Paul Perkins will get a lot of carries in this one.
COLTS @ BILLS
Jacoby Brissett should do damage against backups. The Colts are extremely deep at WR, he should be working with guys like Zach Pascal and Chester Rogers. With Andrew Luck banged up, do not be surprised to see Jacoby take the entire first half. The Colts offense should be aggressive and they also are very deep at RB. Guys like Hines and Wilkins who have yet to really prove they are great will get a lot of opportunities. Colts will be scoring points.
Josh Allen needs to show he is good in the preseason or the Bills are losing every game again. The Bills do have some good weapons, but all of them are at RB. We should see a laundry list of guys including rookie Devin Singletary, but TJ Yeldon is the best in my opinon. Bills will also check QB Matt Barkley in there for a lot of PT and see if he can perform against backups. All in all, Bills offense can be productive, but it will not be easy as this group does lack in the talent department.
JAGUARS @ RAVENS
Game of horrible QBs. RG3 would have been fun to watch, instead we will get two guys who may never play a regular eseason snap for the Ravens at QB. The team does have good backup talent at WR with Michael Floyd, and RB Justice Hill should get a lot of action. In the end, this is likely a weird game where both teams just come out with that preseason unpredictablilty. The offense is not really there, the defense is not really there. But there is enough talent on the offense where some big plays can happen.

Jaguars have a lot of talent, but they also have bad QBs. RB, Alfred Blue is the guy to watch once Nick Foles and the first team offense is done. However he is not enough to have a breakout game. Especially with limited touches. Even though the Ravens D is not the same as last year, they still can matchup with 3rd/4th string Jags.
TITANS @ EAGLES
Ryan Tannehill will have his first opportunity to prove how good he is against backups. First time he has been in that position after being the franchise QB for the Dolphins the last too many years. Taywan Taylor and Tajae Sharpe are two strong wideouts for Tannehill to get it done. Not that this is automatic, but Tannehill should be effective in this game.

Eagles not only have good backups in Kessler and Sudfeld, well good enough to have a few gaems in the NFL. They also have a deep group of WRs in Charles Johnson who used to dominate with the Vikings, as well as Braxton Miller and Mack Hollins. Do not forget Super Bowl hero Corey Clement as thier 3rd/4th RB who should get a lot of PT.
FALCONS @ DOLPHINS
The Falcons have two veteran QBs in Matt Schaub and Chris Simms who will see ample playing time in this preseason game. Justin Hardy is the standout sleeper WR in my eyes. Both these QBs need solid preseasons in order to stay relevant in the NFL. Imagine an army load of RBs as the Falcons figure out which one to cut, all backups will be in play early for this road game.
The Dolphins have a QB battle in Fitzmagic vs. Rosen. A matchup that I would give the edge to Fitzmagic, and both these QBs may split this game right down the middle for them to find out. A sleeper WR who would love to find some magic of his own is Bubble Roster Allen Hurns. Hurns was a solid WR with the Jaguars before losing all value and roster space with the Cowboys. Expect both QBs to target the sleeper heavy.
PATRIOTS @ LIONS
Do not be surprised to see Brian Hoyer player the entire game. The Patriots want Hoyer to be ready to dominate at moments notice, and the Patriots are stacked with WRs who can make plays. Expect a lot of rookie N'Keal Harry as he gets used to NFL action. Expect a lot of Maurice Harris who is finally on a capable offense after being stuck in Washington his whole career. The Patriots are also stacked at RB, expect to see a lot of them including Rookie Damien Harris.
Tom Savage will get a lot of PT and the Lions have some weapons on their bench. Zach Zenner will see a lot of time at RB, the WR core of TommyLee Lewis and Jermaine Kearse is interesting. Anyway you look at it, Savage is not that great and going up against Belichick is not an easy task who will be calling plays. I expect Bill to have his team ready.
REDSKINS @ BROWNS
Maybe you remember how bad the Browns offense was last preseason. Scoring any points would be a miracle this week as the Browns will likely play their stars gently a couple series. Maybe one FG until starters are pulled. The deep backups for the Browns are not worth rostering Redskins D is no push over, especially for one or two series.
Redskins offense will likely see what Rookie Dwayne Haskins can do. He also played for Ohio St. which means a lot of friends and family at the game. Expect Haskins to get a lot of PT with a good group of WRs, he can even steal this game on the road and leave the hyped Browns faithful sad inside.
TEXANS @ PACKERS
The preseason is where the Packers are unstoppable. Aaron Rodgers does not even have to play in this game, and the Packers offense will score tons of points. DeShone Kizer will get all the playing time he needs, could be the entire 1st Half. The Packers are stacked at WR, St. Brown his former college teammate is a WR you Must-Own. The Packers also have a fan favorite in Kumerow who is the next Wayne Cherbet. Do not forget highly drafted WR J'Mon Moore. Just when you think it is over with Kizer, in comes Tim Boyle who in my opinion is starting NFL QB ready after watching him dominate last preseason with multiple TDs. He is as smooth as they come, and he will tear apart the scrubs. The Packers will be scoring points all game, the Texans will do their best to try to contain it. Read the bottom of the article for the fantasy player of the day.

No surprise, the Packers Defense is not that good. They are young, and they are not ready for NFL teams at this point of the season. While we may not see a lot of Deshaun Watson as the Texans maybe play him a series or two, we will see a lot of Joe Webb to see if he is the real deal. Webb played against the Packers in a Playoff game with the Vikings long ago. The Packers secondary will have problems with Vyncit Smith, a WR who looks like he has potential to do big things with his big body. Josh Ferguson at RB is also intriguing as he always shown something with the Colts, but never really got any opportunities after Marlon Mack outshined. Expect Webb to run a lot as QB, no A.J. McCarron means this is his shot.

PANTHERS @ BEARS
Panthers will definitely see what Heinicke can do against backups. However these backups are not any backups, these are Bears Defense backups. Not an easy matchup for him, he may only get one quarter as well as the Panthers really put Rookie Will Grier to the test. Either way, this is a game to avoid.
I am avoiding all Panthers in this game. A lot of young players we know very little about, on the road against maybe the hardest place to play.
Bears backups, another story. Chase Daniel has been a preseason legend since his backup days with Drew Brees. Daniels has big body WRs who can make plays as well, let us not forget about Tyler Bray who has a little NFL in game experience. Mix that with Cord Patterson and Tazquann Mitchell as the 4th/5th RBs. Bears offense has weapons. Something the Panthers will not be able to deal with.
BRONCOS @ SEAHAWKS
Broncos fans would love nothing more than to see Joe Flacco tear up the Seattle secondary. Expect a full quarter from Camel Joe as he gets used to his new weapons. Backup QBs Kevin Hogan and Drew Lock will probably split time. In the end, if one WR will benefit from this QB battle it is Tim Patrick. Patrick has had a degree of NFL success, and he can beat Seahawks backup corners, though the safer choice is Hamilton as he will be securing the easy passes in the slot, PPR format. Noah Fant the Broncos 1st Round Rookie TE will get his targets as well. Broncos run game has a lot of hands to feed, Devontae Booker against scrubs though is something to get excited about. Booker in my mind if he was on a great team, he would have shown the world he is a true RB stud. The guy does not go down.
Seahawks may play their starters for one scoring drive. Russell Wilson might play a couple series with his new toy in Metcalf, something to watch. After him Geno Smith is good enough to dominate scrubs and Paxton Lynch takes on his former team. C.J. Prosise should be able to do damage against scrubs (Now ruled out). McKissic through the phone also has great sleeper potential against scrubs. Great PPR option.

CHARGERS @ CARDINALS
If I am the Cardinals, I am planning on playing the first team offense until they score a TD. It is important that they learn this new system fast, because no Patrick Peterson for the first six games means the Cardinals offense will have to put up points quick.

Expect the Chargers to put their defense to the challenge and have them play an entire quarter making sure that they do not do that damage against that unit. Maybe Kyler ends up throwing a TD late in the 1st Half, but outside of Kyler, I would avoid the Cardinals players. Brett Hundley and that second unit might only play one quarter.
Chargers may not even play Philip Rivers in this game. We may not even see much of Ekeler and Jackson as the Chargers need these guys to be healthy. If either RB gets injured, Melvin Gordon gets a big pay day. Expect the Chargers to see who is better between Tyrod Taylor and Cardale Jones, who looks like an upgraded Tyrod Taylor. Jones will get more playing time and the Chargers will feature Detrez Newsome out of the backfield. Detrez is more of a power stalky RB, someone who can easily vulture a TD against scrubs.
MEDIUM (PLAY OF THE DAY)


GB ML
—
SMALL
Eagles ML
BEARS ML
SEA ML
—
DAILY FANTASY PLAYER OF THE DAY
DEXTER WILLIAMS – GB – RB
Packers will definitely be moving the ball against the Texans. With Jamaal Williams and Aaron Jones OUT, the Packers will want to see what they have in their 3rd Round Rookie RB. All the other backup RBs on the Packers have been on the team for less than two weeks, it is Williams opportunity to show he is the best 3rd String RB for the job.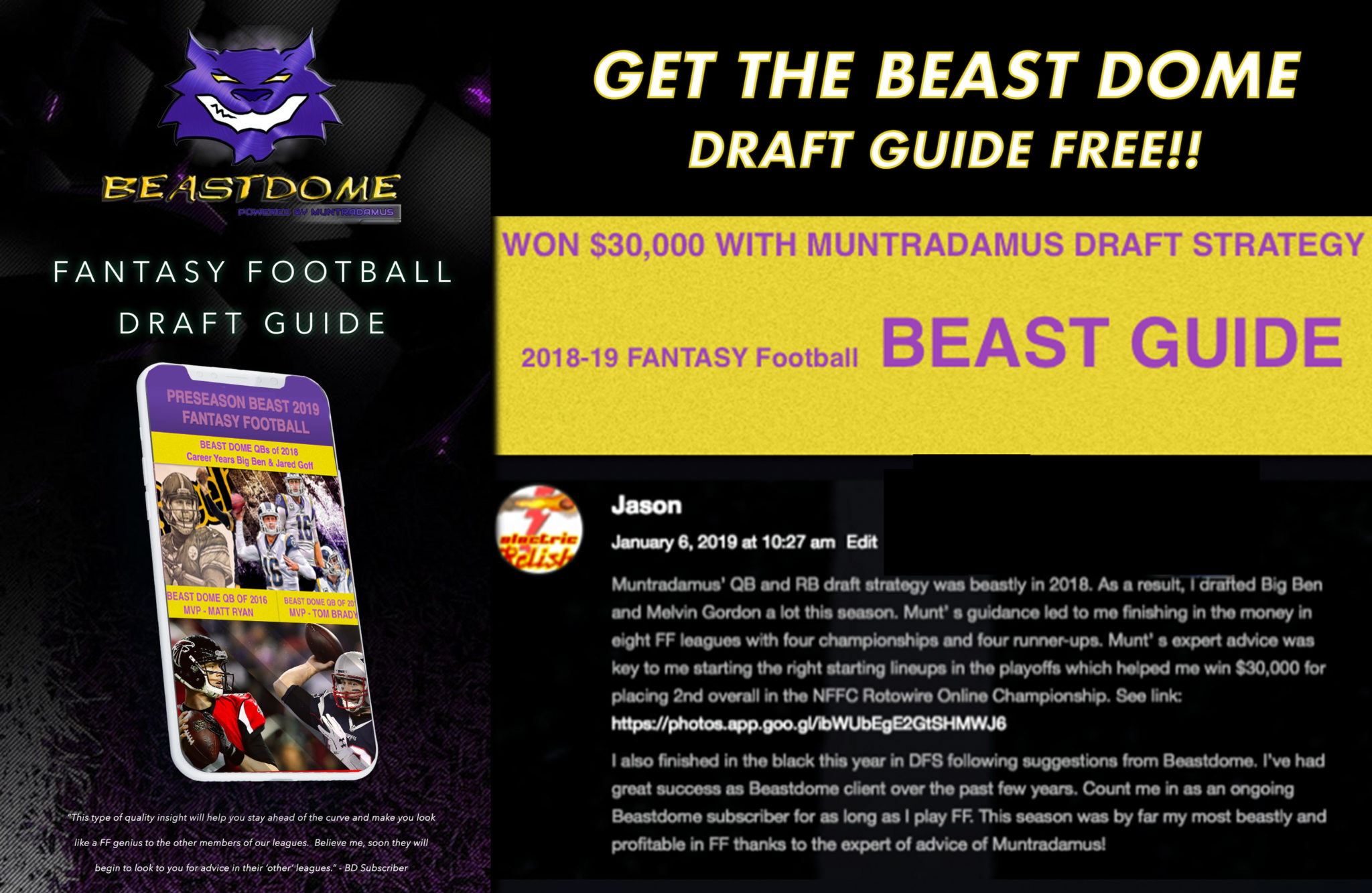 POST COMMENTS ON FACEBOOK/TWITTER/INSTAGRAM
FACEBOOK
TWITTER
INSTAGRAM