FANTASY FOOTBALL PATRIOTS 2020
FANTASY FOOTBALL PATRIOTS 2020
By Muntradamus
BEAST DOME NATION.
No, it is not a mistake, this article is not password protected. This article is FREE for the BEAST DOME NATION. as we will follow the story of Cam Newton from start to finish. Right now we are focusing on the team as a whole and seeing if we can find any Fantasy Weapons who will be part of the BEAST DOME 2020 DRAFT GUIDE.
OFFENSE
Super Cam gets Josh McDaniels. What a treat for the superstar who is on a mission. The Offensive line is still the same Brady had, which means he will be very well protected. His WRs all have BEAST potential, for their roles. Not for fantasy. However If Julian Edelman gets healthy, Cam will rely on him heavily. More so than Tom as Cam really struggles to throw deep. While Edelman was the man for the BEAST DOME NATION last season as we all easily snagged him in Round 4/5 with 100 Receptions & a career-high 1,117 Yards. It is hard to trust a Cam Newton weapon with anything earlier than a 5th round pick. Edelman is on his last legs and hopefully he returns to full health. He is a warrior, but he cannot take much more of a beating.
Mohamed Sanu should be a good target for Cam, but not someone to trust in Fantasy as Cam will lock into Sanu maybe only a handful times this season at most. Once upon a time…
SANUZE YOU LUZE
Result
8 RECEPTIONS/80 Yards/TD
N'Keal Harry has big-time potential and can easily turn into Devin Funchess very quickly. Big body WR, Cam will throw deep to him often when the defense overplays the run. Still, that is not fantasy worthy and something you want to rely on.
The running game is where the Patriots thrive. Michel/White/Burkhead and even last years top pick Damien Harris. Having so many running backs ends all of their value instantly. I wrote it about in the preseason of 2019 and called all of them Busts. Nobody saw Burkhead coming, but I do my HW.
All in all. The Patriots are going to be a team that moves the ball slowly down the field and burn a lot of clock. Cam Newton will be productive, but not a Fantasy QB to rely on. Patriots want to keep him healthy, with all his foot and shoulder problems, expect him to hand the ball off a lot, and run a lot less. Expect him to throw short to his possession WRs, than to throw deep to Harry. Game Manager Cam is the Cam we will see.
It is still Cam's team. He can still win like his Auburn days. Health is the name of the game for him and the Patriots.
 DEFENSE
The Patriots have their same defense from a season ago. A defense that many claimed, they did not see coming. Read the article below.
ARTICLE FROM THE RINGER
(ABOUT THE PATRIOTS DEFENSE)
MUNTRADAMUS RANKINGS
(BEAST DOME DRAFT COMMANDMENT)

I see the trends before anyone else is thinking about them. You are on this page for a reason, take that leap of faith into the unknown and see what happens.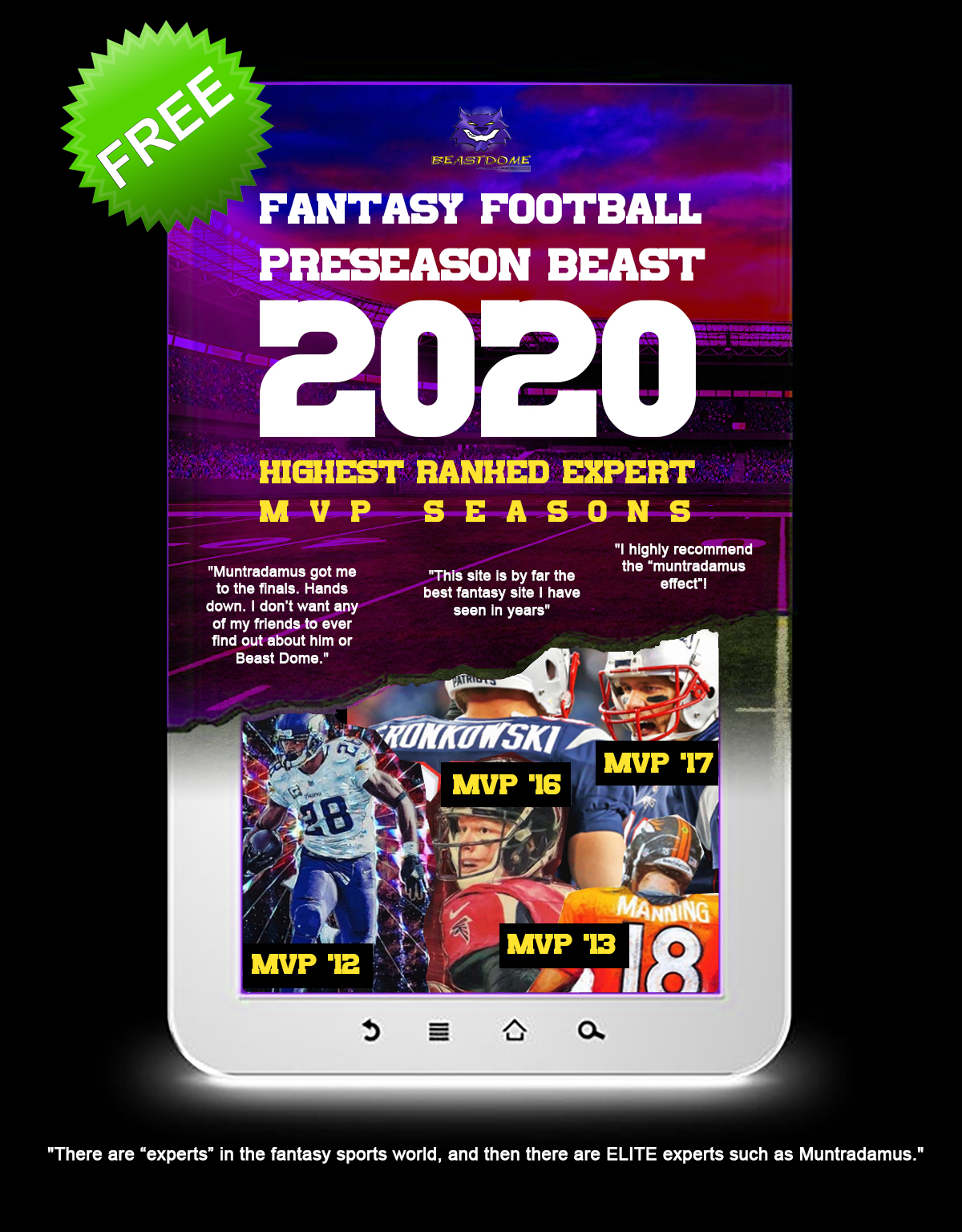 HAPPY 4th of JULY WEEKEND BEAST DOME NATION
May God Bless You All
LOVE