FANTASY FOOTBALL BUST QB Disney Carrs 4 (Derek Carr)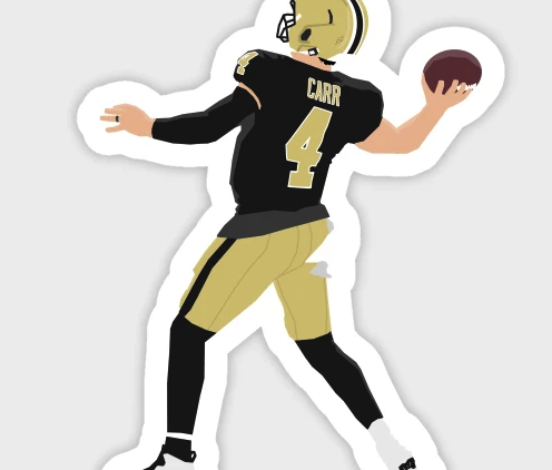 FANTASY FOOTBALL BUST QB
Disney Carrs 4 (Derek Carr)
By Muntradamus
BEAST DOME NATION.
In Fantasy Football, your backup QB is always important. The Fantasy Football season is long, and these QBs are getting smacked around by guys who hit harder than carr accidents. With the BEAST DOME Draft Guide every year you get a QB Strategy. Arguably my best call of all-time was my 2016 QB Draft Strategy. Made a video for it preason and Matt Ryan won MVP.

The Saints have been a mess at QB since Drew Brees has retired. We experienced the inconsistency of Jameis Winston. The fake hype of Taysom Hill. Even throw in some Andy Dalton who is way over the hill. The Saints went out and got Derek Carr to fix their problems. The question is, can he fix the Saints offense?
We do not see the same Derek Carr who was throwing to Amari Cooper and Michael Crabtree less than a decade ago. Now we see a Derek Carr who looks like Zach Wilson. Showing horrible touch on passes, making bad throws, checking everything down because of afraid of making mistakes. Derek Carr has not been himself since Antonio Brown came to the Raiders. Could be the reason why Antonio Brown wanted to get out of Oakland looking back at it.
In Vegas, Carr had a golden situation to revitalize his career with the greatest WR in the NFL who is on top of his game, Davante Adams. Did not hurt they were college teammates as well. With all the hype surrounding the two, Derek Carr had a flop of a season. Davante Adams still got his numbers, but it felt like all year the potential for so much more was left on the table. Derek Carr had a horrible year and now he is in New Orleans.
The Saints offense does not pose as good of a situation as he had in Vegas. Davante Adams can control a defense, Chris Olave is definitely on the low-end of #1 WR options. Michael Thomas is half robot half human at this point with all of his surgeries. There is more to the story for what the Saints are working with, but that is not the main focus here.
The main focus is that Derek Carr is not a talented QB. When you need your backup Fantasy QB to come into your starting lineup, do you really want to see Derek Carr as the QB in your lineup? Carr started out as Zach Wilson in this article, but now is starting to sound more like end of days Phillip Rivers? Lazy passes, it would have to be a cupcake matchup for him to be a real threat to do anything. Last thing the Saints want is to get in a shootout this season. That is why they brought in Jamaal Williams. Any lead means time to pound the rock and let their defense that has still has pieces from their glory days try to seal up a win.
EXPERT CONSENSUS RANKING #18 QB
MUNTRADAMUS RANKING #24 QB
Drafting Derek Carr should not even be a thought in your mind when your Fantasy Football draft occurs. However you will see many Sheep target him as their QB2 in 12 team leagues, even 10 team leagues.
The real question is. Who is the backup QB target for BEAST DOME? Who is the starting QB target for BEAST DOME? Signup below and find out.
JUNE/JULY SPECIAL $333
Full Preseason Draft Strategy & Rankings
SEASON BEAST. WAIVER WIRE/STARTSIT/TRADE Advice all season
DFS/Stat Predictions/Score and Game Predictions for all of September ($400 Value).
Access to my phone for text & More Click Below.