FANTASY FOOTBALL BURNING MONEY 101 (SAM BRADFORD)
FANTASY FOOTBALL
BURNING MONEY 101 (SAM BRADFORD)
By Muntradamus
BEAST DOME NATION.
There are plenty of ways to burn money in your life. Buying things you do not need, signing up for a Fantasy Football league without my draft guide for the upcoming season, or even worse, buying a Fantasy Football Draft Guide from the Sheep Experts that promoted Marcus Mariota and Andy Dalton as QBs you should own.
While those expenses will not cost you a fortune, the Arizona Cardinals decided to invest $20 Million ($15 Million guaranteed) on a QB who is way overpaid. Sam Bradford.
First thing that comes to mind with Sam Bradford is the fact the guy is made out of glass.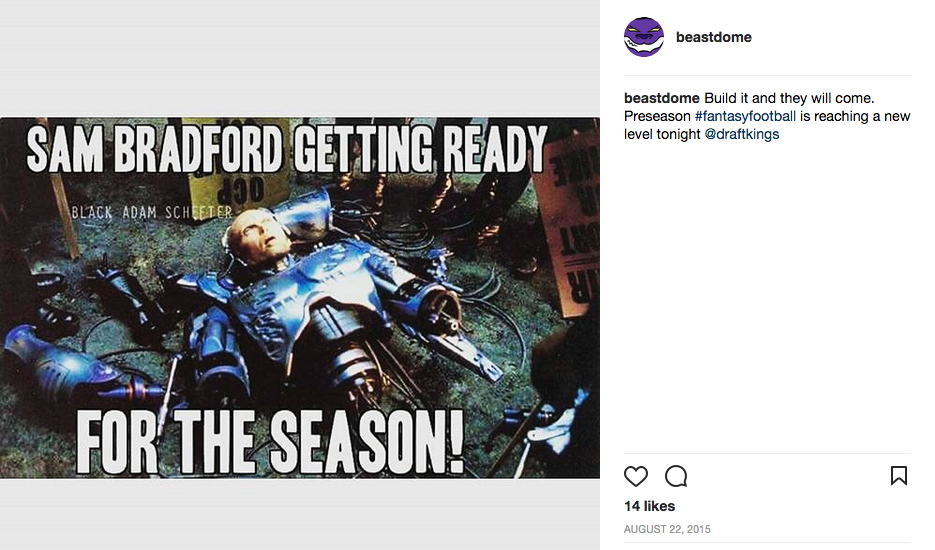 The second thing that comes to mind with Sam Bradford. He does not make good decisions under pressure.
Going to Arizona, a team that had Offensive Line problems all last season which lead to Carson Palmer playing his last days of Football. Sam Bradford is in for a very wild ride. Playing in comfy Minnesota where he was surrounded by super star WRs and an Offensive Line that was built for Adrian Peterson to break records. Now he goes to a beat up offensive line that is really an injury away from being horrible. Larry Fitzgerald still remains on the roster, the only thing that Sam Bradford can really target thats over 6 Feet Tall, and David Johnson will continue to be the BEAST as long as his health does not hinder him.
Regardless of all this, Sam Bradford like Tyrod Taylor, has never been a QB that can control a game and win it all by himself. He can certainly lose it all by himself like he did in Philly throwing 14 INTs in 14 games in 2015. Which led the Eagles to go after Carson Wentz in 2016. Which led to a Super Bowl in 2017. Or even when Sam Braford left the Rams in 2013, so they could go after Nick Foles in 2014, who turned out to be a Super Bowl QB in 2017.
Maybe that is Sam Bradford's role in this universe. Be the QB which leads to the franchise QB. Regardless, $20 Million is a lot of money for a team that needs a #2 WR that is ready to take over for Larry Fitzgerald. If anything happens to Larry Fitzgerald this season is over, even David Johnson again for that matter. The Cardinals may be playing for the #1 Pick in 2019.
EARLY BEAST SPECIAL
$75 PRESEASON BEAST/$150 BEAST SEASON
+
FREE MLB DRAFT GUIDE WITH PURCHASE