FANTASY FOOTBALL BEAT THE BEAST (WEEK 3)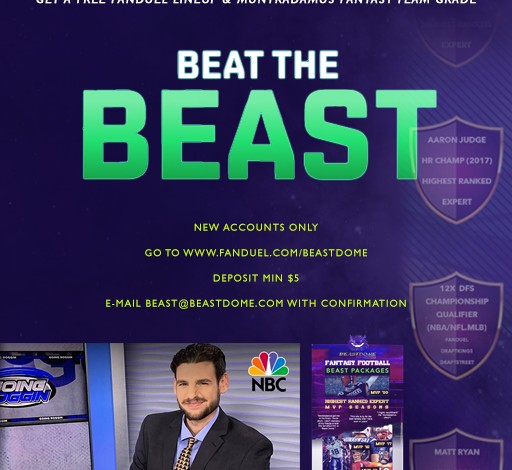 FANTASY FOOTBALL
BEAT THE BEAST (WEEK 3)
By Muntradamus
BEAST DOME NATION.
Now is your chance, you can prove you have the skills to compete with me in Daily Fantasy Football. For a limited time only, these contests will be running. $5 Entry Fee. To be eligible for the additional prizes complete the steps below.
In order to be eligible for the prizes below.
—
GO TO FANDUEL.com/BEASTDOME
Signup a New account
Deposit $5
E-Mail [email protected] confirming you did the promo.
FIRST PLACE GETS A NFL JERSEY
IF YOU BEAT MUNTRADMAUS YOU GET A HALL OF FAMER OR ROOKIE CARD FROM ANY SPORTS TEAM
*YOU PICK THE TEAM*
SIGNUP MULTIPLE ACCOUNTS GET SEASON LONG ADVICE!