FANTASY FOOTBALL BEAST OR BUST ROOKIE PROFILE JAXON SMITH-NJIGBA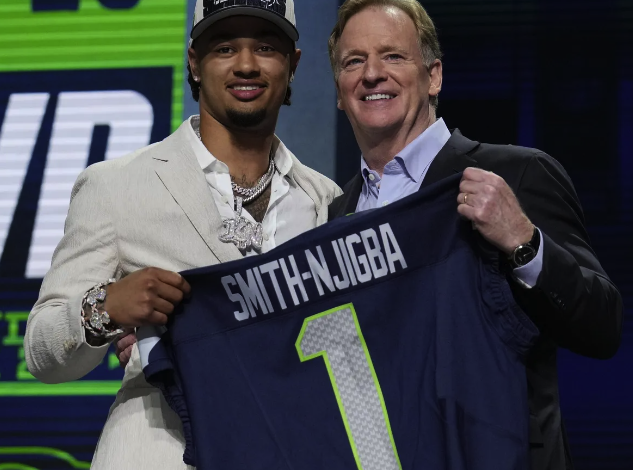 FANTASY FOOTBALL BEAST OR BUST ROOKIE PROFILE
JAXON SMITH-NJIGBA
By Muntradmaus
BEAST DOME NATION.
Fantasy Football season is around the corner and, "The BEAST DOME Draft Guide Process" will begin shortly. I expect to have the Draft Guide complete in May. Until then let us evaluate these Rookies and see if they will be on your team this Fall.
Jax was the #20 pick of the NFL Draft for the Seahawks, and he is a good one. Percy Harvin is the first player that comes to mind when I see Jaxon, and he will have a better QB than Percy Harvin ever had in Geno Smith. The real question is, will Jaxon be a player you draft in Fantasy Football?
No Expert Ranked Geno Smith higher than myself in 2022. If you saw what I saw during the preseason, and what I told my clients who were part of Preseason BEAST. They all knew the, "Let Geno Cook" campaign would begin. Jax is so fast, the Seahawks have to include him in their offense. While Metcalf and Lockett will always be first in Geno's heart. It will not take long for Jaxon to make enough plays to be relevant. Now we do not know enough yet to determine if Jaxon is going to be part of the BEAST DOME Draft Guide, but what we do know is that this kid is fast and he is going to play.
With that being said, Jaxon will be fighting as a deep WR4/5 at very best in Fantasy Football this season. Which is far better than Johnston and Flowers so far. However at the end of the day, inconsistency will definitely be part of the Rookies growing pains in Fantasy Football. If something happens to Lockett or Metcalf, Jaxon becomes a WR2/3 very quickly. However we are not speculating that when giving this answer of his Rookie Year in Fantasy Football.
ROOKIE YEAR FANTASY FOOTBALL
BUST