Fantasy Basketball Finale: The Season That Changed The Game (2013)
Fantasy Basketball Finale:
The Season That Changed The Game (2013)
By Muntradamus
BEAST DOME NATION.
What a Long Exciting/Interesting Fantasy Basketball Season.  I first want to thank you loyal BEAST NATION fans who were here from Day 1 Of the Season, or even joined last week.  You are all important, it all starts with you!
Next time you come to BEAST DOME, this site will be at a different level.  Enjoy your off-season!
With the season being over, it is time to recap on what made this season so amazing.  
FANTASY EXPERT
Then Bounced Back The Next Day/Month with MuntraSanity
Top Articles
TOP 5 PRESEASON TOP RANKINGS WITHIN EXPERTS
*ECR=Expert Consensus Ranking*
*All Player I either Ranked the Highest. Or Lowest Of Any Expert*
(1)  
DAMIAN LILLARD – PG – POR 
MUNTRADAMUS RANK: #8
ECR RANK: #17
*No Expert Ranked Lillard higher than me. Rookie Of The Year.*
(2)
PAUL MILLSAP – PF – UTA
MUNTRADAMUS RANK: #22
ECR RANK: #7
*Paul Millsap is Averaging 14 Points and 7 Rebounds. Worst season since his first year as a starter*
(3)
DIRK NOWITZKI – PF – DAL
MUNTRADAMUS RANK: #23
ECR RANK: #8
*Dirk is averaging less 17.9 Points/Game. First time since 99-00 he has scored less than 20/game.*
(4)
JRUE HOLIDAY – PG – PHI
MUNTRADAMUS RANK: #9
ECR RANK: #19
*Jrue having a career year. Easily Top 8 PG next season.*
(5)
KEMBA WALKER – PG – CHA
MUNTRADAMUS RANK: #22
ECR RANK: #29
*No Expert Had Kemba Ranked Higher.  Averaged nearly 18 Points/6 Assists*
VIPS
All 4 V.I.P. Packages were huge this season.  Let's go down the list to recap just a few of the many highlights I did not share.  Feel free to Post your own Testimonials on the bottom in the Comments Section.
All the V.I.P. #4's made Money On The Season.  Here was the betting record for the safe games revealed to the Public in all the Daily Rankings.
Blowout Potential
*Potential Game to Bet on. REVEALED TO PUBLIC IN ALL RANKINGS*
*FINAL RECORD*
 51-4
Alfred –
I was betting on Muntradamus safe games every night and was making good money.  But I decided to try out the V.I.P #4 to see if there was real potential.  
The Muntradamus Parlay's were the craziest most exciting thing to happen to my life.  Bro you have no idea how many nights I had such little stress with all the blowout games Muntradamus was able to find on a nightly basis.  Over/Unders were nearly automatic, and even on the upsets he hit way more than 50%.  Parlay all these crazy combos together, I turned $100 into $1100 in One Week.    
I don't even watch Baseball, but of course I signed up for baseball.  So far so good my friends, I recommend trying him out with his Free 1 Day Trial.
-Raul
Team: Light It Up (Yahoo Fantasy Basketball)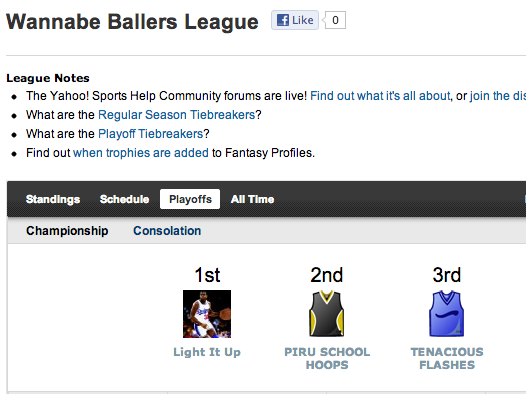 My only regret in using the VIP #3 package was not signing up earlier! I could have used Munts expert advice during my draft. But, as advertised, Munts still came through with all the early waiver moves (see Lillard, Damian & Sanders, Larry) to strengthen my team early in the season. When playoffs were creeping closer I had ALOT of injuries and Munts kept me calm through the storm. He advised me not to hit the panic button, and gave me some key players to add, like Bradley Beal (who helped my secure the 2 seed and a bye week) before they were "espn" hot players to add. When playoffs were right around the corner, Beal had gone down to injury, and Munts emailed me (before I reached out to him) and advised me to pick up the fantasy playoff waiver MVP Tobias Harris. By the time playoffs had come around my team was solid and ready to dominate! And dominate I did! My team was "LIGHTING UP" the stat sheet and all I could think was THANK GOD I wasn't too cheap to donate a small amount for such great advice! This was my first time using a VIP service and I will definitely be using VIP again! Not only for basketball but football as well. I'm not a big follower of baseball, but with Munts expert advice I honestly feel I can win without knowing much about the sport. DO NOT HESITATE on signing up, Munts is the real deal to say the least! Thanks again Munts! Appreciate your service and timely responses! A whole year of bragging rights for me!
I FOUND MUNT'S BEAST DOME EARLIER THIS YEAR DURING THE BEGINNING OF THE FOOTBALL SEASON. IT WAS MY FIRST FANTASY SEASON AND I DIDN'T KNOW MUCH ABOUT IT- I STARTED LOOKING AROUND THE WEB FOR FANTASY ADVICE/RANKINGS/INFO AND IT WASN'T LONG BEFORE I REALIZED MUNT WAS JUST ABOUT THE BEST GUY OUT THERE. I SIGNED UP FOR HIS VIP SERVICE AND HE HELPED ME TURN BOTH OF MY MEDIOCRE TEAMS INTO WINNING TEAMS THAT MADE THE PLAYOFFS. HIS LEVEL OF ATTENTION, AND HIS PASSION FOR FANTASY SPORTS IS ONE YOUR NOT LIKELY TO GET ANYWHERE ELSE- SO MUCH SO THAT HE'S ALREADY GOTTEN ME ADDICTED TO FANTASY BASKETBALL THRU HIS VIP SERVICE AND IM SURE HELL GET ME JUST AS EXCITED ABOUT BASEBALL SOON. THE SCREENSHOT REALLY SHOWS IT ALL – MUNT IS AN ABSOLUTE BEAST AND HE HAS YET TO LET ME DOWN.
-BROSEPHSTALIN 
OVER $2,000 WON FRIDAY.
-EMGE
MUNTRADAMUS' RANKINGS ARE AN AMAZING TOOL FOR DAILY FANTASY PLAYERS.  THE FIRST DAY I LOOKED AT HIS RANKINGS MADE A HUGE IMPACT IN MY LINEUPS.  I WAS DECIDING BETWEEN 2 PLAYERS, WHEN I LOOKED AT HIS RANKINGS, I WENT WITH THE ONE HE HAD RANKED HIGHER, AND IT MADE A HUGE DIFFERENCE.  I WOULD HAVE SCORED ABOUT 30 PTS LESS WITH ONE PLAYER DIFFERENCE.  HE HAD PAUL PIERCE RANKED HIGHER THAN GEORGE PAUL, AND ON A NIGHT WHERE ABOUT 50% OF ALL PLAYERS HAD GEROGE, I HAD PIERCE, AND PIERCE OUTSCORED GEORGE PAUL BY 26 PTS.  I THINK MAYBE ONLY ABOUT 10% OF PEOPLE HAD PIERCE WHO WAS $100 CHEAPER THAN GEORGE.  THAT ALONE HELPED ME FINISH IN TOP 10 IN ALL TOURNAMENTS, INCLUDING 4TH & 7TH IN DFBBC FOR $400+,  I WOULD HAVE FINISHED 126TH AND OUT OF THE MONEY WITH GEORGE.  HE ALSO HELPED ME FINISH 2ND IN THE NBA SLAM FOR $620 AND 4TH IN THE NBA SWISH FOR $250.  NEEDLESS TO SAY MY TEAMS WERE A BEAST THANKS TO BEAST DOME!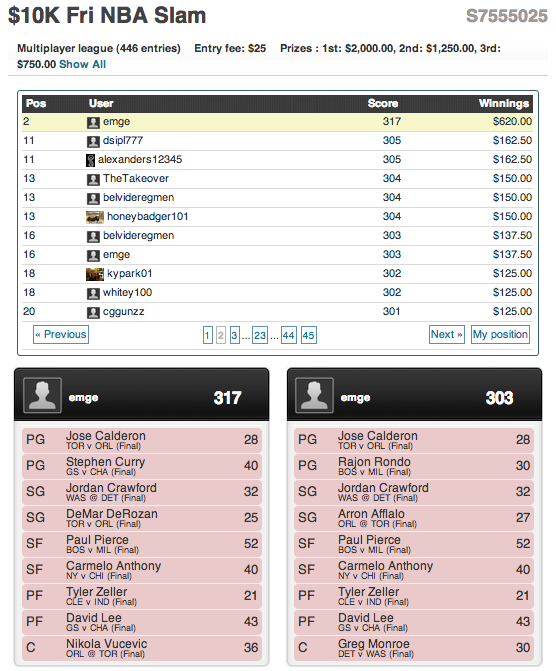 BESIDES GETTING THE RANKINGS. IT MAKES THE GAME MORE EXCITING
 Go Warriors, The Poster Boy of BEAST DOME won all Three Fantasy Sports last season (NFL/MLB/NBA), and never played Fantasy Sports before 2012.
Well ladies and gentleman, he did it again.
-Mike aka GOWARRIORS
Looking to dominate fantasy sports, make money and be the envy of your friends? Well luckily you have found Muntradamus, the best fantasy expert I have ever seen. He sees moves months before other experts and with his help you have a great shot of winning any type of draft. 
Like baseball? Well he called Ellsbury, Rosario, Chris Davis and dozens of names that I could think of LAST year in his articles, not to mention all the correct sleepers from this year. Daily leagues? Too easy! Basketball? Yep, on day one of the season we drafted Batum, Ibaka, Harden, LeBron, David Lee, Klay Thompson and Damien Lillard. Did you, and have 20 roto points more than the next highest team for the season? I doubt it. To sum it up, look no further, Munt is the best of the best and you would be lucky to have his help.
Did I mention last year I hadn't played any fantasy sports at all?  Well I won competitive seasonal and daily championships in MLB, NBA and NFL. And I won $125 in a daily league one random day, just by waking up and plugging in one of the many killer teams Munt has help me make. I would not be a fantasy beast today if it weren't for his help.
Every day the site has amazing content. Want proof? Look at the images
I'M IN THE HEAT OF FANTASY BASEBALL SEASON, SO THERE ARE NO MORE DAILY RANKINGS For Fantasy Basketball 2013. V.I.P. #3 and V.I.P. #1 have access to my e-mail me.
TUESDAY FANTASY BASEBALL
For now..I will see you next season.
Thank you BEAST DOME NATION for another successful Fantasy Basketball Season.  Fantasy Baseball will be taken at a different level starting tomorrow.
Muntradamus is a Fantasy Sports Expert who specializes in Fantasy Football/Baseball/Basketball. He is currently in his second season as a Pro on FantasyPros coming off of an impressive Rookie Campaign where he landed the #10 Overall In-Season Fantasy Football Rankings Expert.  Which also included #1 WR of all Expert Sites.  He is also one of two people to qualify for allDRAFTSTREET CHAMPIONSHIPS in 2012. Most Historically, Muntradamus was the #1 Fantasy Football Expert of IDP & Overall Rankings in One Week, first and only time in Fantasy Sports History.