Fantasy Basketball Beast Feast: 50 Shades Of Gray (Week 15)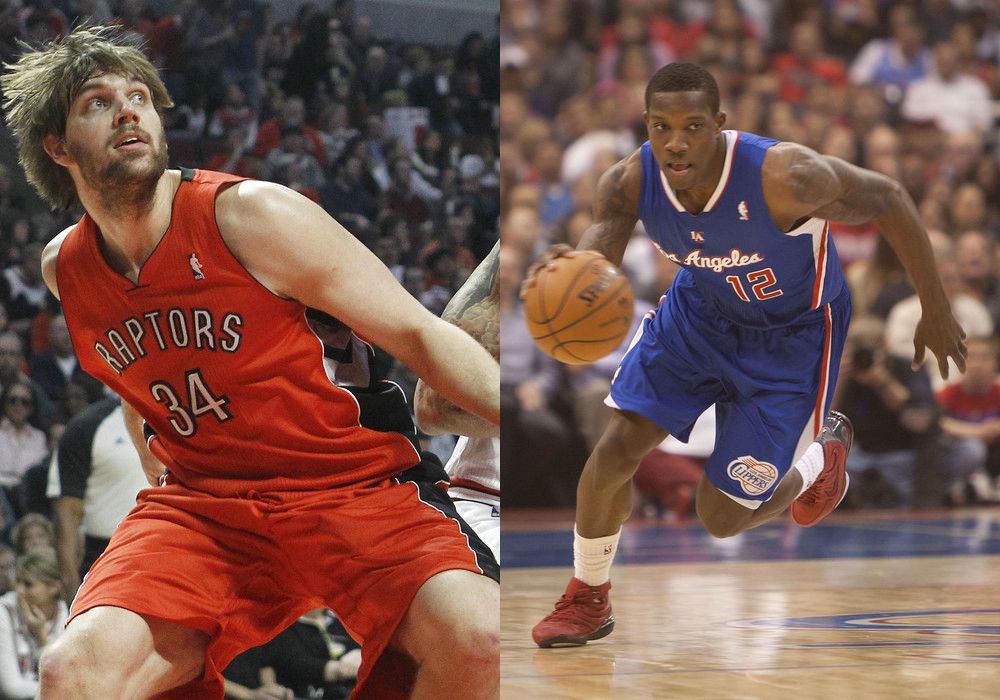 Fantasy Basketball Beast Feast:
50 Shades Of Gray (Week 15)
By Muntradamus
BEAST DOME NATION.
Is there someone on the Waiver Wire that is on fire that you feel you need to add now?  I take a look at all the action to determine whether they will continue to FEAST or FAMINE in their long-term outlook.
FEAST OR FAMINE
AARON GRAY – C – TOR
Aaron Gray has been a rebound machine as of late.  If you need 10 Rebounds, Gray has not only got your back, but sometimes he will score 15+ Points to go along with that.
This big man does have a lot of very underrated skills, but that does not mean this is going to last all season.  Andrea Bargnani is returning soon, Amir Johnson is clearly the better player long-term than Gray, Jonas is back, and Rudy Gay is now on this team to shoot the ball with no limits.  When you take all of those factors into consideration, Gray is best left for the Waiver Wire.
Long Term Verdict: Famine.
RANDY FOYE – G – UTA
Foye has been on fire lately, 14 Points is the least you would expect from him on a nightly basis.  The Jazz are a team that needs the scoring power and Foye can deliver.
Though his 17.75 Points Per Game average is a bit inflated thanks to the injury of Gordon Hayward.  When Hayward is out, the court is wide open for Foye to not only be the only legitimate perimeter scorer on the Jazz.  But his leash is so long that mistakes won't take away from his PT.  When Hayward returns, you can expect an immediate decline in production.  When Mo Williams returns as well, Foye will be back to his inconsistent potential 8 Point games.
 Long Term Verdict: Famine.
ERIC BLEDSOE – G – LAC
Bledsoe continues to get his numbers and continues to make this article like it's his job.  His current job is what continues to make him a long-term controversial player, because all of this success is with Chris Paul on the sidelines.
While we want to believe he can play like the #3 Guard in all of Fantasy Basketball over the last week, the reality is that this is only just a dream.  Soon CP3 returns, and once that happens Bledsoe returns to the bench with a limited role.  While Bledsoe's numbers have been nice.  The Clippers are also losing a lot of games.
 Long Term Verdict: Famine.
NATE ROBINSON – G – CHI
Nate the Great is lighting it up averaging nearly 19 Points and 8 Assists a game.  While we all knew he can do this when the opportunity comes around, this is nothing long-term as Kirk Hinrich is OUT.
Nate can score with the best of the guards in the NBA, but defense has always been a problem for the 5'3 PG that most players can step over.  Still Nate has game, but is nothing more than a Fantasy spot-start when he gets the extended PT.
 Long Term Verdict: Famine.
KYLE SINGLER – G – DET
Singler's play as of late has propelled him to being a Top 25 Fantasy Player over the last 7 games.  While his numbers are not impressive in any category. 10 Points/1 Block/1 Steal/1.25 3PTM/4.5 Rebounds.  He does it all.
The Pistons are a team that is heading towards the bottom of the waterfall.  While Singler may be the guy now, his numbers were a bit inflated when the Pistons were short-handed and got rid of Tayshaun Prince and Austin Daye.  They still are short-handed when it comes to the SF position, but Singler is not that good.  Not good enough to FEAST or bad enough to FAMINE.
If I had to pick one.
Long Term Verdict: Famine. If you are desperate for a body, you can do a lot worst.
ANDRE DRUMMOND – C – DET
Guess who ranks out as the #1 Center over the last 7 days, despite putting up a HUGE dud on Monday against the Knicks?  Drummond is taking the Fantasy Basketball Center Position by storm, as predicted in the very Waiver Wire article of the year here at BEAST DOME.  Add Drummond, the man is a BEAST and will be a consistent star at the end of the year when the Pistons are just trying to build for the future.
Long Term Verdict: FEAST
Muntradamus is a Fantasy Sports Expert who specializes in Fantasy Football/Baseball/Basketball. He is currently in his first season as a Pro on FantasyPros where he is the only expert to have Adam Dunn, Chris Davis, Mark Trumbo, Ian Desmond, Jarrod Saltalamacchia, and Wilin Rosario in his top 20 at each position. Muntradamus not only leads many to championships with his great advice, and outlooks into the future. He is also consistently on the top of leaderboards in DraftStreet. He was also the #1 Fantasy Football Expert of IDP & Overall Rankings, first time in Fantasy Sports History.  To check his Preseason Fantasy Football Rankings Click Here. He also won a 1,000 person tournament in Fantasy Football to qualify for a trip to Vegas to play for $500,000 in Prizes. To Check his Week-By-Week Progress to being the #1 Expert. Follow the Journey.