FANTASY BASEBALL TRADE MARKET WAIN THE PRICE IS WRIGHT
FANTASY BASEBALL TRADE MARKET
WAIN THE PRICE IS WRIGHT
By Muntradamus
BEAST DOME NATION.
Fantasy Baseball is a game of ups and downs. You have heard me say it before, and I will say it again. There are times when you need to capitalize on a player while he is down. Someone like Carlos Gomez continues to lose value by the day as he was plunked with a Fastball on the wrist. His value is still at Joc Pederson straight up if you can make the trade to get Gomez.
Joc was able to steal a Coors Field HR on Sunday to keep his value coasting, but all in all he is a guy who is batting 8th everyday for some reason and his fantasy value is tainted while he is at that position.
Below are a few more players to BUY LOW now that Colin McHugh and his value is starting to rise. Remember I am not trying to overload you with players this year, I am going to only highlight Studs you can get at a fraction of the price that they really cost.
In this Package you are getting my PlayBoy Mansion Championship Qualifier Roster to play in Double-UP/Triple-Up Leagues. I am putting out my maximum energy to get that spot, and nightly I have been BEASTING.
There are only a few Football VIPs who are taking advantage of my Daily Fantasy Baseball Skills this season. All of them have already purchased the Daily BEAST Package for the month.
FantasyPros Daily Fantasy Championship

*3/3 Weeks Finishing Top 10 Finish*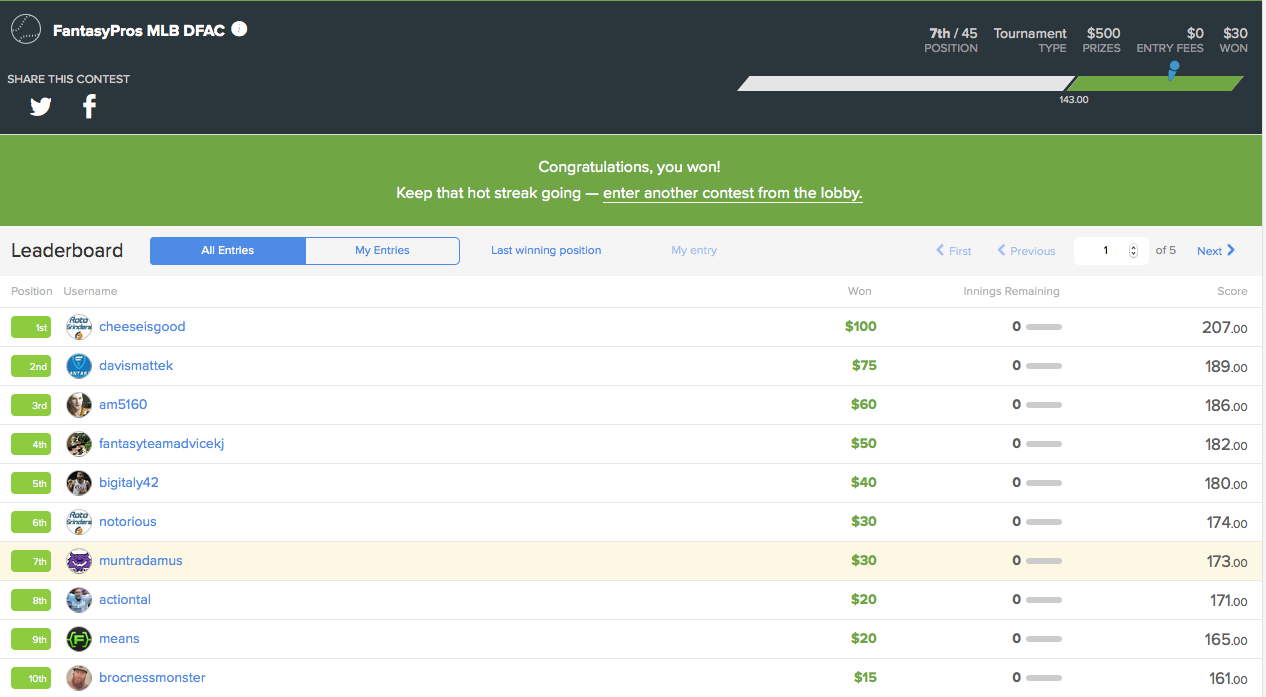 SIGNUP FOR ANY DAILY BEAST BASEBALL PACKAGE
1 Week. $100. ($14+/Day)
2 Weeks. $150. ($20+/Day)
1 Month. $200.
GET
BEAST PRESEASON FANTASY FOOTBALL (FREE)
BUY LOW
YASMANI GRANDAL – C – LAD

2016: Batting Average. .273. 0 HR/4 RBI
Yasmani is starting the 2016 season very slow. First he was battling a minor arm injury which caused him to start the season on the DL. Now Yasmani is still trying to hit his 1st HR and get the momentum he needs to have a BEAST season. Yasmani came inches away from hitting a HR in the 1st INN on Tuesday Night. Yasmani is the type of guy who can catch fire when he is on a roll, and he gets on a roll more often than not with his vicious cuts which make every hit seem like a Line Drive.
Yasmani is valuable because he is a switch hitting catcher that plays 1st Base from time to time and hits in the middle of the Dodgers Lineup. Usually the #6 Hitter. Yasmani will get plenty of RBI opportunities as the season continues, now is the time to Buy Extremely low for a guy who can still easily hit 20 HRs in 2016.
ADAM WAINWRIGHT – SP – STL

2016: 7.16 ERA/1.70 WHIP/1 WIN/14 K
Wainwright is getting straight up bombed this season. His ERA sits above 7.00 and he is coming off of another bad start where he gave up 4 ER in 5.1 INN of work. The good news however is that Wainwright was able to pick up his 1st win of the season, someone that will build confidence in the Ace moving forward. While Wainwright has been nothing short of a BUST to start the 2016 season, keep in mind that this guy is a pure BEAST when his game is on. Once Wainwright finds his groove he will be tossing 7 INN/0 ER/6 K games on a consistent basis. Right now you can trade him for Colin McHugh straight up and continue to build up that ladder.
Wainwright still has ace potential in him, and the Cardinals Offense has been producing plenty of run support which should have you believe that Wainwright can easily get 15+ Wins once he gets his act together.
BEAST FRANCHISE DEBUT FRIDAY