FANTASY BASEBALL MLB BEAST DOWN 4/5 (I HAVE A CRUSH)
FANTASY BASEBALL
MLB BEAST DOWN 4/5 (I HAVE A CRUSH)
By Muntradamus
BEAST DOME NATION.
If you followed my advice and read the article from last night. You won some good money.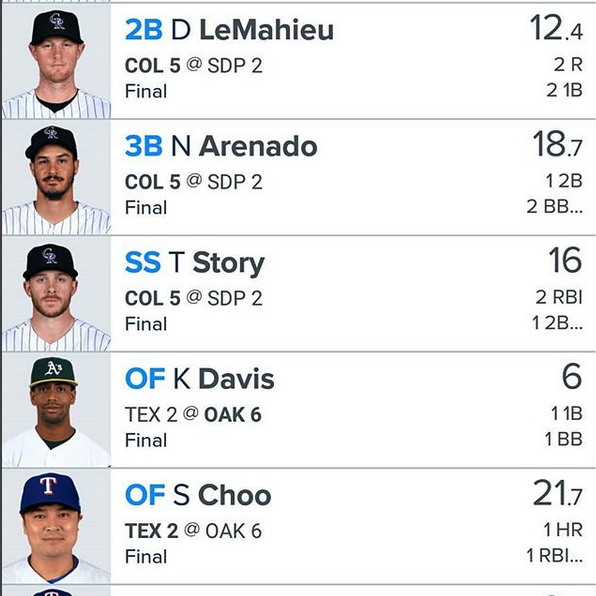 No Free Teams today, but all the information you need to make your own BEAST Squad.
Enjoy and feel free to leave questions n the bottom.
METS @ NATIONALS
DeGrom is tough against anyone, going up against a good Nationals team we should expect nothing short of vintage DeGrom. Well not vintage. The Nationals have graet hitters but in the end DeGrom is a good pitcher and if he can avoid the middle of that lineup damaging his ERA, than DeGrom should have a strong start.
Strasburg is pitching like an ACE and the Mets offense is a good test to see how unhittable Stras is. The Mets bats are better than people are giving credit for and THE BURG could run into some trouble with Conforto back for his first game of the year. The Mets can hit, Stras has to be on his game.
METS 3
NATIONALS 4
RAYS @ RED SOX
Rays throwing out Chirinos which is a smart move especially since he silenced the Red Sox bats last weekend. The Sox are playing great baseball and I do not expect Chirinos to really hold down the Red Sox bats, but at least it will not be as bad as it could be. Look for all the Red Sox in the middle of that lineup to make an impact.
David Price facing his old team, so far so good for the veteran left hander who has gone through more arm surgeries than he would ever want to. The Rays do have some sleeper bats who can make an impact, but for the most part this should be a game that Price should control with decent run support.
RAYS 3
RED SOX 6
MARLINS @ PHILLIES
Caleb Smith pitching against a Phillies team that really does not hit lefties as well as most teams. Aaron Altherr could use his first big game to spark this club, Makiel Franco is long over due for his big game. Regardless Caleb looked great in his first start completely slowing down the Cubs. Another decent matchup is definitely possible.
Nick Pivetta throws HARD and he throws with no movement. The Marlins bats do not have a lot that can take advantage, but Pivetta is never guaranteed a BEAST start. Justin Bour could go deep if he gets a pitch he can hit, though he has struggled mightly this year early on.
MARLINS 3
PHILLIES 5
RANGERS @ A'S
Martin Perez has a good matchup for his season debut. A's offense does not pose a huge THREAT and they are not hitting that well despite a nice win on Wednesday Night. Khris Davis is definitely a threat to take a pitch deep, but outside of him nobody scares me in that lineup. Especially with a lefty on the mound.
Daniel Megden is in trouble and is facing a Rangers team that can definitely slap him all around the ball park. Joey Gallo can easily get his pitch to hit, and it would not be shocking at all to see the Rangers 1-5 make a big impact on this game.
RANGERS 7
A's 3
ROCKIES @ PADRES
Tyler Anderson is a good pitcher and he gets a chance to show in Petco park. Going up against Villanueva who hit 3 HRs against the Rockies when they put Lefty Freeland on the mound, Anderson does have more heat and could make things a bit more diffucult. If Anderson wants to prove he does not belong in the minors, this is the start he has to win.
Luchhesi is an interesting pitcher, but the Rockies are too talented. There is no easy out in the front of that lineup, and there is no reason to think that the Rockies will not figure out how to hit the Rookie all over the field who struggled against the Brewers in his debut.
ROCKIES 6
PADRES 3
MARINERS @ TWINS
James Paxton faces a Twins team that can hit him. Paxton is not unhittable and the traveling from SF to Minnesota is no easy flight. Then to face Dozier right out of the gate and Sano in the same INN. This game can get away from Paxton faster than most people think.
Kyle Gibson throws some serious heat and he does have a nice matchup against a Mariners team that really misses Nelson Cruz. Gibson will still have no easy feat, but as long as he does not let Cano hurt him than Gibson can surprise with one of his better starts of his career.
MARINERS 3
TWINS 6
TIGERS @ WHITE SOX
Jordan Zimmermann had a great debut against the Pirates, but the White Sox will not be as easy as it appears. Davidson/Abreu can still hit in the middle of that lineup and the MI of Anderson and Moancada is no easy feat. Zimm will look to build on his 8 K game, but I see that more of a fluke and the Sox will definitely look to hit at home.
James Shields should not be in the majors and the Tigers have to make impact quickly to get him out of this game. Miggy can definitely hit one out and it will be important for Shields not to make too many mistakes to him. Best play would be to IBB and not even face him as him and Victor Martinez can do big damage.
TIGERS 7
WHITE SOX 5
ORIOLES @ YANKEES
No Pitcher is safe against the Yankees, and Andrew Cashner is no exception. Stanton/Judge/Sanchez, even Didi can all do damage. Orioles should be prepared for a mini HR derby as the Yankees will be hitting Cashner all game long.
Tanaka is very overrated and the big Orioles bats can definitely put some charges behind his pitch that is not nearly the same from 4 Years ago. Chris Davis needs his big pitch and there is a good chance he gets it. Look for this to be a shootout.
ORIOLES 6
YANKEES 10
REDS @ PIRATES
Homer Bailey comes back to the mound after his stellar debut against the Nationals to face a Pirates team that likes to run. It will be important for Bailey to stay out of trouble but that is not guaranteed with Polanco and Marte. Josh Bell is hitting the ball also and you cannot forget about the potential of Corey Dickerson. This is not looking pretty for Bailey.
Long reliever Steven Brault takes the mound for the Pirates, and it is smart to throw lefties against the Reds. Though Brault does not really have what it takes to eliminate Votto and if he throws mistake pitches to guys like Suarez or Duvall, than Brault will turn it over to another long reliever.
REDS 6
PIRATES 7
DBACKS @ CARDS
Robbie Ray will try to slow down a Cards offense that is hitting the ball extremely well. Ray does eliminate some key bats like Carpenter, but Ozuno and Pham can get on base for Molina or DeJong and those guys can make Ray pay if he makes any mistakes. This is not an easy matchup for the Cards offense, but they can definitely hit Ray who had a horrible season debut against Rockies.
Adam Wainwright makes his debut, and Wainwright is way over the hill. Guy is not even a shadow of himself and the D'Backs have to take advantage. Goldy has yet to get it going but this is the matchup where it all starts. Will be hard to steal on the slow throwing Wainwright with Molina behind the plate. DBacks will have to spray the ball around the field to win.
D'BACKS 6
CARDINALS 4
CUBS @ BREWERS
Jon Lester is not the same Lester from a few years ago. This Lester has pitched deep into the playoffs the last three years and the Brewers are smoking the ball stronger than just about every team. Ryan Braun makes his living off of lefties, and do not be surprised to see the entire Brew Crew hit the ball well. This is not a good matchup for Lester at all.
Suter has a chance for a decent outing against a Cubs team that is struggling. Suter is hittable, but the Cubs offense will rely on mostly Kris Bryant, WIlson Con, and Baez with a lefty on the mound. If Rizzo has a big game than the Cubs become tough to beat, if he does not than Suter has a chance for a decent out.
CUBS 4
BREWERS 8