Fantasy Baseball: Forgot To Touch First (TUE)
Fantasy Baseball:
Forgot To Touch First (TUE)
By Muntradamus
BEAST DOME NATION.
It is time for another episode of…
FORGOT TO TOUCH FIRST.
Before we get to that, a word from our sponsors.
How Did Week 1 of Fantasy Baseball go?
It did not take long for me to make a Splash in the Daily Fantasy Baseball Game nearly claiming a seat in the Star Street Championship and Fan Duel Championship.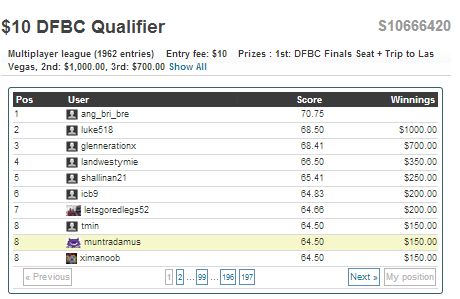 2x DRAFTSTREET BASEBALL CHAMPIONSHIP QUALIFIER
You will get access to Daily Pitcher Rankings on Muntradamus.Net.
You can have private Chats with me Mon-Fri on G-Mail Chat.
You have access to E-mail me questions as well as get trade suggestions/waiver wire claims/lineup moves.

DAILY HEADLINES (4/16)
Andrew Bailey is Must-Own/Must-Start with Joel Hanrahan on the DL.  Add him immediately and do not think twice about his Blown Save against the Rays on Monday.
David Ortiz is coming back Friday.  For all of you patient owners who drafted him thanks to me ranking him head over heels above the other experts, the time is now here.
Matt Kemp gets 2 Hits in his first game since he was called out in, "WHERE YOUR SWAG AT!"  Including a double that almost reached the seats in Center Field.
Casey Janssen has been rock solid with the Jays this season owning a 1.80 ERA and 4 Saves already on the young season.  No way he is on any waiver wire at this point.
Evan Longoria goes yard for the first time this season.  Took a little while longer than owners hoped, but he got the first one out of the way and can now free swing.
Daily Stream Start of Tuesday: Chris Capuano
Daily Bet Of The Day: Detroit Tigers @ Seattle.  Take Detroit.
Daily HR Of The Day: V.I.P. #3 Only
Muntradamus is a Fantasy Sports Expert who specializes in Fantasy Football/Baseball/Basketball. He is currently in his second season as a Pro on FantasyPros coming off of an impressive Rookie Campaign where he landed the #10 Overall In-Season Fantasy Football Rankings Expert.  Which also included #1 WR of all Expert Sites.  He is also one of two people to qualify for allDRAFTSTREET CHAMPIONSHIPS in 2012. Most Historically, Muntradamus was the #1 Fantasy Football Expert of IDP & Overall Rankings in One Week, first and only time in Fantasy Sports History.