Fantasy Baseball: Daily Pitcher Rankings (June 28th)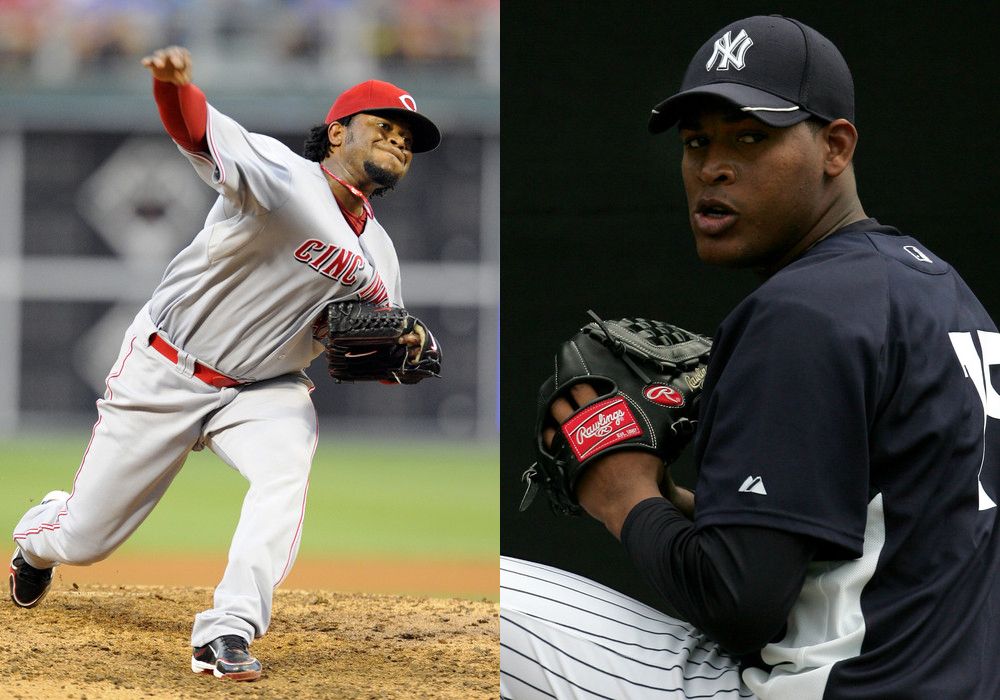 Fantasy Baseball: Daily Pitcher Rankings (June 28th)
By Muntradamus
You Can see my Pitcher Rankings From Yesterday by clicking here.
BEAST DOME NATION.
Your favorite article of the day will be here in full force.  Check back around 3:30 Pacific Time to see my daily DraftStreet team that I will be competing with.  A lot of teams are starting to heat up with this weather.
HR PICKS OF THE DAY (June 28th):
*I went 8/26= 30.7% in my debut (Saturday).  I did not make my picks Sunday because there was a Q, that I happened to win.  I went 5/19= 26.3% with my picks (Monday.)  I did make picks Tuesday because of a Q.  Wednesday I went 10/35=28.5%.
MATT WIETERS
RAUL IBANEZ
NICK SWISHER
CURTIS GRANDERSON
ROBINSON CANO
MARK TIEXEIRA
ALEX RODRIGUEZ
ADAM DUNN
EDWIN ENCARNACION
JOSE BAUTISTA
COLBY RASMUS
TORII HUNTER
MARK TRUMBO
ALBERT PUJOLS
MIGUEL CABRERA
IAN KINSLER
JOSH HAMILTON
NELSON CRUZ
DAVID MURPHY
SETH SMITH
YOENIS CESPEDES
DAVID ORTIZ
ADRIAN GONZALEZ
CARLOS RUIZ
CHASE UTLEY
ANDREW MCCUTCHEN
GARRETT JONES
PEDRO ALVAREZ

CARLOS GONZALEZ
TYLER MOORE
WILIN ROSAIO
RYAN ZIMMERMAN
IAN DESMOND
CHRIS YOUNG
JASON HEYWARD
JED LOWRIE
BRANDON PHILLIPS

DAILY DRAFTSTREET TEAM (June 28th):
*Check Back at 3:30 Pacific.
BET OF THE DAY (June 28th):
*(6-1) Last Week. (2-1) This week.  Based off of all my rankings from the 27th (12-3).
NYY YANKEES -1.5
Dylan Axelrod will attempt to stop a New York Yankees team in New York.  That is a complete joke, he will get bombed.  Ivan Nova now becomes the ACE of the Yankee pitching staff with all the injuries.  The Yankees will rally behind Nova more so than ever which will lead to a lot of run support.  Yes the White Sox just scored double digit runs, but they were struggling to every team and pitcher before that.  It was also Nick Blackburn on the mound.  Nova is not Blackburn and he owns an ERA of 1.37 in his career against the White Sox.
Daily Pitcher Rankings (June 28th):
ELITE STARTS:
1. JOHNNY CUETO @ SF
2. MADISON BUMGARNER VS. CIN
3. CHRIS YOUNG @ LAD
GOOD STARTS:
4. CHRIS CAPUANO VS. NYM
5. IVAN NOVA VS. CWS
6. FRANKLIN MORALES @ SEA
7. JAMES SHIELDS VS. DET
8. FELIX HERNANDEZ VS. BOS
9. DALLAS KEUCHEL VS. SD
10. EDWIN JACKSON @ COL
11. MAX SCHERZER @ TB
RISKY:
12. WEI-YIN CHEN VS. CLE
13. A.J. BURNETT @ PHI
14. TREVOR BAUER @ ATL
15. ANDREW CASHNER @ HOU
16. JAIR JURRJENS VS. AZ
17. DAN HAREN @ TOR
18. ZACH MCCALLISTER @ BAL
19. BRETT CECIL VS. LAA
BAD STARTS:

20. SCOTT FELDMAN VS. OAK

21. TYSON ROSS @ TEX

22. KYLE KENDRICK VS. PIT
23. JOSH OUTMAN VS. WAS
24. DYLAN AXELROD @ NYY