Fantasy Baseball: Daily Pitcher Rankings (July 23rd)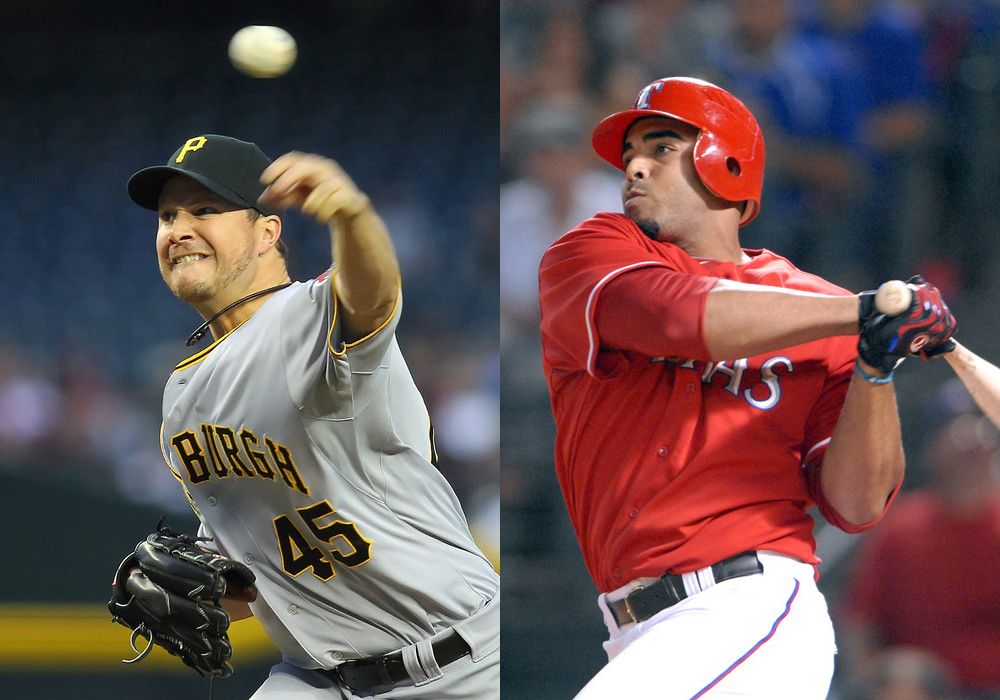 Fantasy Baseball: Daily Pitcher Rankings (July 23rd)
By Muntradamus
You Can see my Pitcher Rankings From yesterday by clicking here.
BEAST DOME NATION.
Another week of Fantasy Baseball is upon us.  Don't forget to participate in the Chat Room and talk strategy with some of the most diehard players in the game.  Together we can…
Win that championship!
PLAYER RANKINGS (July 23rd):
*Top 5 at each Position is back!

C
Buster Posey
Carlos Santana
Mike Napoli
Miguel Montero
Jacob Hester
1B
Albert Pujols
Paul Goldschmidt
Mark Teixeira
Adrian Gonzalez
Freddie Freeman
2B
Brandon Phillips
Aaron Hill
Ian Kinsler
Dustin Pedroia
Robinson Cano
3B
Pedro Alvarez
Adrian Beltre
Ryan Zimmerman
David Wright
Pablo Sandoval
SS
Asdrubal Cabrera
Brandon Crawford
Elvis Andrus
Jose Reyes
Jimmy Rollins
OF
Mike Trout
Mark Trumbo
Curtis Granderson
Matt Holliday
Carlos Beltran
HR PICKS OF THE DAY (July 23rd):
Went 75% on the last day to get my number above 20%.  Should be another great week.
Week 13= 22.8%
Week 14= 20.2%

Week 15= N/A.

Week 16= 18/89=20.2%
Week 17 =

SELECTIONS:
JOHN MAYBERRY

CARLOS SANTANA



PEDRO ALVAREZ

NELSON CRUZ

MIKE NAPOLI

ADRIAN BELTRE

ADRIAN GONZALEZ



JACOBY ELLSBURY

ADAM LAROCHE

ALEX RIOS

JASON HEYWARD

MARK TRUMBO

ALBERT PUJOLS

MIKE TROUT

BILLY BUTLER

CURTIS GRANDERSON

MARK TEIXEIRA

BRANDON PHILLIPS

PAUL GOLDSCHMIDT

AARON HILL

BUSTER POSEY
MATT HOLLIDAY
CARLOS BELTRAN
DAILY DRAFTSTREET TEAM (July 23rd):
*It's Back! Congratulations to our very own SPABOY who was able to crack the top 10!  Hopefully next time you claim a seat.
HITTER:
Asdrubal Cabera ($6,385) VS. Tommy Hunter
Cabrera is too good to be undervalued below $6,500.  Tommy Hunter is far from a safe start in this one, and Cabrera could easily launch a HR.  He hit one two days ago.
PITCHER:
Erik Bedard ($8,655) VS. CHC
The Cubs offense is slowly going back to being mediocre at best.  Erik Bedard is coming off of a nice start in Coors field of all places, so you can expect him to turn it up against the Cubbies.
BET OF THE DAY (July 23rd):
Week 12: 6-1
Week 13: 5-2
Week 14: 3-4
Week 15: 1-2
Week 16: 4-3
Week 17:

LAA MONEY LINE
The Angels have C.J. Wilson going on the mound, which should guarntee a good start despite being shaky as of late.  Returning to home should help him, but what will help him even more is that Bruce Chen is pitching for the Royals.  Despite throwing 6 shutout INNs against the Angels in his 1st start, this time around he should get crushed.
Daily Pitcher Rankings (July 23rd):
ELITE STARTS:
1. JORDAN ZIMMERMAN @ NYM
GOOD STARTS:
2. HIROKI KUORDA @ SEA
3. ERIK BEDARD VS. CHC
4. RYAN VOGELSONG VS. SD
5. C.J. WILSON VS. KC
6. JUSTIN MASTERSON VS. BAL
7. MAT LATOS @ HOU
8. GAVIN FLOYD VS. MIN
9. IAN KENNEDY VS. COL
10. ROY HALLADAY VS. MIL
ROLL THE DICE:
11. MIKE MINOR @ MIA
12. FRANCISCO LIRIANO @ CWS
13. JOSH JOHNSON VS. ATL
14. JOE KELLY VS. LAD
RISKY:
15. WANDY RODRIGUEZ VS. CIN
16. JEFF SAMARDZIJA @ PIT
17. TOMMY HUNTER @ CLE
18. CHRIS YOUNG @ WAS
19. CLAYTON RICHARD @ SF
20. FELIX DOUBRONT @ TEX
21. KEVIN MILLWOOD VS. NYY
22. RANDY WOLF @ PHI
23. CHAD BILLINGSLEY @ STL
24. SCOTT FELDMAN VS. BOS
BAD START:
25. JONATHAN SANCHEZ @ ARI
26. BRUCE CHEN @ LAA