Fantasy Baseball: Daily Pitcher Rankings (August 9th)
Fantasy Baseball: Daily Pitcher Rankings (August 9th)
By Muntradamus
You Can see my Pitcher Rankings From yesterday by clicking here.
BEAST DOME NATION.
After winning my second seat in the Q, I hope you enjoy my content even more below.
CHRIS JOHNSON/DEREK NORRIS/STARLING MARTE: Hit a total of five HRs this week, all were recommended in this weeks waiver wire article.
RYAN HOWARD: The player I am watching this week goes DEEP.  Goes deep again Wednesday!
MATT WIETERS:  Hits 2 HRs Tuesday to show why he is a top 5 catcher despite the slump.  Comes back with 4 RBIs
GIANCARLO STANTON: Is back to being an ELITE player with two HRs.
PAUL KONERKO: Has a mild concussion, store him if you can may be out a week.
REDS PITCHING: This time the bullpen blows it.  The Reds need to start winning.
TEXAS HITTING: Starting to come back to life is what I said Tuesday, they score 10 runs Wednesday.
NICK MARKAKIS: Is really starting to heat up and prove why he is consistently a great 2nd half fantasy player.
DAN STRAILY: Should be kept in all keeper leagues, and given one more change in other formats.  Angels offense is not easy.
KENDRYS MORALES: Has his 2 HR game of the week.  Currently on a two week streak.
ZACK GREINKE: Already misses facing NL teams.
HEATH BELL: Could be the closer in Miami again soon.  They paid him the money, they want to see the job.
JIM HENDERSON: Is the new flavor of the week at the closer position. If you missed out on Greg Holland who I told you to add last week, Henderson will be the guy this week.
MANNY MACHADO: Is now the 3B option for the Orioles. Worth a look in keeper leagues, but will not help you this season.
GIO GONZALEZ: Was my first ELITE ranked pitcher in quite sometime yesterday, he did not disappoint with the CG.
Ask me any fantasy questions about players.
PLAYER RANKINGS (August 9th):
*Top 5 at each Position.
7 Players hit HRs in these rankings on Wednesday.

C:
MATT WIETERS
SALVADOR PEREZ
JARROD SALTALAMACCHIA
MIGUEL MONTERO
BUSTER POSEY
1B/DH:
PAUL GOLDSCHMIDT
MARK TEIXEIRA
GABBY SANCHEZ
BILLY BUTLER
PRINCE FIELDER
2B:
AARON HILL
ROBINSON CANO
NEIL WALKER
OMAR INFANTE
MARCO SCUTARO
3B:
EVAN LONGORIA
DAVID FREESE
DAVID WRIGHT
CHRIS JOHNSON
MARK REYNOLDS
SS:
JOSE REYES
J.J. HARDY
ALCIDIES ESCOBAR
DEREK JETER
WILLIE BLOOMQUIST
OF:
ADAM JONES
DESMOND JENNINGS
CURTIS GRANDERON
JUSTIN UPTON
STARLING MARTE
HR PICKS OF THE DAY (August 9th):
Went 10/40 in predicting HRs on Wednesday.  Moves me right back into pace.
*NEW NOTABLE MUNTRADAMUS HR SHOTS CALLED
OMAR INFANTE #10
JOSE REYES #8
SALVADOR PEREZ #6
RYAN HOWARD #6
Week 13= 22.8%
Week 14= 20.2%

Week 15= N/A.

Week 16= 20.2%
Week 17 = 23.9%
Week 18 =18/67 = 26.8%
Week 19 = 13/63= 20.6%

SELECTIONS:

DAVID FREESE
CURTIS GRANDERSON
HUNTER PENCE
DAVID WRIGHT
GABBY SANCHEZ
PAUL GOLDSCHMIDT
JUSTIN UPTON
AARON HILL
CHRIS JOHNSON
GABBY SANCHEZ
STARLING MARTE
MIGUEL CABRERA
CURTIS GRANDERSON
MARK TEIXEIRA
ROBINSON CANO
EVAN LONGORIA
DESMOND JENNINGS
ADRIAN GONZALEZ
MATT WIETERS
J.J. HARDY
MARK REYNOLDS
ADAM JONES
BILLY BUTLER

DAILY DRAFTSTREET TEAM (August 9th):
*To say thank you for my picks all week.  Please use the BEAST DOME logo below as your DRAFTSTREET ICON.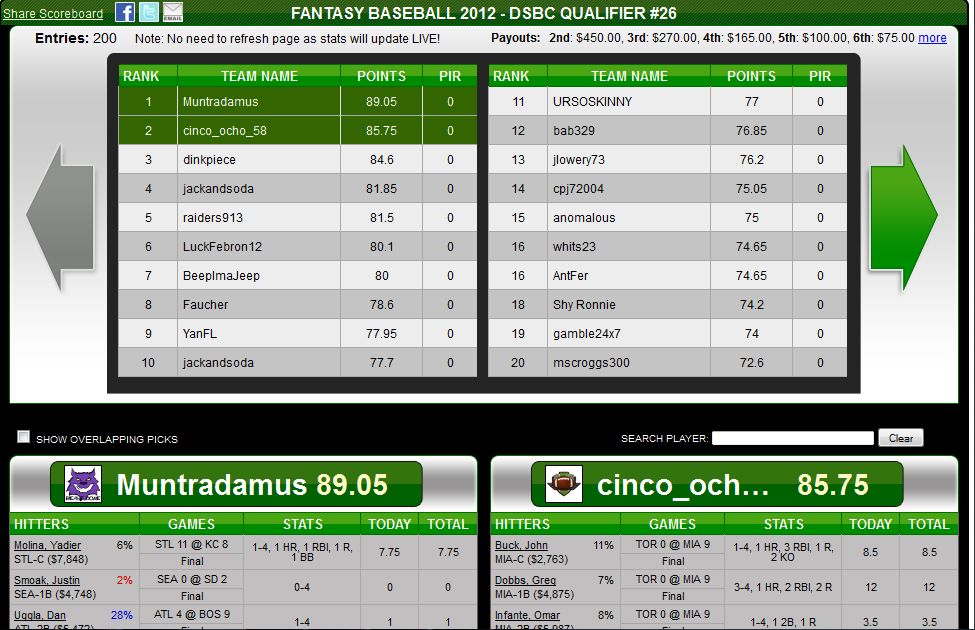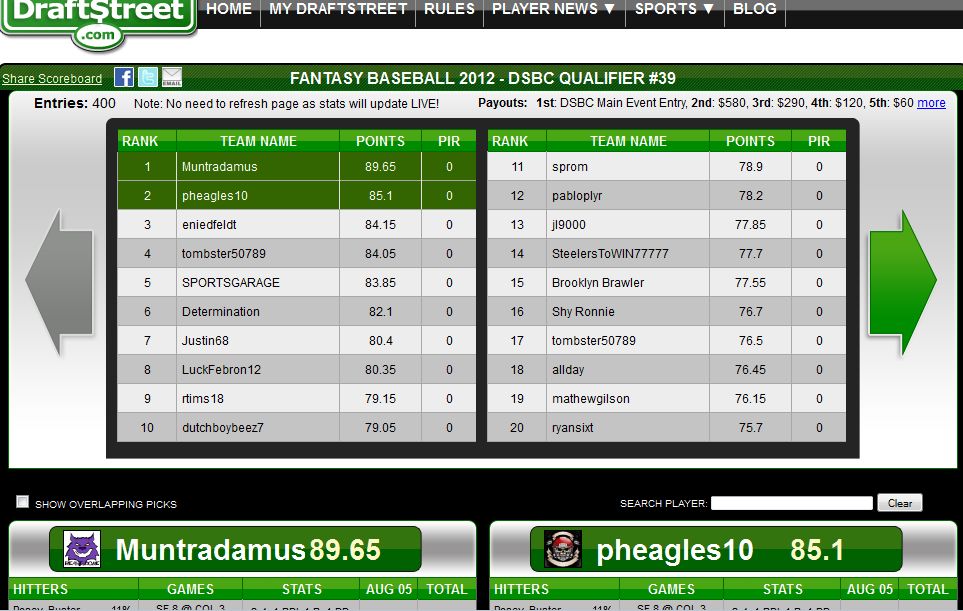 I will give my Pick'em Teams for now the next two weeks.  Since I have two seats in the upcoming DSBC, I will not be showing my hand of strategy.
Feel free to use this in the survivor.
Tier 1: LUCAS HARRELL
Tier 2: ADAM JONES
Tier 3: FELIX DOUBRONT
Tier 4: NICK MARKAKIS
Tier 5: J.J. HARDY
Tier 6: CODY ROSS
Tier 7: SALVADOR PEREZ
Tier 8: MARK REYNOLDS
*The More BEAST DOME icons I see all-around DRAFTSTREET, the more info I will publish publicly.  If you want a team e-mailed use the BEAST DOME icon, and e-mail BEAS[email protected] saying you've uploaded the icon and want a team.

BET OF THE DAY (August 9th:)
Week 12: 6-1
Week 13: 5-2
Week 14: 3-4
Week 15: 1-2
Week 16: 4-3
Week 17: 5-2

Week 18: 5-2
Week 19 : 3-0
BALTIMORE MONEY LINE
Wei-Yin Chen has been a pitcher on a mission lately making every team look foolish out there.  The Royals offense is not hot enough all-around to touch him on this start.  Pitching for the Royals is Will Smith who has a terrible matchup against a very hot Orioles offense.  Being a lefty against all these right handed hitters will get ugly.
Daily Pitcher Rankings (August 9th):
ELITE STARTS:
GOOD STARTS:
1. MATT MOORE VS. TOR
2. JORDAN ZIMMERMAN @ HOU
3. MADISON BUMGARNER @ STL
4. JOSH JOHNSON@ NYM
5. ADAM WAINWRIGHT VS. SF
6. R.A. DICKEY VS. MIA
7. WEI-YIN CHEN VS. KC
8. HIROKI KURODA @ DET
9. DOUG FISTER VS. NYY
10. FELIX DOUBRONT @ CLE
ROLL THE DICE:
11. LUCAS HARRELL VS. WAS
12. HENDERSON ALVAREZ @ TB
RISKY:
13. MIKE LEAKE @ CHC
14. UBALDO JIMENEZ VS. BOS
15. JOE SAUNDERS @ PIT
16. CHRIS VOLSTAD VS. CIN
17. WANDY RODRIGUEZ VS. ARI
18. WILL SMITH @ BAL
Muntradamus is a Fantasy Sports Expert who specializes in Fantasy Football/Baseball/Basketball. He is currently in his first season as a Pro on FantasyPros where he is the only expert to have Adam Dunn, Mike Aviles, and Wilin Rosario in his top 20 at each position. Muntradamus not only leads many to championships with his great advice, and outlooks into the future. He is also consistently on the top of leaderboards in DraftStreet. In August he will compete in a $200K MLB tournament that he qualified for, he has won two spots.