Fantasy Baseball: Daily Pitcher Rankings (August 7th)
Fantasy Baseball: Daily Pitcher Rankings (August 7th)
By Muntradamus
You Can see my Pitcher Rankings From yesterday by clicking here.
BEAST DOME NATION.
After winning my second seat in the Q, I hope you enjoy my content even more below.
RYAN HOWARD: Let everyone down with another 0'fer performance. Still have hope he bounces back this week.
JUSTIN MORNEAU: Going into MVP mode with a multi-HR game.  Big week ahead.
MIGUEL CABRERA: Back-to-Back games with a HR.  Getting Red Hot.
JERED WEAVER: Reminding us why he is the #1 Fantasy pitcher just ahead of King Felix with another CG shutout.
JUSTIN VERLANDER: Threw 132 pitches for 14 Ks.  He will be ready to go into BEAST MODE.
YU DARVISH: As predicted was crushed again.  Over hyped season is the only way to describe it.
BRANDON PHILLIPS: Returing to the lineup.
EVAN LONGORIA: Returning to the lineup.
ERIK AYBAR: Being activated off the DL.
MATT GARZA: Shutdown, you can waive him.
REDS PITCHING: Coming back to reality, meaning the end of this great run.
TEXAS HITTING: Most inconsistent underachiever of the year offense right now.
DODGERS HITTING: Has been terrible as of late, Drew Pomeranz is the latest to shut this offense down.
CARLOS SANTANA: One of the top three hottest hitting catchers in the game. (AJ and Posey are #1 and #2).
Ask me any fantasy questions about players.
PLAYER RANKINGS (August 7th):
*Top 5 at each Position.

C:
RYAN DOUMIT
A.J. PIERZYNSKI
JOE MAUER
BUSTER POSEY
CARLOS SANTANA
1B/DH:
PAUL KONERKO
JUSTIN MORNEAU
ADRIAN GONZALEZ
ADAM LAROCHE
ANTHONY RIZZO
2B:
IAN KINSLER
DUSTIN PEDROIA
ROBINSON CANO
DANNY ESPINOSA
DAN UGGLA
3B:
MIGUEL CABRERA
ADRIAN BELTRE
DAVID WRIGHT
ARAMIS RAMIREZ
DAVID FREESE
SS:
JOSE REYES
MIKE AVILES
RONNY CEDENO
JHONNY PERALTA
STEPHEN DREW
OF:
JOSH WILLINGHAM
JOSH HAMILTON
CARL CRAWFORD
BEN REVERE
ANDREW MCCUTCHEN
HR PICKS OF THE DAY (August 7th):
New week..
Week 13= 22.8%
Week 14= 20.2%

Week 15= N/A.

Week 16= 20.2%
Week 17 = 23.9%
Week 18 =18/67 = 26.8%
Week 19 = 1/9= 9%

SELECTIONS:
ANTHONY RIZZO
CARLOS QUENITIN
JUSTIN MORNEAU
ADRIAN GONZALEZ
CARLOS SANTANA
ANDREW MCCUTCHEN
ADAM LIND
MATT HOLLIDAY
CARLOS GONZALEZ
PAUL KONERKO
JOSH HAMILTON
NELSON CRUZ
PRINCE FIELDER
MIGUEL CABRERA
DAILY DRAFTSTREET TEAM (August 7th):
*To say thank you for my picks all week.  Please use the BEAST DOME logo below as your DRAFTSTREET ICON.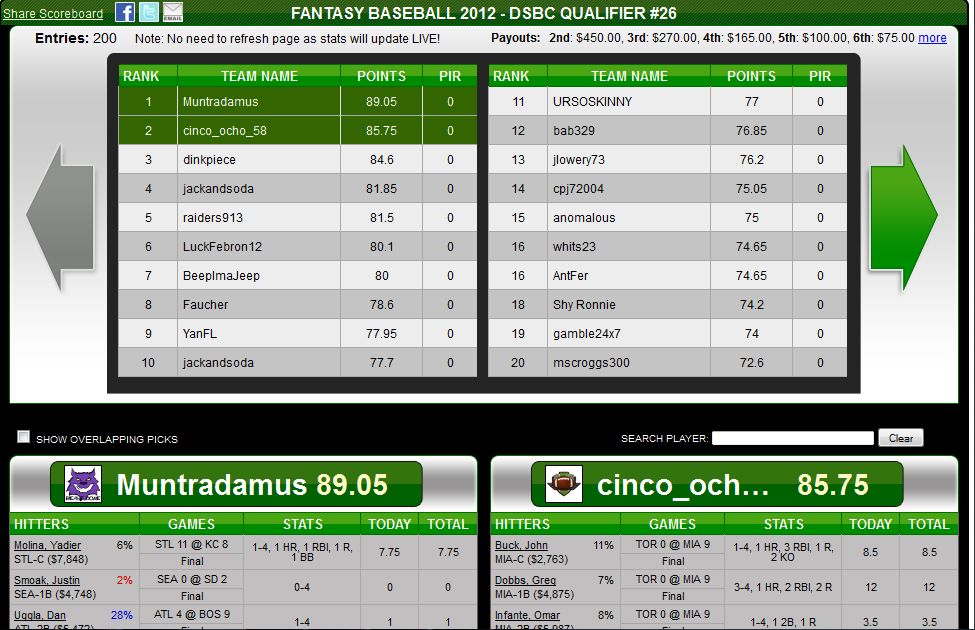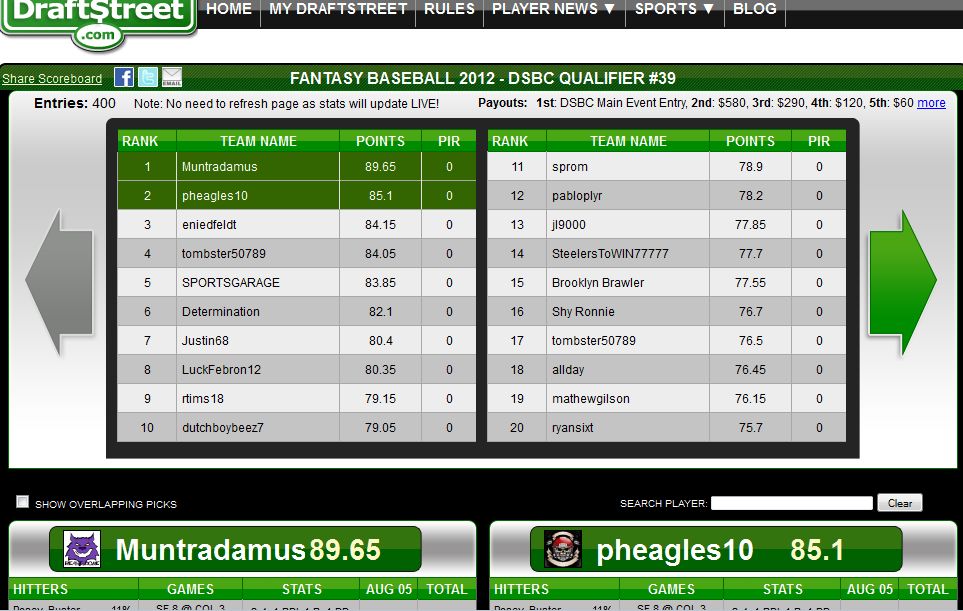 I will give my Pick'em Teams for now the next two weeks.  Since I have two seats in the upcoming DSBC, I will not be showing my hand of strategy.
Feel free to use this in the survivor.
Tier 1: C.J. WILSON
Tier 2: MIGUEL CABRERA
Tier 3: ALEX RIOS
Tier 4: JOSH WILLINGHAM
Tier 5: JOE MAUER
Tier 6: CARLOS SANTANA
Tier 7: DUSTIN PEDROIA
Tier 8: B.J. UPTON

Here is the low cost pitching staff I would be using in the Q if I could be in the tournament.  I have won the max amount of seats, I cannot enter.  If you use this rotation, please use the BEAST DOME icon as your DRAFTSTREET icon.
SP: ALEX WHITE
SP: CHRIS TILLMAN
RP: ERNESTO FRIERI
SP: JEFF KARSTENS
OF: DAYAN VICIEDO = Best Value of the day.
*The More BEAST DOME icons I see all-around DRAFTSTREET, the more info I will publish publicly.  If you want a team e-mailed use the BEAST DOME icon, and e-mail [email protected] saying you've uploaded the icon and want a team.

BET OF THE DAY (August 7th:)
Week 12: 6-1
Week 13: 5-2
Week 14: 3-4
Week 15: 1-2
Week 16: 4-3
Week 17: 5-2

Week 18: 5-2
Week 19 :1-0
MINNESOTA MONEY LINE
Corey Klubber should not be a pitcher in the major leagues.  The Twins will re-confirm that statement with another shalacking after dominating Zach McAllister yesterday.  Too many hot twin hitters for a rookie righty to deal with after getting crushed in his first start.
Daily Pitcher Rankings (August 7th):
ELITE STARTS:
GOOD STARTS:
1. C.J. WILSON @ OAK
2. JEFF KARSTENS VS. ARI
3. MIKE FIERS VS. CIN
4. JAMES SHEILDS VS. TOR
5. ZACH BRITTON VS. SEA
6. MIKE MINOR @ PHI
7. JAKE PEAVY VS. KC
8. JONATHAN NIESE VS. MIA
9. COLE HAMELS VS. ATL
10. SAMUEL DEDUNO @ CLE
ROLL THE DICE:
11. LANCE LYNN VS. SF
12. ROSS DETWILER @ HOU
13. JOHNNY CUETO @ MIL
14. ALEX WHITE @ LAD
15. BLAKE BEAVEN @ BAL
16. J.A. HAPP @ TB
17. BARTOLO COLON VS. LAA
18. WADE LEBLANC @ NYM
19. RICK PORCELLO VS. NYY
20. PATRICK CORBIN @ PIT
21. AARON HARANG VS. COL
22. BROOKS RALEY @ SD
RISKY:
23. ROSS OHELNDORF VS. CHC
24. JORDAN LYLES VS. WAS
25. PHIL HUGHES @ DET
26. JON LESTER VS. TEX
27. BARRY ZITO @ STL
28. BRUCE CHEN @ CWS
29. RYAN DEMPSTER @ BOS
30. COREY KLUBER VS. MIN
Muntradamus is a Fantasy Sports Expert who specialize in Fantasy Football/Baseball/Basketball. He is currently in his first season as a Pro on FantasyPros where he is the only expert to have Adam Dunn, Mike Aviles, and Wilin Rosario in his top 20 at each position. Muntradamus not only leads many to championships with his great advice, and outlooks into the future. He is also consistently on the top of leaderboards in DraftStreet. In August he will compete in a $200K tournament that he qualified for of 40 people, he won two seats.