Fantasy Baseball: Daily Pitcher Rankings (August 25th)
Fantasy Baseball:
Daily Pitcher Rankings (August 25th)
By Muntradamus
To see yesterday's Daily Pitcher Rankings follow the link.
BEAST DOME NATION.
Thank you for your patience as our server returns to normal. The Daily Pitcher Rankings from yesterday vanished into cyber space.  To say sorry, DRAFTSTREET picks are listed below.

It's now or never time.  Ask me your fantasy baseball questions as we head towards the end stretch of the season!  #NowOrNever

Jon Axford: Has left the door wide open for committee situation the rest of the season.  Right now I would pass if there was a better closer on the wire, such as Bailey or Balfour.
Andrew Bailey: Pitched 1.1 INN of shutout baseball for the save.  I called this yesterday, but the article went missing.
Adrian Beltre: Continues his power cycle by hitting for the cycle in 4 ABs.
Chris Davis: Swacked 3 HRs to give him 5 in the last 5 games.
Freddie Freeman: Hit 2 HRs to show everyone that he is ready to go into Beast Mode and possibly reach 25.
Adam Dunn: 2 HRs away from 40, there will be a BEAST DOME article to celebrate that.
Ian Desmond: Out for the weekend with a hammy.
Michael Morse: X-Rays good on his thumb, likely out the weekend.
Zack Greinke: Pitched well enough to use in his next start.
Jon Lester: Starting to return to form, did leave game with hamstring.  Should be fine.
Ask me or anyone in the BEAST DOME NATION fantasy questions about players.
PLAYER RANKINGS (AUGUST 25th)
*Players I like.

C:
BUSTER POSEY
JOE MAUER
WILIN ROSARIO
RYAN DOUMIT
CARLOS SANTANA
MATT WIETERS
JESUS MONTERO
JOHN BUCK
1B:
ADAM DUNN
PRINCE FIELDER
JUSTIN MORNEAU
ALLEN CRAIG
GARRETT JONES
CHRIS DAVIS
PAUL GOLDSCHMIDT
2B:

IAN KINSLER
BEN ZOBRIST
DUSTIN PEDROIA
ROBINSON CANO
AARON HILL
HOWIE KENDRICK
3B:
ADRIAN BELTRE
MIGUEL CABRERA
DAVID WRIGHT
PEDRO ALVAREZ
TODD FRAZIER
SS:

STARLIN CASTRO
ALCIDIES ESCOBAR
JOSH RUTLEDGE
ELVIS ANDRUS
DEREK JETER
ERIK AYBAR
OF:
MIKE TROUT
NELSON CRUZ
RYAN LUDWICK
GIANCARLO STANTON
NICK SWISHER
JOHN MAYBERRY JR.
ADAM JONES
ANDRE ETHIER
CURTIS GRANDERSON
HR PICKS OF THE DAY (AUGUST 25th):
6/17 on Friday brings me right back into the game.
*NEW NOTABLE MUNTRADAMUS HR SHOTS CALLED OF THE WEEK.

Monday: Giancarlo Stanton: Mult-HR game.
Tuesday: Garrett Jones: Multi-HR game.
Wednesday: Jay Bruce: TOWER POWER shot.
Thursday: Cody Ross: First HR in two weeks, shot in the dark pick.
Week 13= 22.8%
Week 14= 20.2%

Week 15= N/A.

Week 16= 20.2%
Week 17 = 23.9%
Week 18 = 26.8%
Week 19 =  23.01%
Week 20: = 23.31%
Week 21 = 17/88 = 19.3%

SELECTIONS:

ADRIAN BELTRE
IAN KINSLER
NELSON CRUZ
MIKE TROUT
MARK TRUMBO
WILIN ROSARIO
EDWIN ENCARNACION
ADAM DUNN
DAVID WRIGHT
ALLEN CRAIG
RYAN BRAUN
MIGUEL CABRERA
PRINCE FIELDER
DAVID ORTIZ
ROBINSON CANO
CHRIS DAVIS
PAUL GOLDSCHMIDT
RYAN DOUMIT
GARRETT JONES
RYAN LUDWICK
TODD FRAZIER
JEREMY MAYBERRY JR.
GIANCARLO STANTON



DAILY DRAFTSTREET TEAM (AUGUST 25th)
*To say thank you for my picks all week.  Please use the BEAST DOME logo below as your DRAFTSTREET ICON.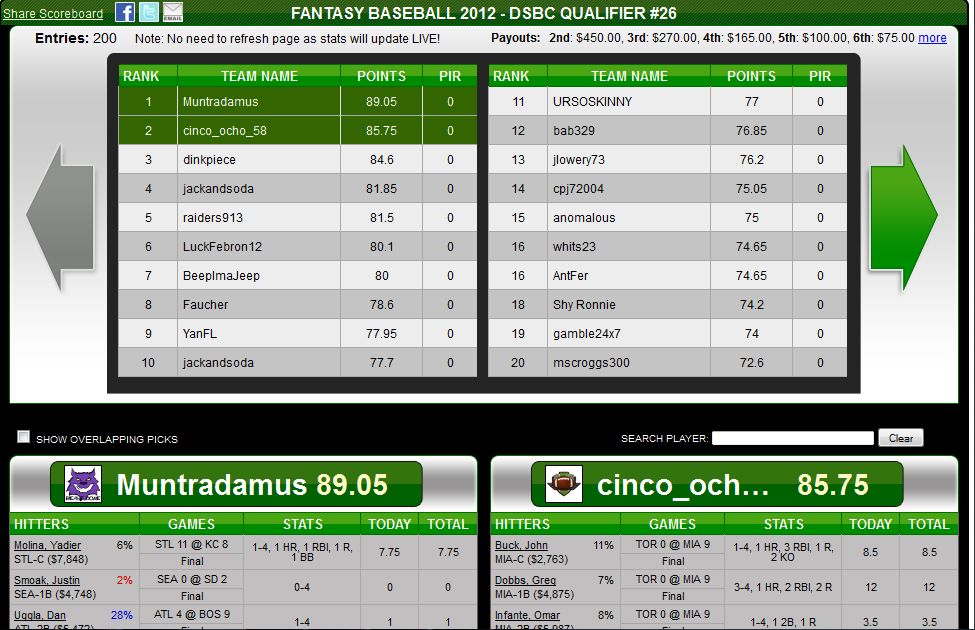 Because of yesterday's technical difficulties.  Here is my team for Saturday.  If you use the BEAST DOME Logo and e-mail me with proof.  I will give you one free days worth of picks.  [email protected]

BET OF THE DAY (AUGUST 25th)
Week 12: 6-1
Week 13: 5-2
Week 14: 3-4
Week 15: 1-2
Week 16: 4-3
Week 17: 5-2

Week 18: 5-2
Week 19 : 4-3
Week 20: 5-0
Week 21: 4-1
NYM Money Line
Despite the Mets losing last time I picked Dickey this week, you know it will not happen twice.  The Astros cannot hit ELITE pitchers, and Dickey is just that.  Expect Abdad to give up at least 1 HR to David Wright, that will be more than enough.
DAILY PITCHER RANKINGS (AUGUST 25th):
ELITE STARTS:
1. R.A. DICKEY VS. HOU
2. CLAYTON KERSHAW VS. MIA
GOOD STARTS:
3. MADISON BUMGARNER VS. ATL
4. HIROKI KURODA @ CLE
5. GIO GONZALEZ @ PHI
6. IAN KENNEDY VS. SD
7. JOSE QUINTANA VS. SEA
8. JEREMY HELLICKSON VS. OAK
9. ROY HALLADAY VS. WAS
ROLL THE DICE:
10. JAIME GARCIA @ CIN
11. JOSH JOHNSON @ LAD
12. SHAUN MARCUM @ PIT
13. RYAN DEMPSTER VS. MIN
14. BRANDON MCCARTHY @ TB
15. MIKE MINOR @ SF
16. JOSH BECKETT VS. KC
17. CLAYTON RICHARD @ ARI
18. BRANDON MORROW @ BAL
19. JUSTIN MASTERSON VS. NYY
20. JEREMY GUTHRIE @ BOS
21. DAN HAREN @ DET
22. JEFF KARSTENS VS. MIL
23. MIKE LEAKE VS. STL
24. ALEX WHITE @ CHC
25. FERNADNO ABAD @ NYM
RISKY:
26. STEVE JOHNSON VS. TOR
27. BLAKE BEAVEN VS. CWS
28. BROOKS RALEY VS. COL
29. DREW SMYLY VS. LAA
30. BRIAN DUENSING @ TEX
Muntradamus is a Fantasy Sports Expert who specializes in Fantasy Football/Baseball/Basketball. He is currently in his first season as a Pro on FantasyPros where he is the only expert to have Adam Dunn, Mike Aviles, and Wilin Rosario in his top 20 at each position. Muntradamus not only leads many to championships with his great advice, and outlooks into the future. He is also consistently on the top of leaderboards in DraftStreet.