Fantasy Baseball: Daily Pitcher Rankings (August 23rd)
Fantasy Baseball: Daily Pitcher Rankings (August 23rd)
By Muntradamus
To see yesterday's Daily Pitcher Rankings follow the link.
BEAST DOME NATION.
It's now or never time.  Ask me your fantasy baseball questions as we head towards the end stretch of the season!  #NowOrNever

Jon Axford: Mentioned him yesterday as the new closer, struk out the side for the save Wednesday.
Adrian Beltre: Smashed 3 HRs to remind us why he is the #1 3B option in fantasy baseball.
Tyler Skaggs: Looked great in his 1st start, definitely worth adding in leagues where you need a starter.
Michael Saunders: 4 HRs and 7 RBIs in the last 4 games.  He is a streaky player at best.
Derek Jeter: Hit his 3rd HR in as many games.  He is on FIRE right now!
Bryan LaHair: Hit the dejavu HR of the day.  First since July 4th, what did I tell you.
Wilin Rosario: Hit HR #20, only expert on FantasyPros to have him and Adam Dunn in my top 20 at each position.
Bartolo Colon: Joins Melky Cabrera as PED users.  Trevor Plouffe is next.
Ask me or anyone in the BEAST DOME NATION fantasy questions about players.
PLAYER RANKINGS (AUGUST 23rd):
*Players I like.

C:
RYAN DOUMIT
GEOVANY SOTO
JARROD SALTALAMACCHIA
JOE MAUER
1B:
JUSTIN MORNEAU
ALLEN CRAIG
CARLOS PENA
IKE DAVIS
2B:
IAN KINSLER
DUSIN PEDROIA
HOWIE KENDRIK
DAN UGGLA
BRANDON PHILLIPS
3B:
ADRIAN BELTRE
MIGUEL CABRERA
MICHAEL YOUNG
EVAN LONGORIA
TODD FRAZIER
DAVID FREESE
DAVID WIRGHT
SS:
ELVIS ANDRUS
RAFAEL FURCAL
JHONNY PERALTA
OF:
MIKE TROUT
MATT HOLLIDAY
NELSON CRUZ
MARK TRUMBO
JOSH HAMILTON
NICK MARKAKIS
JOSH WILLINGHAM
DOMINIC BROWN
CODY ROSS
HR PICKS OF THE DAY (AUGUST 23rd):
2/20 on Wednesday.  That will make this week harder than it has to be.  All that means is everyone has to start going yard.
*NEW NOTABLE MUNTRADAMUS HR SHOTS CALLED OF THE WEEK.

Monday: Giancarlo Stanton: Mult-HR game.
Tuesday: Garrett Jones: Multi-HR game.
Wednesday: Jay Bruce: TOWER POWER shot.
Week 13= 22.8%
Week 14= 20.2%

Week 15= N/A.

Week 16= 20.2%
Week 17 = 23.9%
Week 18 = 26.8%
Week 19 =  23.01%
Week 20: = 23.31%
Week 21 = 9/59 = 17.9%

SELECTIONS:

ADRIAN BELTRE
IAN KINSLER
CARLOS PENA
DAN UGGLA
CODY ROSS
MIKE TROUT
JUSTIN MORNEAU
ALLEN CRAIG
MIGUEL CABRERA
MARK TRUMBO
RYAN DOUMIT
MIKE TROUT


DAILY DRAFTSTREET TEAM (AUGUST 23rd):
*To say thank you for my picks all week.  Please use the BEAST DOME logo below as your DRAFTSTREET ICON.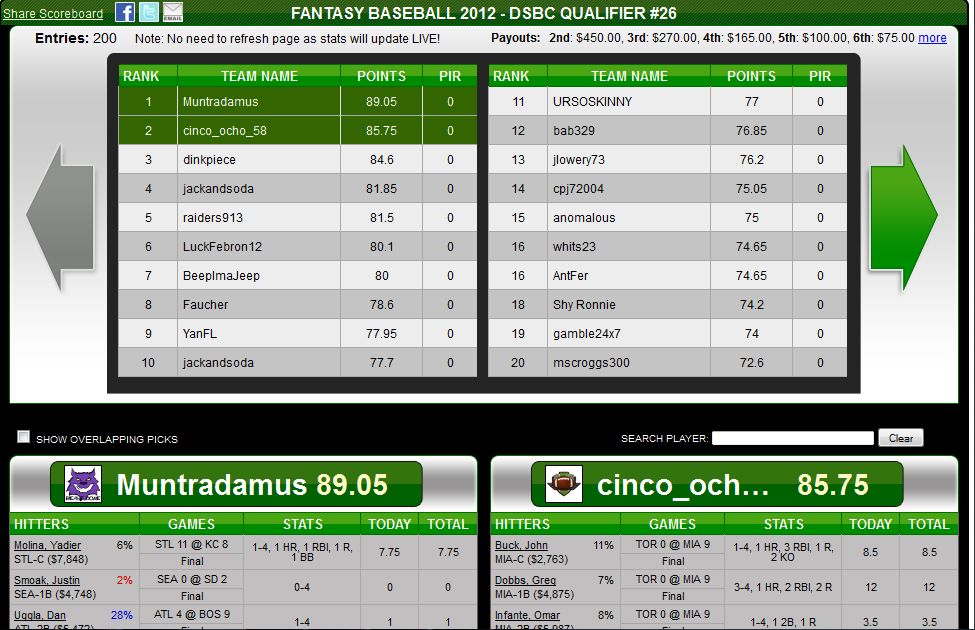 Salary Cap Team for 4:00 PM game (Check Updates.)   If you use the team or rankings above, please use the BEAST DOME logo as your avatar on DRAFTSTREET.  If you use my rankings for FAN DUEL please do the same.
Thank you!
STACK OF THE DAY (AUGUST 23rd)
**NEW. NEW. I pick the stack of the day, you pick the hitters and see the points rally up.
Stack of the Day:
*The More BEAST DOME icons I see all-around DRAFTSTREET, the more info I will publish publicly.  If you want a team e-mailed use the BEAST DOME icon, and e-mail BEAS[email protected] saying you've uploaded the icon and want a team.

BET OF THE DAY (AUGUST 23rd:)
Week 12: 6-1
Week 13: 5-2
Week 14: 3-4
Week 15: 1-2
Week 16: 4-3
Week 17: 5-2

Week 18: 5-2
Week 19 : 4-3
Week 20: 5-0
Week 21: 2-1
DET MONEY LINE
The Tigers fighting for a playoff spot at home in late August with Justin Verlander.  That already sounds like a lock Win.  How about against the worst team in the AL East, Toronto.  On the mound is the very hittable lefty, J.A. Happ.  Give me Detroit.
DAILY PITCHER RANKINGS (AUGUST 23rd):
ELITE STARTS:
1. JUSTIN VERLANDER VS. TOR
GOOD STARTS:
2. JAKE WESTBROOK VS. HOU
3. JOHNNY CUETO @ PHI
4. COLE HAMELS VS. CIN
5. TOMMY HANSON @ SF
ROLL THE DICE:
6. C.J. WILSON @ BOS
7. BARRY ZITO VS. ATL
8. ROY OSWALT VS. MIN
RISKY:
9. ALEX COBB VS. OAK
10. FRANKLIN MORALES VS. LAA
11. TYLER CHATWOOD @ NYM
12. SCOTT DIAMOND @ TEX
13. TYSON ROSS @ TB
14. J.A. HAPP @ DET
15. DALLAS KEUCHEL @ STL
16. COLLIN MCHUGH VS. COL
Muntradamus is a Fantasy Sports Expert who specializes in Fantasy Football/Baseball/Basketball. He is currently in his first season as a Pro on FantasyPros where he is the only expert to have Adam Dunn, Mike Aviles, and Wilin Rosario in his top 20 at each position. Muntradamus not only leads many to championships with his great advice, and outlooks into the future. He is also consistently on the top of leaderboards in DraftStreet.