Fantasy Baseball: Daily Pitcher Rankings (August 22nd)
Fantasy Baseball: Daily Pitcher Rankings (August 22nd)
By Muntradamus
To see yesterday's Daily Pitcher Rankings follow the link.
BEAST DOME NATION.
It's now or never time.  Ask me your fantasy baseball questions as we head towards the end stretch of the season!  #NowOrNever

Jon Axford: Will be the closer again for the Brewers, scoop him off the Waiver Wire, this time he means business.
Ian Kinsler: HR always means a big streak is coming.
Brett Anderson: Looked great in his debut, he is a really solid pitcher for WHIP.
Todd Frazier: Remains one of the hottest hitters in the game with another HR.  Easy NL Rookie of the Year.
Dale Thayer: Blows the save, Luke Gregerson should be added in very deep leagues where closers are very slim.  Thayer should get another shot.
Ask me or anyone in the BEAST DOME NATION fantasy questions about players.
PLAYER RANKINGS (AUGUST 22nd):
*Players I like.

C:

BUSTER POSEY
MATT WIETERS
MARTIN MALDONADO
CARLOS SANTANA
JARROD SALTALAMACCHIA
MIGUEL MONTERO
JOHN JASO
A.J. PIERZYNSKI
JOHN BUCK

1B:
GARRETT JONES
EDWIN ENCARNACION
COREY HART
RYAN HOWARD
PAUL GOLDSCHMIDT
ADAM DUNN
ANTHONY RIZZO
2B:
AARON HILL
DAN UGGLA
IAN KINSLER
KELLY JOHNSON
RICKIE WEEKS
JASON KIPNIS
DUSTIN ACKLEY
CHASE UTLEY
3B:
MIGUEL CABEREA
DAVID WRIGHT
ARAMIS RAMIREZ
PEDRO ALVAREZ
KYLE SEAGER
TODD FRAZIER
MIKE MOUSTAKAS
SS:
JOSE REYES
ALCIDIES ESCOBAR
JIMMY ROLLINS
STARLIN CASTRO
JHONNY PERALTA
DEREK JETER
J.J. HARDY
RAFAEL FURCAL
OF:
GIANCARLO STANTON
RYAN BRAUN
B.J. UPTON
JOSH REDDICK
JACOBY ELLSBURY
JOSH HAMILTON
BRANDON MOSS
JAY BRUCE
ADAM JONES
CHRIS YOUNG
CARLOS BETLRAN
TYLER COLVIN
DAVID MURPHY

HR PICKS OF THE DAY (AUGUST 22nd):
3/22 on Tuesday.  That will make this week harder than it has to be.  All that means is everyone has to start going yard.
*NEW NOTABLE MUNTRADAMUS HR SHOTS CALLED OF THE WEEK.

Monday: Giancarlo Stanton: Mult-HR game.
Tuesday: Garrett Jones: Multi-HR game.
Week 13= 22.8%
Week 14= 20.2%

Week 15= N/A.

Week 16= 20.2%
Week 17 = 23.9%
Week 18 = 26.8%
Week 19 =  23.01%
Week 20: = 23.31%
Week 21 = 7/39 = 17.9%

SELECTIONS:
EDWIN ENCARNACION
JAY BRUCE
RYAN BRAUN
COREY HART
GARRETT JONES
PEDRO ALVAREZ
KYLE SEAGER
RYAN HOWARD
MIGUEL CABEREA
DAN UGGLA
DAVID WRIGHT
TYLER COLVIN
JOSH HAMILTON
IAN KINSLER
ADAM JONES
CARLOS BELTRAN
ADAM DUNN
ANDRUW JONES
PAUL GOLDSCHMIDT
CHRIS YOUNG


DAILY DRAFTSTREET TEAM (AUGUST 22nd):
*To say thank you for my picks all week.  Please use the BEAST DOME logo below as your DRAFTSTREET ICON.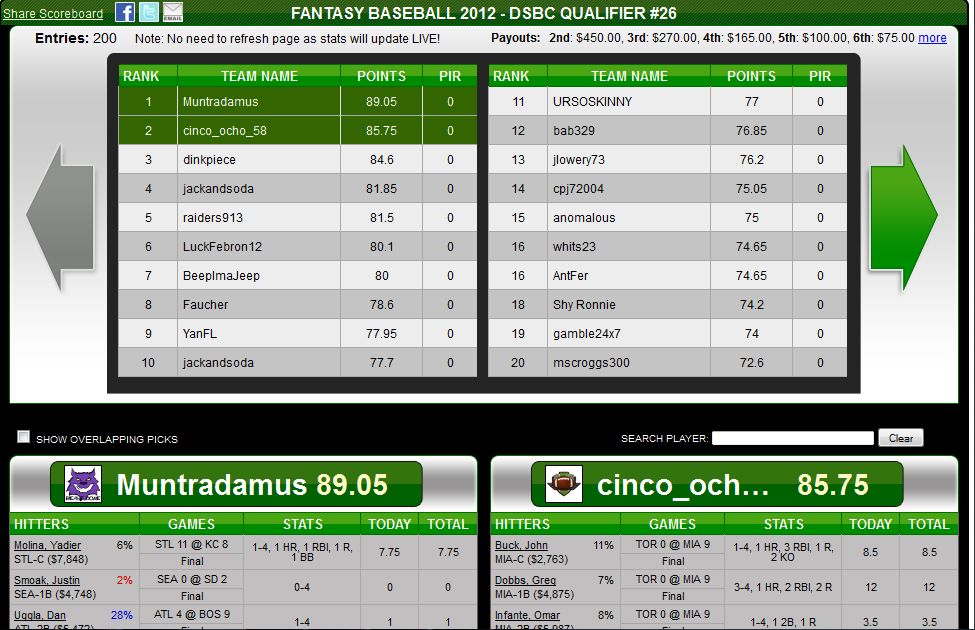 Salary Cap Team for 4:00 PM game (Check Updates.)   If you use the team or rankings above, please use the BEAST DOME logo as your avatar on DRAFTSTREET.  If you use my rankings for FAN DUEL please do the same.
Thank you!
STACK OF THE DAY (AUGUST 22nd)
**NEW. NEW. I pick the stack of the day, you pick the hitters and see the points rally up.
Stack of the Day:
*The More BEAST DOME icons I see all-around DRAFTSTREET, the more info I will publish publicly.  If you want a team e-mailed use the BEAST DOME icon, and e-mail BEAS[email protected] saying you've uploaded the icon and want a team.

BET OF THE DAY (AUGUST 22nd:)
Week 12: 6-1
Week 13: 5-2
Week 14: 3-4
Week 15: 1-2
Week 16: 4-3
Week 17: 5-2

Week 18: 5-2
Week 19 : 4-3
Week 20: 5-0
Week 21: 1-1
STL MONEY LINE
Bud Norris is not a good pitcher on the road, and facing the Cardinals is a terrible situation.  Kyle Lohse is red hot, and he will likely shut down an offense that has no chance against him.
DAILY PITCHER RANKINGS (AUGUST 22nd):
ELITE STARTS:
GOOD STARTS:
1. KYLE LOHSE VS. HOU
2. MATT CAIN @ LAD
3. JERED WEAVER @ BOS
4. YOVANI GALLARDO VS. CHC
5. JAMES MCDONALD @ SD
6. KRIS MEDLEN @ WAS
7. CHRIS CAPUANO VS. SF
8. CHRIS SALE VS. NYY
9. JAMES SHIELDS VS. KC
10. CLAY BUCHHOLZ VS. LAA
11. WADE MILEY VS. MIA
12. MATT HARVEY VS. COL
ROLL THE DICE:
13. HISASHI IWAKUMA VS. CLE
14. TOMMY MILONE VS. MIN
15. ROSS DETWILER VS. ATL
16. BRONSON ARROYO @ PHI
17. LUIS MENDOZA @ TB
18. JEFF FRANCIS @ NYM
19. PHIL HUGHES @ CWS
20. WADE LEBLANC @ ARI
21. VANCE WORLEY VS. CIN
22. TYLER SKAGGS VS. MIA
RISKY:
23. ZACH MCALLISTER @ SEA
24. DEREK HOLLAND VS. BAL
25. JUSTIN TURNER @ ARI
26. LANCE HENDRIKS @ OAK
27. TOMMY HUNTER @ TEX
28. BUD NORRIS @ STL
29. ANIBAL SANCHEZ VS. TOR
30. AARON LAFFEY @ DET
31. TRAVIS WOOD @ MIL
 32. ANDREW WERNER VS. PIT
Muntradamus is a Fantasy Sports Expert who specializes in Fantasy Football/Baseball/Basketball. He is currently in his first season as a Pro on FantasyPros where he is the only expert to have Adam Dunn, Mike Aviles, and Wilin Rosario in his top 20 at each position. Muntradamus not only leads many to championships with his great advice, and outlooks into the future. He is also consistently on the top of leaderboards in DraftStreet.