Fantasy Baseball: Daily Pitcher Rankings (August 21st)
Fantasy Baseball: Daily Pitcher Rankings (August 21st)
By Muntradamus
To see yesterday's Daily Pitcher Rankings follow the link.
BEAST DOME NATION.
It's now or never time.  Ask me your fantasy baseball questions as we head towards the end stretch of the season!  #NowOrNever

STEPHEN DREW: Now a member of the A's. His value stays the same until he can prove that he can hit the ball again.  Looking better this month than all season.
JOHN BUCK: Cover man of the article yesterday goes 4/5 with a HR and 3 runs. Maybe Ellsbury can top that tonight.
BRANDON MCCARTHY: Got rocked, his value may slip to waiver wire, I would grab him if I need pitching.
ADAM DUNN: Inching closer and closer to 40 HRs, here is an article I wrote about him to start the season in why he would hit 40 this year.
RYAN DEMPSTER: Snuck in a good start, he should be good when he does not face power houses.
DALE THAYER: As mentioned earlier is MUST-OWN while Hustron Street is out and you need saves.
TYLER COLVIN: Can be a streaky hot hitter, tomorrow is a big day for him to see if he has value moving forward.
SHAUN MARCUM: Looked good in his rehab start, but is still a speculative add as it was against a Low-A team.
ROGER CLEMENS: Could pitch for the Astros in September.
CARL CRAWFORD: Done for the season with tommy john surgery.  Red Sox season is over.
Ask me or anyone in the BEAST DOME NATION fantasy questions about players.
PLAYER RANKINGS (AUGUST 21st):
*Players I like.

C:

JONATHAN LUCCROY
BUSTER POSEY
MIGUEL MONTERO
JOHN JASO
RYAN DOUMIT
WILIN ROSARIO
1B:
RYAN HOWARD
ALBERT PUJOLS
TODD FRAZIER
GARRETT JONES
ADRIAN GONZALEZ
ADAM DUNN
ANTHONY RIZZO
IKE DAVIS
EDWIN ENCARNACION
2B:
DUSTIN ACKLEY
BRANDON PHILLIPS
NEIL WALKER
ROBINSON CANO
AARON HILL
RICKIE WEEKS
3B:
MIGUEL CABRERA
PABLO SANDOVAL
HANLEY RAMIREZ
CHASE HEADLEY
ARAMIS RAMIREZ
PEDRO ALVAREZ
KYLE SEAGER
SS:
JHONNY PERALTA
DEREK JETER
JOSE REYES
RAFAEL FURCAL
ERIK AYBAR
OF:
MATT KEMP
ANDRE ETHIER
JASON KUBEL
MIKE TROUT
RYAN BRAUN
JOSH WILLINGHAM
GIANCARLO STANTON
CARLOS BELTRAN
COREY HART
MICHAEL SAUNDERS
DAVID MURPHY
JACOBY ELLSBURY
HR PICKS OF THE DAY (AUGUST 21st):
Getting good at calling these multi-HR games, some reason John Buck was not on the list but I featured him in the article.
*NEW NOTABLE MUNTRADAMUS HR SHOTS CALLED OF THE WEEK.

Monday: Giancarlo Stanton: Mult-HR game.
Week 13= 22.8%
Week 14= 20.2%

Week 15= N/A.

Week 16= 20.2%
Week 17 = 23.9%
Week 18 = 26.8%
Week 19 =  23.01%
Week 20: = 23.31%
Week 21 = 4/17 = 23.5%

SELECTIONS:

JOSH HAMILTON
JOSH WILLINGHAM
JASON KUBEL
TYLER COLVIN
MIGUEL CABRERA
DELMON YOUNG
MICHAEL SAUNDERS
RYAN LUDWICK
HANLEY RAMIREZ
CHASE HEADLEY
GARRETT JONES
PEDRO ALVAREZ
ADAM DUNN
RYAN BRAUN
COREY HART
ARAMIS RAMIREZ
IKE DAVIS
ALBERT PUJOLS
MIKE TROUT
ADRIAN GONZALEZ
JACOBY ELLSBURY


DAILY DRAFTSTREET TEAM (AUGUST 21st):
*To say thank you for my picks all week.  Please use the BEAST DOME logo below as your DRAFTSTREET ICON.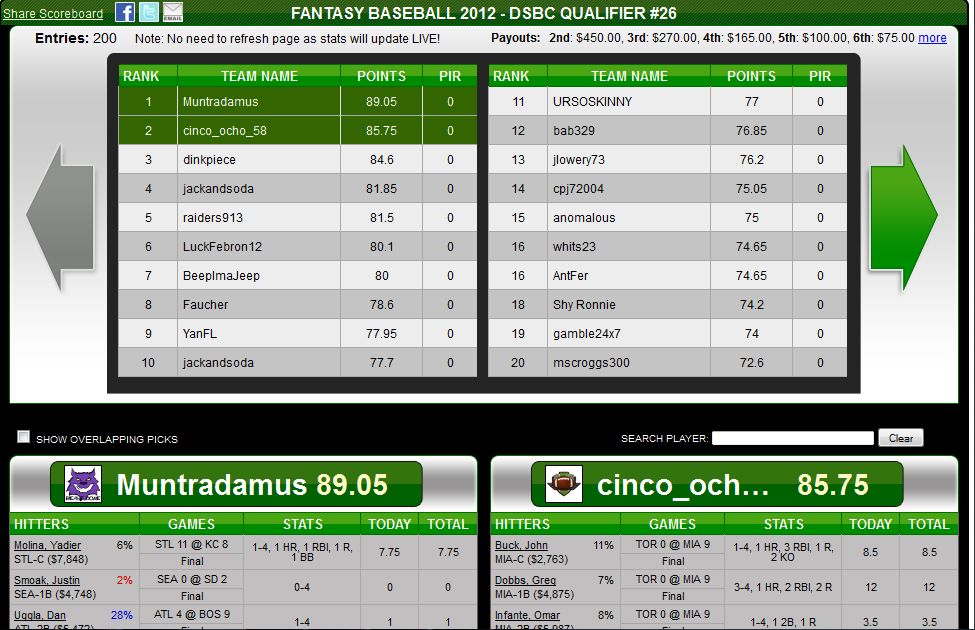 Salary Cap Team for 4:00 PM game (Check Updates.)   If you use the team or rankings above, please use the BEAST DOME logo as your avatar on DRAFTSTREET.  If you use my rankings for FAN DUEL please do the same.
Thank you!
*I am not seeing enough BEAST DOME Logos on DRAFTSTREET AND FAN DUEL. If you want a team please e-mail me with your username, and please use the BEAST DOME Logo!
STACK OF THE DAY (AUGUST 21st)
**NEW. NEW. I pick the stack of the day, you pick the hitters and see the points rally up.
Stack of the Day:
*The More BEAST DOME icons I see all-around DRAFTSTREET, the more info I will publish publicly.  If you want a team e-mailed use the BEAST DOME icon, and e-mail BEAS[email protected] saying you've uploaded the icon and want a team.

BET OF THE DAY (AUGUST 21st:)
Week 12: 6-1
Week 13: 5-2
Week 14: 3-4
Week 15: 1-2
Week 16: 4-3
Week 17: 5-2

Week 18: 5-2
Week 19 : 4-3
Week 20: 5-0
Week 21: 0-1
SEATTLE MONEY LINE
Going to go with the safe pick here and take King Felix at home against the poor Indians.  Roberto Hernandez aka Fausto Carmona should have trouble with this hot Seattle lineup, while Felix is coming off of a perfect game.
DAILY PITCHER RANKINGS (AUGUST 21st):
ELITE STARTS:
1. FELIX HERNANDEZ VS. CLE
2. DAVID PRICE VS. KC
3. STEPHEN STRASBURG VS. ATL
GOOD STARTS:
4. MAX SCHERZER VS. TOR
5. ADAM WAINWRIGHT VS. HOU
6. CLIFF LEE VS. CIN
7. A.J. BURNETT @ SD
8. PAUL MAHOLM @ WAS
9. SCOTT FELDMAN VS. BAL
ROLL THE DICE:
10. TIM LINCECUM @ LAD
11. FRANCISCO LIRIANO VS. NYY
12. BRETT ANDERSON VS. MIN
13. LUKE HOCHEVAR @ TB
14. IVAN NOVA @ CWS
15. MARCO ESTRADA VS. CHC
16. TREVOR CAHILL VS. MIA
17. JASON MARQUIS VS. PIT
18. HOMER BAILEY @ PHI
19. LUCAS HARRELL @ STL
20. CHRIS TILLMAN @ TEX
21. CHRIS YOUNG VS. COL
22. RICKY NOLASCO @ ARI
23. COLE DE VRIES @ OAK
24. AARON COOK VS. LAA
RISKY:
25. ERVIN SANTANA @ BOS
26. JHOULYS CHACIN @ NYM
27. ROBERTO HERNANDEZ @ SEA
28. JOE BLANTON VS. SF
29. RICKY ROMERO @ DET
30. TRAVIS WOOD @ MIL
Muntradamus is a Fantasy Sports Expert who specializes in Fantasy Football/Baseball/Basketball. He is currently in his first season as a Pro on FantasyPros where he is the only expert to have Adam Dunn, Mike Aviles, and Wilin Rosario in his top 20 at each position. Muntradamus not only leads many to championships with his great advice, and outlooks into the future. He is also consistently on the top of leaderboards in DraftStreet.