Fantasy Baseball: Daily Pitcher Rankings (August 20th)
Fantasy Baseball: Daily Pitcher Rankings (August 20th)
By Muntradamus
To see yesterday's Daily Pitcher Rankings follow the link.
BEAST DOME NATION.
It's now or never time.  Ask me your fantasy baseball questions as we head towards the end stretch of the season!  #NowOrNever

Jaime Garcia: Pitched 8 INN allowing 10 Ks in his return to the mound.  Must-Own in all leagues.
Chris Davis: Hot with his 2nd HR in as many days. Looking for 30 HRs this season.
David Murphy: Not Josh Hamilton is probably the hottest hitter on Texas, but that could change quickly.
Luis Cruz: Cock blocking Dee Gordon any chance of having the full-time gig at SS when he returns.
Jeremy Guthrie: Pitching like a CY Young candidate, not going to last.
Bryce Harper: Has found his swing again after a two and a half week slump.
Matt Harrison: Back to being elite on the mound.
Pedro Alvarez: Excellent sleeper this week.
Kyle Kendrick: Back-to-Back shutouts. Jeremy Guthrie 1.3, Kendrick is a bit more trustworthy against NL teams.
Ryan Vogelsong: Back-to-Back bad starts. I would not give him the Dan Haren tag yet.
Hiroki Kuroda: ELITE status.
Adrian Gonzalez: Starting to be a consistent 1st round value player again.
Ask me or anyone in the BEAST DOME NATION fantasy questions about players.
PLAYER RANKINGS (AUGUST 20TH):
*Players I like.

C:

MATT WIETERS
A.J. PIERZYSNKI
JOSE MOLINA
DEREK NORRIS
MIGUEL MONTERO
JOHN JASO
JOHN BUCK
1B:
RYAN HOWARD
ADAM DUNN
GARRETT JONES
CHRIS DAVIS
CHRIS CARTER
PAUL GOLDSCHMIDT
IKE DAVIS
ANTHONY RIZZO 
2B:
ROBINSON CANO
DANNY ESPINOSA
AARON HILL
DUSTIN ACKLEY
BEN ZOBRIST
CHASE UTLEY 
3B:

EVAN LONGORIA
DAVID WRIGHT
PEDRO ALVAREZ
ARAMIS RAMIREZ
KYLE SEAGER
MARK REYNOLDS
SS:
ALCIDIES ESCOBAR
STARLIN CASTRO
JOSE REYES
RUBEN TEJADA
DEREK JETER
OF:
B.J. UPTON
JOSH HAMILTON
YOENIS CESPEDES
GIANCARLO STANTON
BRYCE HARPER
RYAN BRAUN
CARLOS QUENTIN
NICK SWISHER
CURTIS GRANDERSON
COCO CRISP
JUSTIN UPTON

HR PICKS OF THE DAY (AUGUST 20TH):
Not a great Sunday, but 7th week in a row I have predicted the HR hitter more than 20% of the time.  Highlight was calling out a multi-HR game 4 days in a row.
*NEW NOTABLE MUNTRADAMUS HR SHOTS CALLED OF THE WEEK.

Josh Hamilton: Mult-HR game.
Garrett Jones: Multi-HR game.
Price Fielder: Multi-HR game.
Ryan Ludwick: Multi-HR game.

Week 13= 22.8%
Week 14= 20.2%

Week 15= N/A.

Week 16= 20.2%
Week 17 = 23.9%
Week 18 = 26.8%
Week 19 =  23.01%
Week 20: = 24/103 = 23.31%

SELECTIONS:

B.J. UPTON
RYAN HOWARD
JOSH HAMILTON
CHRIS DAVIS
IKE DAVIS
ADAM DUNN
CURTIS GRANDERSON
ROBINSON CANO
RYAN BRAUN
CHRIS CARTER
YOENIS CESPEDES
PAUL GOLDSCHMIDT
GIANCARLO STANTON
KYLE SEAGER
CARLOS QUENTIN
GARRETT JONES
PEDRO ALVAREZ



DAILY DRAFTSTREET TEAM (AUGUST 20TH):
*To say thank you for my picks all week.  Please use the BEAST DOME logo below as your DRAFTSTREET ICON.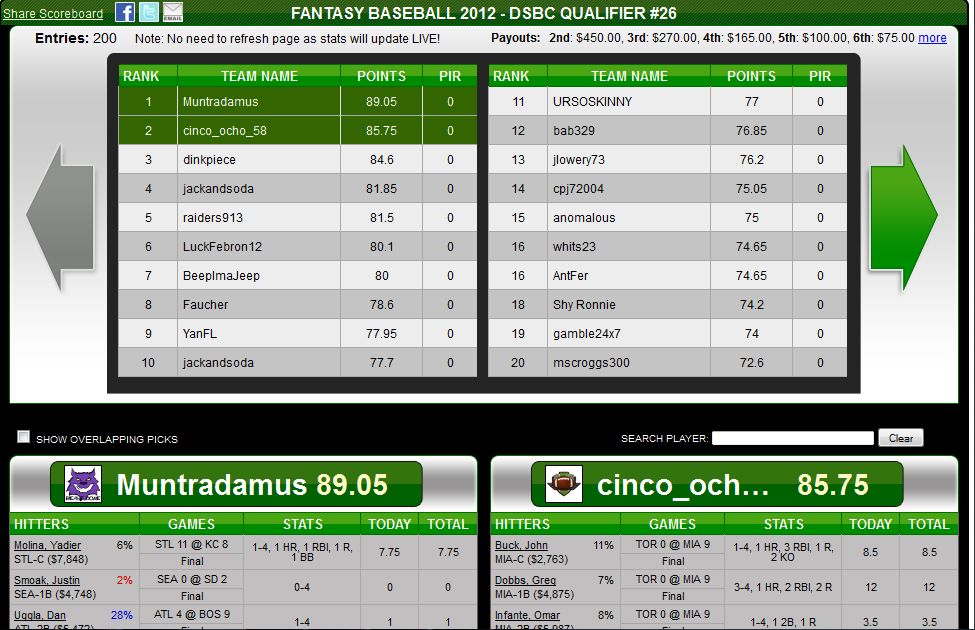 Salary Cap Team for 4:00 PM game (Check Updates.)   If you use the team, please use the BEAST DOME logo as your avatar on DRAFTSTREET.  If you use my rankings for FAN DUEL please do the same.
Thank you!
*I am not seeing enough BEAST DOME Logos on DRAFTSTREET AND FAN DUEL. If you want a team please e-mail me with your username, and please use the BEAST DOME Logo!
STACK OF THE DAY (AUGUST 20TH)
**NEW. NEW. I pick the stack of the day, you pick the hitters and see the points rally up.
Stack of the Day:
OAKLAND
Bad lefties never fair well against the A's. Brian Duensing falls in that category.
*The More BEAST DOME icons I see all-around DRAFTSTREET, the more info I will publish publicly.  If you want a team e-mailed use the BEAST DOME icon, and e-mail BEAS[email protected] saying you've uploaded the icon and want a team.

BET OF THE DAY (AUGUST 20TH:)
Week 12: 6-1
Week 13: 5-2
Week 14: 3-4
Week 15: 1-2
Week 16: 4-3
Week 17: 5-2

Week 18: 5-2
Week 19 : 4-3
Week 20: 5-0
Week 21:
OAK MONEY LINE
Brandon McCarthy is the ACE of that A's pitching staff. The fact he has been injured for a majority of the season, and they still have a chance to make the post season is huge.  Look for him to have an ELITE start at home against the struggling Twins who have Brian Dueinsing on the mound.  Oakland loves facing bad left handed pitchers.
DAILY PITCHER RANKINGS (AUGUST 20TH):
ELITE STARTS:
1. CLAYTON KERSHAW VS. LAD
2. R.A. DICKEY VS. COL
GOOD STARTS:
3. JORDAN ZIMMERMAN VS. ATL
4. BRANDON MCCARTHY VS. MIN
5. ROY HALLADAY VS. CIN
6. MADISON BUMGARNER @ LAD
ROLL THE DICE:
7. JEREMY HELLICKSON VS. KC
8. TIM HUDSON @ WAS
9. KEVIN MILLWOOD VS. CLE
10. MIKE LEAKE @ PHI
11. MARK BUEHRLE @ ARI
12. MIGUEL GONZALEZ @ TEX
13. JOE SAUNDERS VS. MIA
14. GAVIN FLOYD VS. NYY
15. JUSTIN GERMANO @ MIL
16. ALEX WHITE @ NYM
17. MARK ROGERS VS. CHC
18. RYAN DEMPSTER VS. BAL
19. EDINSON VOLQUEZ VS. PIT
RISKY:
20. FREDDY GARCIA @ CWS
21. WILL SMITH @ TB
22. JUSTIN WILSON @ SD
23. UBALDO JIMENEZ @ SEA
24. BRIAN DUENSING @ OAK
Muntradamus is a Fantasy Sports Expert who specializes in Fantasy Football/Baseball/Basketball. He is currently in his first season as a Pro on FantasyPros where he is the only expert to have Adam Dunn, Mike Aviles, and Wilin Rosario in his top 20 at each position. Muntradamus not only leads many to championships with his great advice, and outlooks into the future. He is also consistently on the top of leaderboards in DraftStreet.