Fantasy Baseball: Daily Pitcher Rankings (August 19th)
Fantasy Baseball: Daily Pitcher Rankings (August 19th)
By Muntradamus
To see yesterday's Daily Pitcher Rankings follow the link.
BEAST DOME NATION.
It's now or never time.  Ask me your fantasy baseball questions as we head towards the end stretch of the season!  Expect a Waiver Wire article coming Saturday night.

Ryan Braun: Continues to enjoy his new steroid injection with another HR.  Amazing what a day off to Braun can do with his 4th HR in three games, since leaving Coors.
Mike Fiers: Has another bad start, one more and I am expecting him to be shut down very soon, already a career high in one season with INN pitched in his entire life.
Albert Pujols: Back to being a monster hitting #27, he will definitely pass 35 and everyone panicked, I said BUY BUY BUY.
Paul Konerko: Keeps the power stroke going against the lefty Bruce Chen.  2 HRs in 2 Games since returning from the DL.
Giancarlo Stanton: Hits his 3rd HR in as many games in Coors.
Curtis Granderson: GW gives Granderson the reverse Physcology in the chat to get Granderson going.  Works every time.  Adds another HR today after one Friday.
Ryan Ludwick: Still has his big power stroke going with 6 HRs in the last 9 games.
Todd Frazier: Hit another HR and is HAVING A MONSTER WEEK.  Glad I put him as the cover man of my predicted 2nd half Waiver Wire All-Stars.
Ask me any fantasy questions about players.
PLAYER RANKINGS (August 19th):
*Top 5 at each Position.

C:

JOE MAUER
RYAN DOUMIT
MIGUEL MONTERO
BRIAN MCCANN
JOHN BUCK

1B:
ALBERT PUJOLS
BILLY BUTLER
JUSTIN MORNEAU
EDWIN ENCARNACION
ADAM DUNN

2B:
BRANDON PHILLIPS
ROBINSON CANO
BEN ZOBRIST
AARON HILL
DANNY ESPINOSA
3B:
EVAN LONGORIA
ARAMIS RAMIREZ
MIGUEL CABRERA
PABLO SANDOVAL
ERIC CHAVEZ

SS:
JOSE REYES
STEPHEN DREW
RAFAEL FURCAL
DEREK JETER
ERIK AYBAR

OF:
MIKE TROUT
GIANCARLO STANTON
JAY BRUCE
JOSH HAMILTON
NICK SWISHER

HR PICKS OF THE DAY (August 19th):
7/20 on Saturday puts me right back on track for a record week.  Fourth time in a row I have selected someone who hit Multi-HRs.
*NEW NOTABLE MUNTRADAMUS HR SHOTS CALLED OF THE WEEK.

Josh Hamilton: Mult-HR game.
Garrett Jones: Multi-HR game.
Price Fielder: Multi-HR game.
Ryan Ludwick: Multi-HR game.

Week 13= 22.8%
Week 14= 20.2%

Week 15= N/A.

Week 16= 20.2%
Week 17 = 23.9%
Week 18 = 26.8%
Week 19 = 29/126= 23.01%
Week 20: = 20/80 = 25%

SELECTIONS:

RYAN LUDWICK
JAY BRUCE
GIANCARLO STANTON
JOSE REYES
JOHN BUCK
JASON KUBEL
CURTIS GRANDERON
ROBINSON CANO
RYAN DOUMIT
CARLOS BELTRAN
ADAM DUNN
RYAN BRAUN
ARAMIS RAMIREZ
NICK SWISHER
JOHN MAYBERRY JR.
ERIK KRATZ
JOSH HAMILTON
JASON HEYWARD
JOSH REDDICK
BRANDON MOSS
STARLING MARTE
BILLY BUTLER
JEFF FRANCOUER
SALVADOR PEREZ
CARLOS GONZALEZ
MIGUEL CABRERA
MIKE TROUT
ALBERT PUJOLS


DAILY DRAFTSTREET TEAM (August 19th):
*To say thank you for my picks all week.  Please use the BEAST DOME logo below as your DRAFTSTREET ICON.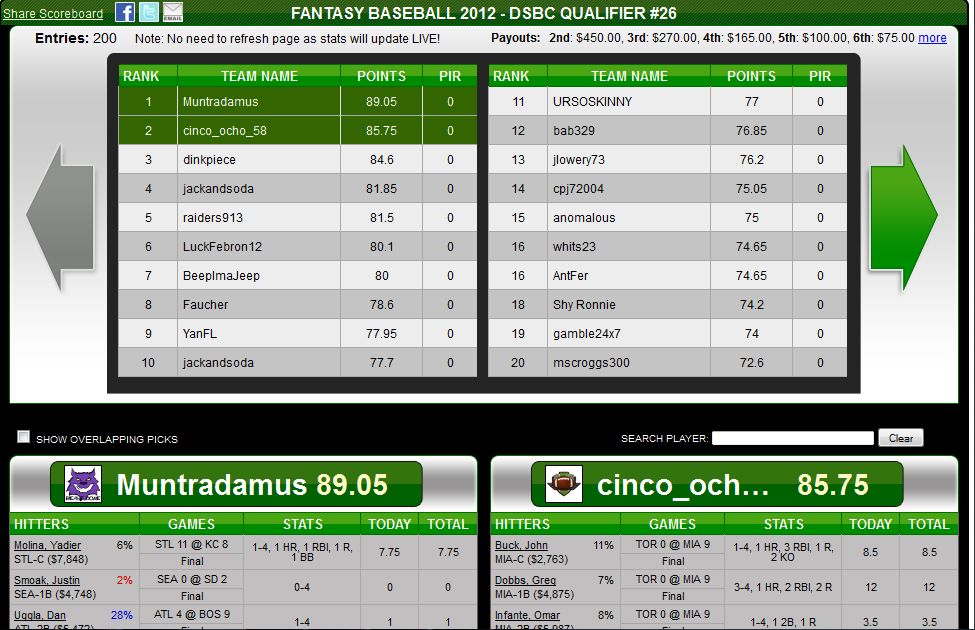 Salary Cap Team for 4:00 PM game (Check Updates.)   If you use the team, please use the BEAST DOME logo as your avatar on DRAFTSTREET.  If you use my rankings for FAN DUEL please do the same.
Thank you!
C: JOHN BUCK
1B: CHRIS DAVIS
2B: ROBINSON CANO
3B: EVAN LONGORIA
SS: JOSE REYES
OF: CHRIS YOUNG
OF: BRANDON MOSS
OF: GIANCARLO STANTON
UTI: CURTIS GRANDERON
UTI: JAY BRUCE

SP: SAMUEL DEDUNO
SP: MATT HARRISON
RP: DALE THAYER
SP: JEREMY AFELDT

STACK OF THE DAY (AUGUST 19th)
**NEW. NEW. I pick the stack of the day, you pick the hitters and see the points rally up.
Week 20 Average Fantasy Points Per Game: 26.37

Stack of the Day:
REDS
Chris Volstad knows a thing or two about getting slammed.  This start should be no exception against a Red team that is mashing the ball.
*The More BEAST DOME icons I see all-around DRAFTSTREET, the more info I will publish publicly.  If you want a team e-mailed use the BEAST DOME icon, and e-mail BEAS[email protected] saying you've uploaded the icon and want a team.

BET OF THE DAY (August 19th:)
Week 12: 6-1
Week 13: 5-2
Week 14: 3-4
Week 15: 1-2
Week 16: 4-3
Week 17: 5-2

Week 18: 5-2
Week 19 : 4-3
Week 20: 4-0
REDS MONEY LINE
Matt Latos has been one of the best pitchers in the NL over the past month, and he should completely shut down the Cubs who are a terrible road offense.  Chris Volstad also takes the mound for the Cubs, and that means trouble is written all over this one.
Daily Pitcher Rankings (August 19th):
ELITE STARTS:
1. GIO GONZALEZ VS. NYM

GOOD STARTS:
2. MAT LATOS VS. CHC
3. HIROKI KURODA VS. BOS
4. MATT HARRISON @ TOR
5. DOUG FISTER VS. BAL
6. RYAN VOGELSONG @ SD
7. IAN KENNEDY @ HOU
ROLL THE DICE:
8. CLAYTON RICHARD VS. SF
9. MATT MOORE @ LAA
10. JOSH JOHNSON @ COL
11. WEI-YIN CHEN @ DET
12. SAMUEL DEDUNO @ SEA
13. MIKE MINOR VS. LAD
14. JARROD PARKER VS. CLE
15. JEREMY HEFNER @ WAS
16. JOSE QUINTANA @ KC
17. JAMIE GARCIA VS. PIT
18. JUSTIN MASTERSON @ OAK
19. CHAD BILLINGSLEY @ ATL
20. HENDERSON ALVAREZ VS. TEX
21. RANDY WOLF VS. PHI
22. KYLE KENDRIK @ MIL
RISKY:
23. ZACK GRIENKE VS. TB
24. JEREMY GUTHRIE VS. CWS
25. JEFF KARSTENS @ STL
26. BLAKE BEAVEN VS. MIN
27. JOSH BECKETT @ NYY
28. ARMANDO GALARAGA VS. ARI
29. DREW POMERANZ VS. MIA
30. CHRIS VOLSTAD @ CIN
Muntradamus is a Fantasy Sports Expert who specializes in Fantasy Football/Baseball/Basketball. He is currently in his first season as a Pro on FantasyPros where he is the only expert to have Adam Dunn, Mike Aviles, and Wilin Rosario in his top 20 at each position. Muntradamus not only leads many to championships with his great advice, and outlooks into the future. He is also consistently on the top of leaderboards in DraftStreet.