Fantasy Baseball: Daily Pitcher Rankings (August 18th)
Fantasy Baseball: Daily Pitcher Rankings (August 18th)
By Muntradamus
To see yesterday's Daily Pitcher Rankings follow the link.

DRAFTSTREET UPDATED! 2:54

BEAST DOME NATION.
It's now or never time.  Ask me your fantasy baseball questions as we head towards the end stretch of the season!  Expect a Waiver Wire article coming Saturday night.

Ryan Braun: Continues to enjoy his new steroid injection with another HR.  Amazing what a day off to Braun can do with his 3rd HR in two games, since leaving Coors.
Chipper Jones: First he hits HRs on bobble head nights, now he hits HR in back-to-back nights.  He can get streaky hot right now.
Nick Swisher: Hottest power hitter in baseball hitting two HRs on Friday to give him 4 for the week.  Finally.
Paul Konerko: Hits a HR in his first game back.  He is rested.
James McDonald: Remembered how to pitch again against the Cardinals of all team with a 6 INN shutout.  He hasn't pitched that well since July 7th allowing only 1 ER in 7 INN.
Giancarlo Stanton: Hits his 2nd HR in as many games in Coors.  Jose Reyes joined the action.
Pedro Alvarez: Stays hot with two hit games, big weekend ahead for him.
Curtis Granderson: GW gives Granderson the reverse Physcology in the chat to get Granderson going.  Works every time.
Ryan Ludwick: Still has his big power stroke going with 4 HRs in the last 7 games.
B.J. Upton: Ready for a HUGE weekend.  Is what I said Thursday night, hit a HR off of Weaver is a good sign moving forward.
Prince Fielder & Miguel Cabrera: Is the most lethal Mini-Stack in all of DraftStreet.
Todd Frazier: Who I put as the cover man of my predicted 2nd half Waiver Wire All-Stars is not disappointing.  Second time this week he has hit a HR and SB in the same game.  Easy rookie of the year in the NL over Bryce Harper if he keeps it up.
Ask me any fantasy questions about players.
PLAYER RANKINGS (August 18th):
*Top 5 at each Position.

C:


BUSTER POSEY
WILIN ROSARIO
BRIAN MCCANN
A.J. PIERZYNSKI
MIGUEL MONTERO

1B:
PRINCE FIELDER
ALBERT PUJOLS
FREDDIE FREEMAN
PAUL KONERKO
MARK TIEXEIRA
2B:

DAN UGGLA
MARCO SCUTARO
ROBINSON CANO
HOWARD KENDRIK
KELLY JOHNSON

3B:
MIGUEL CABRERA
TODD FRAZIZER
CHIPPER JONES
RYAN ZIMMERMAN
HANLEY RAMIREZ
SS:
JOSE REYES
STARLIN CASTRO
DEREK JETER
ERIK AYBAR
JIMMY ROLLINS
OF:
ERIC YOUNG JR
GIANCARLO STANTON
RYAN LUDWICK
B.J. UPTON
JASON HEYWARD
HR PICKS OF THE DAY (August 18th):
6/27 on Friday puts me right back on track for 20% or higher once again.  Third time in a row I have selected someone who hit Multi-HRs.
*NEW NOTABLE MUNTRADAMUS HR SHOTS CALLED OF THE WEEK.

Josh Hamilton: Mult-HR game.
Garrett Jones: Multi-HR game.
Price Fielder: Multi-HR game.

Week 13= 22.8%
Week 14= 20.2%

Week 15= N/A.

Week 16= 20.2%
Week 17 = 23.9%
Week 18 = 26.8%
Week 19 = 29/126= 23.01%
Week 20: = 13/60 = 21.6%

SELECTIONS:
BUSTER POSEY
GIANCARLO STANTON
CARLOS GONZALEZ
RYAN LUDWICK
TODD FRAZIER
JAY BRUCE
RYAN BRAUN
B.J. UPTON
JOSH WILLINGHAM
BRANDON MOSS
JASON HEYWARD
MICHAEL MORSE
RYAN ZIMMERMAN
PAUL KONERKO
PRINCE FIELDER
MIGUEL CABRERA
MIGUEL MONTERO
MARK TIEXEIRA
ADRIAN GONZALEZ
MATT HOLLIDAY
EDWIN ENCARNACION


DAILY DRAFTSTREET TEAM (August 18th):
*To say thank you for my picks all week.  Please use the BEAST DOME logo below as your DRAFTSTREET ICON.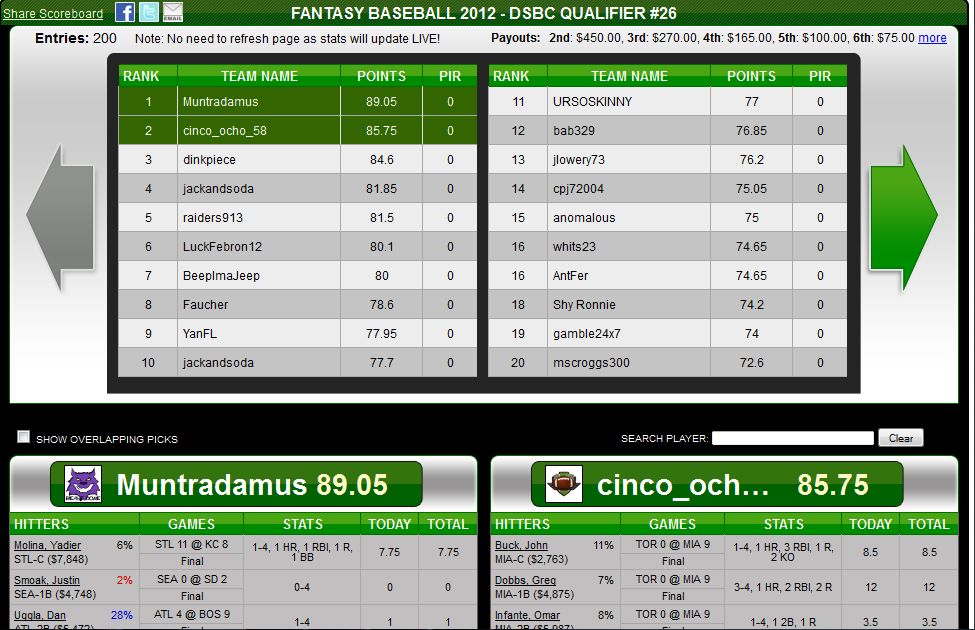 Salary Cap Team for 4:00 PM game (Check Updates.)   If you use the team, please use the BEAST DOME logo as your avatar on DRAFTSTREET.  If you use my rankings for FAN DUEL please do the same.
Thank you!
C: CHRIS SYNDER
1B: PRINCE FIELDER
2B: GORDON BECKHAM
3B: MIGUEL CABRERA
SS: JHONNY PERALTA
OF: JOSH REDDICK
OF: BRANDON MOSS
OF: DELMON YOUNG
UTI: JEFF BAKER
UTI: CHRIS DAVIS

SP: MIKE FIERS
SP: BARTOLO COLON
RP: DALE THAYER
SP: C.J. WILSON

STACK OF THE DAY (AUGUST 18th)
**NEW. NEW. I pick the stack of the day, you pick the hitters and see the points rally up.
Week 20 Average Fantasy Points Per Game: 19.1

Stack of the Day:
OAKLAND
Corey Kluber gets bombed everywhere he goes, I expect Oakland to do work at home where they score double digit runs often.
*The More BEAST DOME icons I see all-around DRAFTSTREET, the more info I will publish publicly.  If you want a team e-mailed use the BEAST DOME icon, and e-mail BEAS[email protected] saying you've uploaded the icon and want a team.

BET OF THE DAY (August 18th:)
Week 12: 6-1
Week 13: 5-2
Week 14: 3-4
Week 15: 1-2
Week 16: 4-3
Week 17: 5-2

Week 18: 5-2
Week 19 : 4-3
Week 20: 3-0
OAK MONEY LINE
Go with what keeps working, and Bartolo Colon is already a lights out performance more likely than not.  Hard to believe I would be saying that to end August.  Corey Kluber gets knocked around harder than Zach McAllister, so I like the A's to continue to do damage.
Daily Pitcher Rankings (August 18th):
ELITE STARTS:
1. JOHNNY CUETO VS. CHC
GOOD STARTS:
2. C.J. WILSON VS. TB
3. COLE HAMELS @ MIL
4. MIKE FIERS VS. PHI
5. BARTOLO COLON VS. CLE
6. JAKE PEAVY @ KC
7. JASON VARGAS VS. MIN
ROLL THE DICE:
8. PATRICK CORBIN @ HOU
9. EDWIN JACKSON VS. NYM
10. JEFF SAMARDZIJA @ CIN
11. CARLOS VILLANUEVA VS. TEX
12. BEN SHEETS VS. LAD
13. BARRY ZITO @ SD
14. SCOTT DIAMOND @ SEA
15. LANCE LYNN VS. PIT
16. JON LESTER @ NYY
17. JONATHAN NIESE @ WAS
18. DAVID PHELPS VS. BOS
19. ERIC STULTS VS. SF
20. AARON HARANG @ ATL
21. ALEX COBB @ LAA
22. ERIK BEDARD @ STL
23. ROY OSWALT @ TOR
24. RICK PORCELLO VS. BAL
25. TYLER CHATWOOD VS. MIA
26. BRUCE CHEN VS. CWS
27. JORDAN LYLES VS. ARI
RISKY:
28. ZACH BRITTON @ DET
29. TODD REDMOND VS. CHC
30. BROOKS RALEY @ CIN
31. COREY KLUBER @ OAK
32. NATE EOVALDI @ COL
Muntradamus is a Fantasy Sports Expert who specializes in Fantasy Football/Baseball/Basketball. He is currently in his first season as a Pro on FantasyPros where he is the only expert to have Adam Dunn, Mike Aviles, and Wilin Rosario in his top 20 at each position. Muntradamus not only leads many to championships with his great advice, and outlooks into the future. He is also consistently on the top of leaderboards in DraftStreet.