Fantasy Baseball: Daily Pitcher Rankings (August 17th)
Fantasy Baseball: Daily Pitcher Rankings (August 17th)
By Muntradamus
To see yesterday's Daily Pitcher Rankings follow the link.
BEAST DOME NATION.
It's now or never time.  Ask me your fantasy baseball questions as we head towards the end stretch of the season!

Ryan Braun: Got a day off (steroid injection) Wednesday, and hit 2 HRs in his return Thursday.  Ready to put up MVP numbers after the cold start to the week.  I had him Aramis and Hart both days in the DSBC, they do not get more than 3 hits between them all series.  Yesterday they combine for 4 HRs.
Chipper Jones: Hit 2 HRs on his bobble head night.  Pretty epic for a 40 Year Old who is still relevant in fantasy leagues.
Dan Haren: Was terrible against the Rays.  Although they are healthy, Haren is more of a risky pitcher than a safe thing moving forward.
Michael Cuddyer: Launched a HR in his first game back.  Good to play at Coors.
Giancarlo Stanton: Got settled in at Coors hitting a HR in the first game of the series.  0/4 when I used him in the DSBC.
Dan Straily Show: Pitches a shutout which shows he is worth every piece of the hype.  Grant Balfour recorded the save saying good bye to Ryan Cook.
Kris Medlen: My #1 Pitcher of yesterday throws a CG shutout.  So far my #1 Pitcher since the DSBC has 18 INN and 0 ERs, King Felix and now Medlen.
Pedro Alvarez: Hit a HR, which means a whole bakers bunch is coming.
G.I. Jones: Is turning into a low key MONSTER.
Jason Heyward: Reaches 20 HRs to go along with his 16 SBs.  Breakout season for the star projected in my sleeper article to start the year.
Matt Harvey: Looks like a solid keeper after racking up a very nice road start in Cincy.  Future ace of that staff no doubt.
B.J. Upton: Ready for a HUGE weekend.
Jim Henderson: Racks up the save for the Brewers, still closer for now.
Jason Motte: Gives up back-to-back jacks, closer job is still his.
Ask me any fantasy questions about players.
PLAYER RANKINGS (August 17th):
*Top 5 at each Position.

C:
WILIN ROSARIO
BUSTER POSEY
MIGUEL MONTERO
A.J. PIERZYNSKI
JESUS MONTERO
1B:
ALLEN CRAIG
MICHAEL CUDDYER
ADRIAN GONZALEZ
PAUL GOLDSCHMIDT
GARRETT JONES
2B:
IAN KINSLER
DAN UGGLA
BRANDON PHILLIPS
DANNY ESPINOSA
CHASE UTLEY
3B:
ADRIAN BELTRE
RYAN ZIMMERMAN
TODD FRAZIER
PEDRO ALVAREZ
KYLE SEAGER
SS:
JOSE REYES
STARLIN CASTRO
JOSH RUTLEDGE
JIMMY ROLLINS
RAFAEL FURCAL
OF:
MIKE TROUT
RYAN BRAUN
CARL CRAWFORD
MATT HOLLIDAY
GIANCARLO STANTON
HR PICKS OF THE DAY (August 17th):
4/16 on Tuesday puts me right back on track for 20% or higher once again.
*NEW NOTABLE MUNTRADAMUS HR SHOTS CALLED OF THE WEEK.

Josh Hamilton: Mult-HR game.
Garrett Jones: Multi-HR game.

Week 13= 22.8%
Week 14= 20.2%

Week 15= N/A.

Week 16= 20.2%
Week 17 = 23.9%
Week 18 = 26.8%
Week 19 = 29/126= 23.01%
Week 20: = 7/37 = 18.9%

SELECTIONS:
DAN UGGLA
RYAN HOWARD
GARRETT JONES
PEDRO ALVAREZ
WILIN ROSARIO
RYAN ZIMMERMAN
MICHAEL MORSE
PRINCE FIELDER
DREW STUBBS
RYAN LUDWICK
ANDRUW JONES
ADRIAN GONZALEZ
NELSON CRUZ
IAN KINSLER
ADRIAN BELTRE
PAUL GOLDSCHMIDT
CHRIS YOUNG
ADAM DUNN
RYAN BRAUN
ARAMIS RAMIREZ
BRANDON MOSS
MATT HOLLIDAY
CARLOS BELTRAN
ALLEN CRAIG
MIKE TROUT
GIANCARLO STANTON
MICHAEL CUDDYER
WILIN ROSARIO
JOSH RUTLEDGE
KYLE SEAGER

DAILY DRAFTSTREET TEAM (August 17th):
*To say thank you for my picks all week.  Please use the BEAST DOME logo below as your DRAFTSTREET ICON.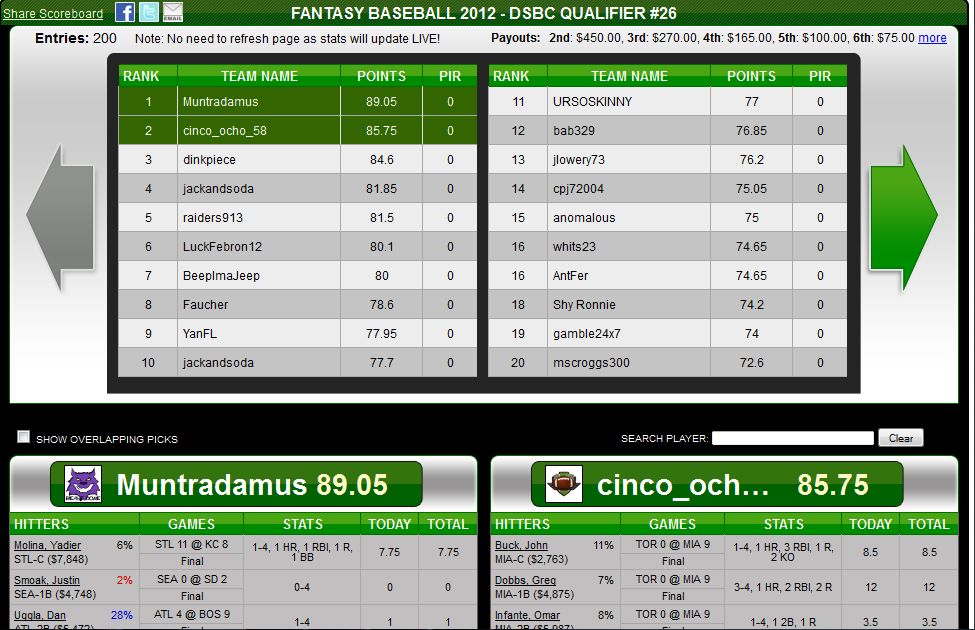 Salary Cap Team for 4:00 PM game (Check Updates.)   If you use the team, please use the BEAST DOME logo as your avatar on DRAFTSTREET.  If you use my rankings for FAN DUEL please do the same.
Thank you!
C: JOHN BUCK
1B: PAUL GOLDSCHMIDT
2B: AARON HILL
3B: PEDRO ALVAREZ
SS: STARLIN CASTRO
OF: YOENIS CESPEDES
OF: JUSTIN UPTON
OF: BRANDON MOSS
UTI: RYAN HOWARD
UTI: CHRIS YOUNG
SP: ROSS DETWILER
SP: YU DARVISH
RP: ERNESTO FRIERI
SP: TOM MILONE
STACK OF THE DAY (AUGUST 17th)
**NEW. NEW. I pick the stack of the day, you pick the hitters and see the points rally up.
Week 20 Average Fantasy Points Per Game: 24.65

Stack of the Day:
ST. LOUIS

James McDonald knows a thing or two about getting blown out.  Pitching on the road in STL, he will have a fun Friday.
*The More BEAST DOME icons I see all-around DRAFTSTREET, the more info I will publish publicly.  If you want a team e-mailed use the BEAST DOME icon, and e-mail BEAS[email protected] saying you've uploaded the icon and want a team.

BET OF THE DAY (August 17th:)
Week 12: 6-1
Week 13: 5-2
Week 14: 3-4
Week 15: 1-2
Week 16: 4-3
Week 17: 5-2

Week 18: 5-2
Week 19 : 4-3
Week 20: 2-0
OAKLAND MONEY LINE
Tom Million One will have an easy task against a Cleveland team that cannot hit lefties.  On top of that Zach McAllister who is used to getting bombed faces an Oakland team that is ready for a breakout game.
Daily Pitcher Rankings (August 17th):
ELITE STARTS:
1. JERED WEAVER VS. TB
2. MATT CAIN @ SD
3. CHRIS SALE @ KC

GOOD STARTS:
4. YU DARVISH @ TOR
5. JUSTIN VERLANDER VS. BAL
6. TOM MILONE VS. CLE
7. WADE MILEY @ HOU
8. ROSS DETWILER VS. NYM
ROLL THE DICE:
9. BRONSON ARROYO VS. CHC
10. YOVANI GALLARDO VS. PHI
11. JAMES SHIELDS @ LAA
12. TOMMY HANSON VS. LAD
13. CHRIS CAPUANO @ ATL
14. HISASHI IWAKUMA VS. MIN
15. JAKE WESTBROOK VS. PIT
16. FRANKLIN MORALES @ NYY
17. PHIL HUGHES VS. BOS
18. ROSS OHLENDORF VS. SF
RISKY:
19. LUIS MENDOZA VS. CWS
20. VANCE WORLEY @ MIL
21. TOMMY HUNTER @ DET
22. JOHAN SANTANA @ WAS
23. WADE LEBLANC @ COL
24. DALLAS KUECHEL VS. ARI
25. JEFF FRANCIS VS. MIA
26. ZACH MCALLISTER @ OAK
27. J.A. HAPP VS. TEX
28. TRAVIS WOOD @ CIN
29. NICK BLACKBURN @ SEA
30. JAMES MCDONALD @ STL
Muntradamus is a Fantasy Sports Expert who specializes in Fantasy Football/Baseball/Basketball. He is currently in his first season as a Pro on FantasyPros where he is the only expert to have Adam Dunn, Mike Aviles, and Wilin Rosario in his top 20 at each position. Muntradamus not only leads many to championships with his great advice, and outlooks into the future. He is also consistently on the top of leaderboards in DraftStreet.