Fantasy Baseball: Daily Pitcher Rankings (August 12th)
Fantasy Baseball: Daily Pitcher Rankings (August 12th)
By Muntradamus
To see yesterday's Daily Pitcher Rankings follow the link.
BEAST DOME NATION.
I will be online on the chat at 8:30pm Pacific time till late to answer your fantasy questions for the upcoming week. A lot of new BEAST DOME members on board, welcome all to the site hope to see you on there!
WILL MIDDLEBROOKS: Season has come to an end with a broken wrist.  Do not bother picking up his replacement Nick Punto.
CHRIS JOHNSON/DEREK NORRIS/STARLING MARTE: Hit a total of five HRs this week, all were recommended in this weeks waiver wire article.
SALVADOR PEREZ: Turning into a BEAST with his 3rd HR of the week.  Remember when I all told you about him in this article.
DEREK HOLLAND: With a VINTAGE elite start.  I'm a big Holland fan from Day 1, hopefully it is the start of him coming around.
JOHN JASO: Hitting HR's in back-to-back days.  Good bye Miguel Olivo if any of you still owned him.
Ask me any fantasy questions about players.
PLAYER RANKINGS (August 12th):
*Top 5 at each Position.

Coming back after the DSBC that starts Monday.
HR PICKS OF THE DAY (August 12th):
Trying to do what I can to stay above 20% for the 7th consecutive week.
*NEW NOTABLE MUNTRADAMUS HR SHOTS CALLED OF THE WEEK.

OMAR INFANTE #10
JOSE REYES #8
SALVADOR PEREZ #6
RYAN HOWARD #6
Week 13= 22.8%
Week 14= 20.2%

Week 15= N/A.

Week 16= 20.2%
Week 17 = 23.9%
Week 18 =18/67 = 26.8%
Week 19 = 25/106= 23.6%

SELECTIONS:

FREDDIE FREEMAN
MATT KEMP
ADRIAN GONZALEZ
MANNY MACHADO
ALEX GORDON
ADAM DUNN
RICKIE WEEKS
WILIN ROSARIO
MICHAEL MORSE
PAUL GOLDSCHMIDT
DAN UGGLA
PRINCE FIELDER
EVAN LONGORIA
ANTHONY RIZZO
GARRETT JONES
RYAN LUDWICK
GIANCARLO STANTON
DAILY DRAFTSTREET TEAM (August 12th):
*To say thank you for my picks all week.  Please use the BEAST DOME logo below as your DRAFTSTREET ICON.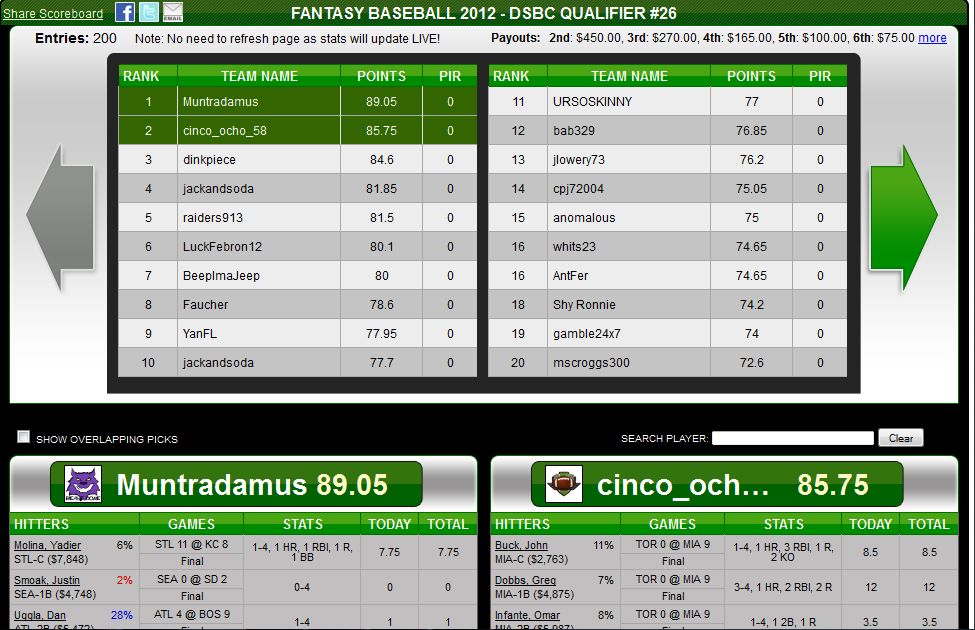 Salary Cap Teams will be back after the DSBC that starts Monday.
*The More BEAST DOME icons I see all-around DRAFTSTREET, the more info I will publish publicly.  If you want a team e-mailed use the BEAST DOME icon, and e-mail BEAS[email protected] saying you've uploaded the icon and want a team.

BET OF THE DAY (August 12th:)
Week 12: 6-1
Week 13: 5-2
Week 14: 3-4
Week 15: 1-2
Week 16: 4-3
Week 17: 5-2

Week 18: 5-2
Week 19 : 4-2
SF MONEY LINE
I never like to put my money on Barry Zito, but he did pitch a CG shutout against the Rockies earlier this year.  The Giants are playing hot baseball right now, and Alex White is not the definition of a Solid pitcher.  Zito should show the sports world why he is paid like a top 25 athlete.
Daily Pitcher Rankings (August 12th):
ELITE STARTS:
1. JERED WEAVER VS. SEA
GOOD STARTS:
2. CHRIS SALE VS. OAK
3. ERIK BEDARD VS. SD
4. YOVANI GALLARDO @ HOU
5. BARRY ZITO VS. COL
6. JOHNNY CUETO @ CHC
7. BEN SHEETS @ NYM
8. JAMES SHIELDS @ MIN
9. JON LESTER @ CLE
10. PHIL HUGHES @ TOR
11. ROSS DETWILER @ ARI


ROLL THE DICE:
12. LANCE LYNN @ PHI
13. BARTOLO COLON @ CWS
14. JASON VARGAS @ LAA
15. PATRICK CORBIN VS. WAS
16. JONATHAN NIESE VS. ATL
17. SCOTT DIAMOND VS. TB
18. CHRIS CAPUANO @ MIA
19. JORDAN LYLES VS. MIL
20. VANCE WORLEY VS. STL
21. WADE LEBLANC VS. LAD
22. RICK PORCELLO @ TEX
RISKY:
23. YU DARVISH VS. DET
24. TOMMY HUNTER VS. KC
25. ROSS OHELENDORF @ PIT
26. COREY KLUBER VS. BOS
27. ALEX WHITE @ SF
28. BRUCE CHEN @ BAL
29. J.A. HAPP VS. NYY
30. BROOKS RALEY VS. CIN
Muntradamus is a Fantasy Sports Expert who specializes in Fantasy Football/Baseball/Basketball. He is currently in his first season as a Pro on FantasyPros where he is the only expert to have Adam Dunn, Mike Aviles, and Wilin Rosario in his top 20 at each position. Muntradamus not only leads many to championships with his great advice, and outlooks into the future. He is also consistently on the top of leaderboards in DraftStreet. In August he will compete in a $200K MLB tournament that he qualified for, he has won two spots.