Fantasy Baseball: Daily Pitcher Rankings (August 11th)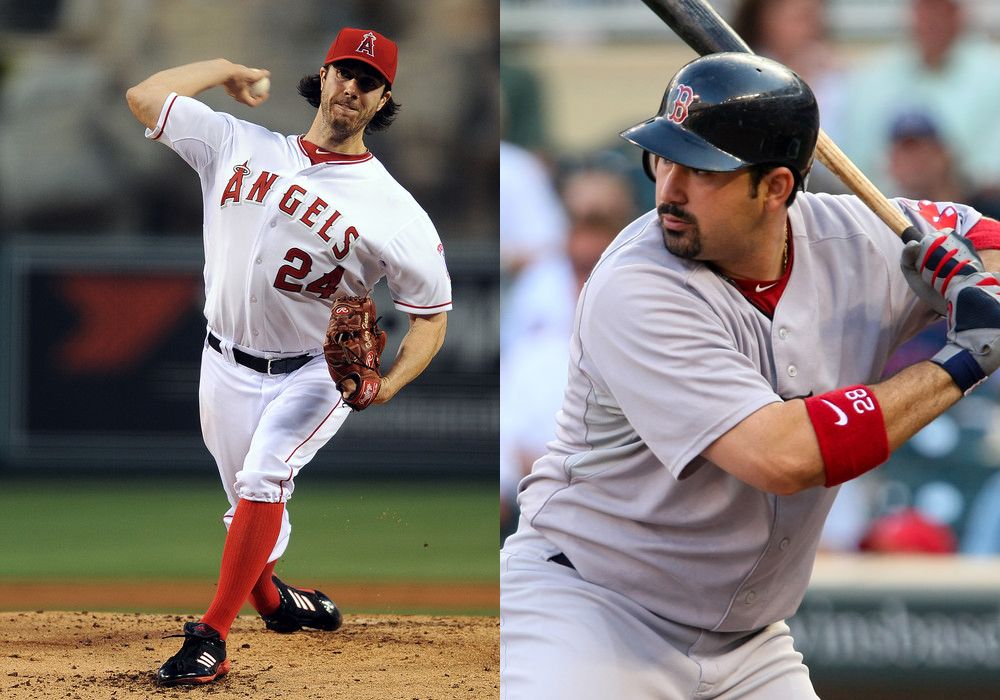 Fantasy Baseball: Daily Pitcher Rankings (August 11th)
By Muntradamus
You Can see my Pitcher Rankings From yesterday by clicking here.
BEAST DOME NATION.
After winning my second seat in the Q, I hope you enjoy my content even more below.
CHRIS JOHNSON/DEREK NORRIS/STARLING MARTE: Hit a total of five HRs this week, all were recommended in this weeks waiver wire article.
DAN UGGLA: Heating up.
Manny Machado: Turning into ELITE keeper option with multi-HR game.
Ask me any fantasy questions about players.
PLAYER RANKINGS (August 11th):
*Top 5 at each Position.
7 Players hit HRs in these rankings on Wednesday.
Coming later..

C:
1B/DH:
2B:
3B:
SS:
OF:
HR PICKS OF THE DAY (August 11th):
Went 8/21 in predicting HRs on Friday.  Moves me right back into pace.
*NEW NOTABLE MUNTRADAMUS HR SHOTS CALLED OF THE WEEK.

OMAR INFANTE #10
JOSE REYES #8
SALVADOR PEREZ #6
RYAN HOWARD #6
Week 13= 22.8%
Week 14= 20.2%

Week 15= N/A.

Week 16= 20.2%
Week 17 = 23.9%
Week 18 =18/67 = 26.8%
Week 19 = 25/106= 23.6%

SELECTIONS:
Coming Back Sunday.



DAILY DRAFTSTREET TEAM (August 11th):
*To say thank you for my picks all week.  Please use the BEAST DOME logo below as your DRAFTSTREET ICON.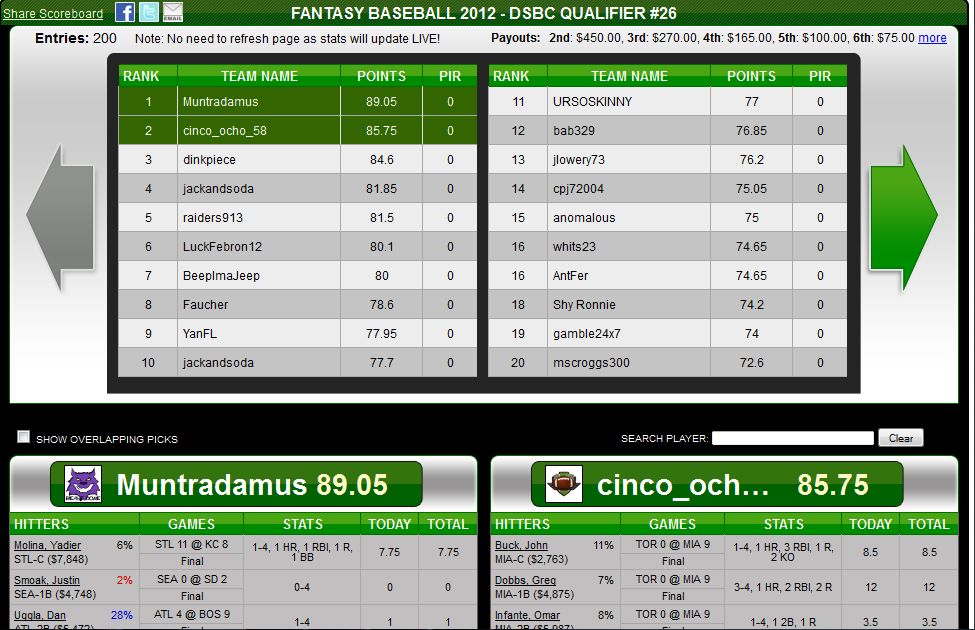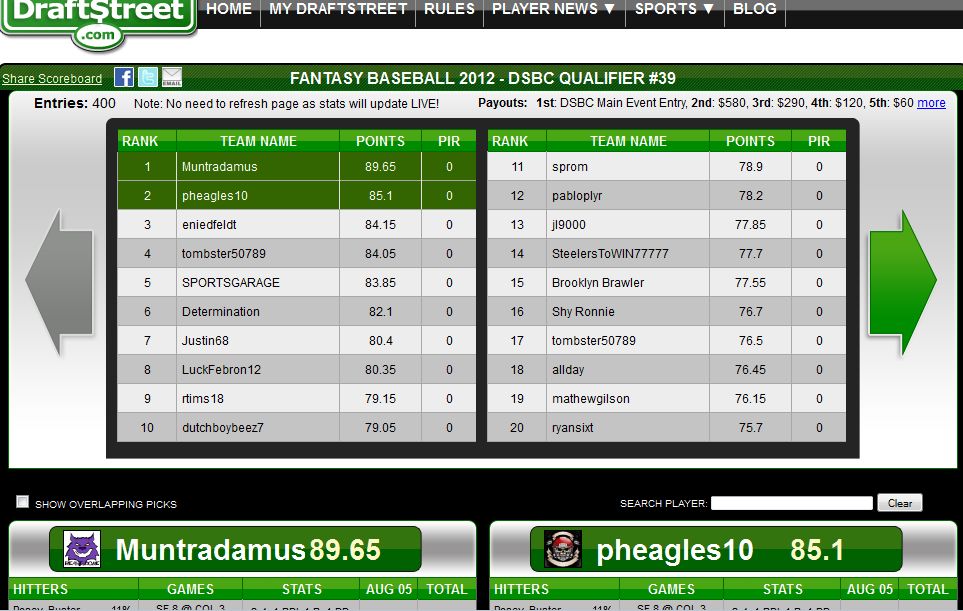 I will give my Pick'em Teams for now the next two weeks.  Since I have two seats in the upcoming DSBC, I will not be showing my hand of strategy.
Tier 1: Ryan Braun
Tier 2: Marco Estrada
Tier 3: Kris Medlen
Tier 4: Hanley Ramirez
Tier 5: Michael Morse
Tier 6: Corey Hart
Tier 7: Jason Kubel
Tier 8: Rickie Weeks

*The More BEAST DOME icons I see all-around DRAFTSTREET, the more info I will publish publicly.  If you want a team e-mailed use the BEAST DOME icon, and e-mail BEAS[email protected] saying you've uploaded the icon and want a team.

BET OF THE DAY (August 11th:)
Week 12: 6-1
Week 13: 5-2
Week 14: 3-4
Week 15: 1-2
Week 16: 4-3
Week 17: 5-2

Week 18: 5-2
Week 19 : 3-2
TAMPA BAY MONEY LINE
David Price takes the mound for the Rays which should mean a very good chance for a W to begin with.  The Twins have trouble hitting lefties, and Price is the best in the AL.  The Twins have Blackburn on the mound, and he walks into a tough situation against a HOT Rays offense.
Daily Pitcher Rankings (August 11th):
ELITE STARTS:
1. DAVID PRICE @ MIN
2. MATT CAIN VS. COL
GOOD STARTS:
3. JUSTIN VERLANDER @ TEX
4. A.J. BURNETT VS. SD
5. FRANKLIN MORALES @ CLE


ROLL THE DICE:
6. WADE MILEY VS. WAS
7. DAN HAREN VS. SEA
8. MARCO ESTRADA @ HOU
9. JOHAN SANTANA VS. ATL
10. CLIFF LEE VS. PHI
11. KRIS MEDLEN @ NYM
12. FRANCISCO LIRIANO VS. OAK
13. EDWIN JACKSON @ ARI
14. IVAN NOVA @ TOR
15. CHRIS TILLMAN VS. KC
16. BRONSON ARROYO @ CHC
RISKY:
17. DREW POMERANZ @ SF
18. DEREK HOLLAND VS. DET
19. JAKE WESTBROOK@ PHI
20. HISASHI IWAKUMA @ LAA
21. JOE BLANTON @ MIA
22. TRAVIS WOOD VS. CIN
23. AARON LAFFEY VS. NYY
24. JASON MARQUIS @ PIT
25. TRAVIS BLACKLEY @ CWS
26. RICKY NOLASCO VS. LAD
27. LUIS MENDOZA @ BAL
28. ZACH MCALLISTER VS. BOS
29. NICK BLACKBURN VS. TB
30. DALLAS KEUCHEL VS. MIL
Muntradamus is a Fantasy Sports Expert who specializes in Fantasy Football/Baseball/Basketball. He is currently in his first season as a Pro on FantasyPros where he is the only expert to have Adam Dunn, Mike Aviles, and Wilin Rosario in his top 20 at each position. Muntradamus not only leads many to championships with his great advice, and outlooks into the future. He is also consistently on the top of leaderboards in DraftStreet. In August he will compete in a $200K MLB tournament that he qualified for, he has won two spots.