Fantasy Baseball: Daily Pitcher Rankings (August 10th)
Fantasy Baseball: Daily Pitcher Rankings (August 10th)
By Muntradamus
You Can see my Pitcher Rankings From yesterday by clicking here.
BEAST DOME NATION.
After winning my second seat in the Q, I hope you enjoy my content even more below.
CHRIS JOHNSON/DEREK NORRIS/STARLING MARTE: Hit a total of five HRs this week, all were recommended in this weeks waiver wire article.
Alex Avila: Is quietly hitting safely nearly every game.  He is a solid catcher who could be regaining form.
Michael Morse: Is the hottest hitter in the game, 2 HRs and he pushes his hitting streak to 18 games.
R.A. Dickey: Is showing the knuckle ball still has life with a CG 1 ER performance.
Evan Longoria: Is already back to being an ELITE option.
Ask me any fantasy questions about players.
PLAYER RANKINGS (August 10th):
*Top 5 at each Position.
7 Players hit HRs in these rankings on Wednesday.
C:
MATT WIETERS
BUSTER POSEY
ALEX AVILA
JARROD SALTALAMACCHIA
JOHN JASO
1B/DH:
ADRIAN GONZALEZ
MARK TEIXEIRA
RYAN HOWARD
EDWIN ENCARNACION
ANTHONY RIZZO
2B:
ROBINSON CANO
DAN UGGLA
IAN KINSLER
MARCO SCUTARO
RICKIE WEEKS
3B:
ARAMIS RAMIREZ
MIGUEL CABRERA
KYLE SEAGER
ADRIAN BELTRE
WILL MIDDLEBROOKS
SS:
STARLIN CASTRO
YUNEL ESCOBAR
MIKE AVILES
DEREK JETER
JIMMY ROLLINS
OF:
ALEX GORDON
MICHAEL MORSE
CODY ROSS
JOSH HAMILTON
NICK MARKAKIS
HR PICKS OF THE DAY (August 10th):
Went 4/22 in predicting HRs on Wednesday.  Moves me right back into pace.
*NEW NOTABLE MUNTRADAMUS HR SHOTS CALLED OF THE WEEK.

OMAR INFANTE #10
JOSE REYES #8
SALVADOR PEREZ #6
RYAN HOWARD #6
Week 13= 22.8%
Week 14= 20.2%

Week 15= N/A.

Week 16= 20.2%
Week 17 = 23.9%
Week 18 =18/67 = 26.8%
Week 19 = 17/85= 20%

SELECTIONS:


ANTHONY RIZZO
CODY ROSS
WILL MIDDLEBROOKS
BUSTER POSEY
ALEX GORDON
MARK TEIXEIRA
ANDRUW JONES
GARRETT JONES
COLBY RASMUS
EDWIN ENCARNACION
CHASE HEADLEY
MATT WIETERS
KYLE SEAGER
JOSH HAMILTON
NELSON CRUZ
JASON HEYWARD
ADAM DUNN
KENDRYS MORALES
GIANCARLO STANTON
RYAN HOWARD
JOSH REDDICK *Updated 1:56 pm.

DAILY DRAFTSTREET TEAM (August 10th):
*To say thank you for my picks all week.  Please use the BEAST DOME logo below as your DRAFTSTREET ICON.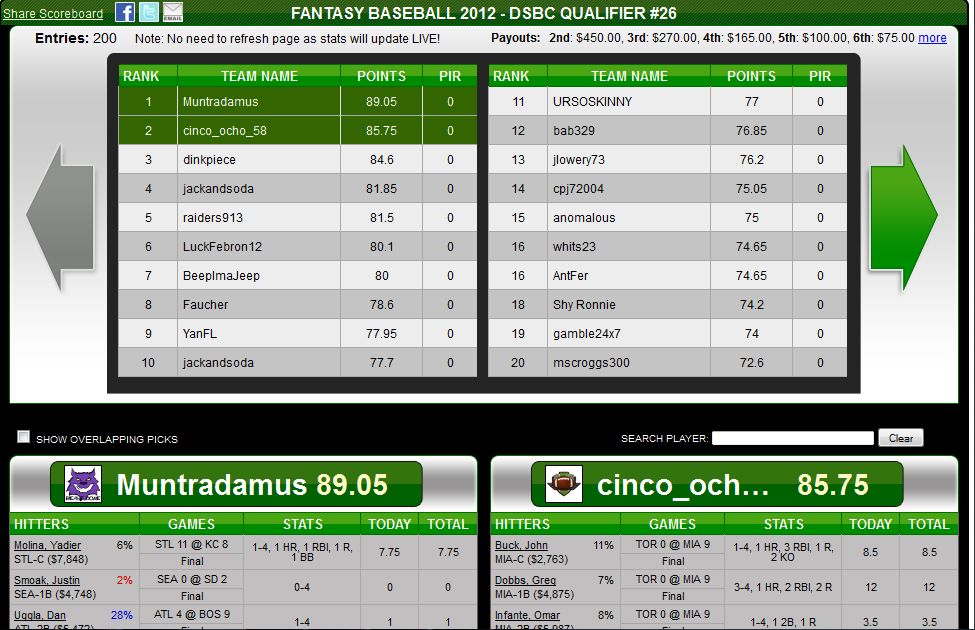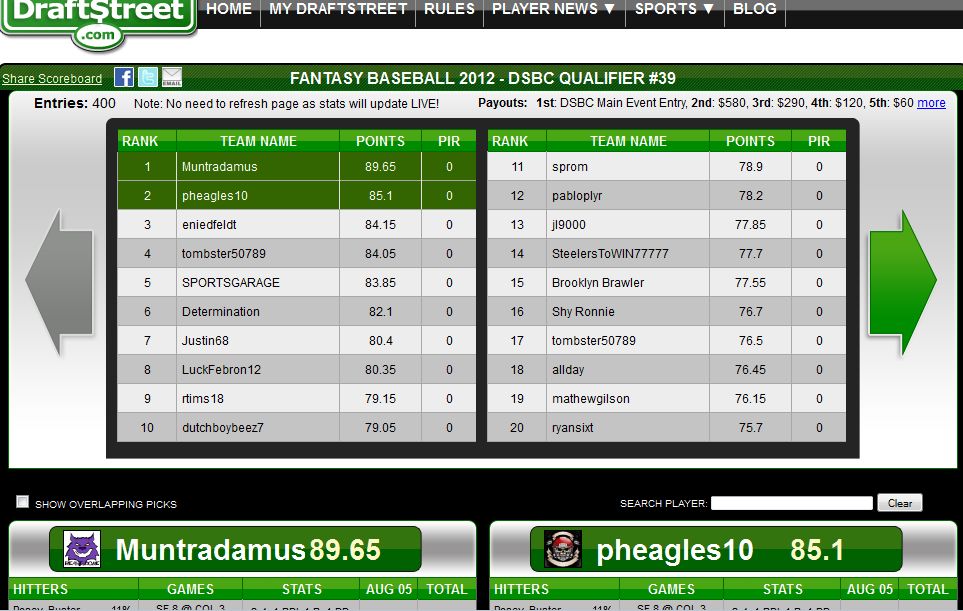 I will give my Pick'em Teams for now the next two weeks.  Since I have two seats in the upcoming DSBC, I will not be showing my hand of strategy.
Tier 1: Tim Lincecum
Tier 2: Jeremy Hellickson
Tier 3: Cole De Vries
Tier 4: Edwin Encarnacion
Tier 5: Melky Cabrera
Tier 6: Hanley Ramirez
Tier 7: Mark Teixeira
Tier 8: Colby Rasmus
*The More BEAST DOME icons I see all-around DRAFTSTREET, the more info I will publish publicly.  If you want a team e-mailed use the BEAST DOME icon, and e-mail [email protected] saying you've uploaded the icon and want a team.

BET OF THE DAY (August 9th:)
Week 12: 6-1
Week 13: 5-2
Week 14: 3-4
Week 15: 1-2
Week 16: 4-3
Week 17: 5-2

Week 18: 5-2
Week 19 : 3-1
SF MONEY LINE
Tim Time on the mound for Lincecum who usually dominates the Rockies time after time.  The game is in SF, so Lincecum should be able to limit damage if he gives up any.  On the mound for the Rockies is Tyler Chatwood, if you have been following the Giants.  They are VERY HOT.
Daily Pitcher Rankings (August 10th):
ELITE STARTS:
GOOD STARTS:
1. CLAYTON KERSHAW @ MIA
2. TIM LINCECUM VS. COL
3. FELIX HERNANDEZ @ LAA
4. STEPHEN STRASBURG @ ARI
5. JEREMY HELLICKSON @ MIN
6. ROY HALLADAY VS. STL
7. PAUL MAHOLM @ NYM
8. KYLE LOHSE @ PHI
9. GAVIN FLOYD VS. OAK
10. COLE DE VRIES VS. TB
11. MARK BUEHRLE VS. LAD


ROLL THE DICE:
12. SCOTT FELDMAN VS. DET
13. BUD NORRIS VS. MIL
14. TREVOR CAHILL VS. WAS
15. CLAY BUCHHOLZ @ CLE
16. BRANDON MCCARTHY @ CWS
17. MATT HARVEY VS. ATL
18. HOMER BAILEY @ CHC
19. MAX SCHERZER @ TEX
20. JUSTIN GERMANO VS. CIN
21. ERVIN SANTANA VS. SEA
22. MARK ROGERS @ HOU
23. LUKE HOCHEVAR @ BAL
24. JAMES MCDONALD VS. SD
25. FREDDY GARCIA @ TOR
RISKY:
26. EDINSON VOLQUEZ @ PIT
27. RICKY ROMERO VS. NYY
28. MIGUEL GONZALEZ VS. KC
29. TYLER CHATWOOD @ SF
30. CHRIS SEDDON VS. BOS
Muntradamus is a Fantasy Sports Expert who specializes in Fantasy Football/Baseball/Basketball. He is currently in his first season as a Pro on FantasyPros where he is the only expert to have Adam Dunn, Mike Aviles, and Wilin Rosario in his top 20 at each position. Muntradamus not only leads many to championships with his great advice, and outlooks into the future. He is also consistently on the top of leaderboards in DraftStreet. In August he will compete in a $200K MLB tournament that he qualified for, he has won two spots.