DAILY PITCHER RANKINGS: Getting Closer and Closer (SAT)
DAILY PITCHER RANKINGS:
Getting Closer and Closer (SAT)
By Muntradamus
BEAST DOME NATION.
I was a Garrett Jones 2 Run HR away in his last at bat from winning a spot in the Fan Duel Championship.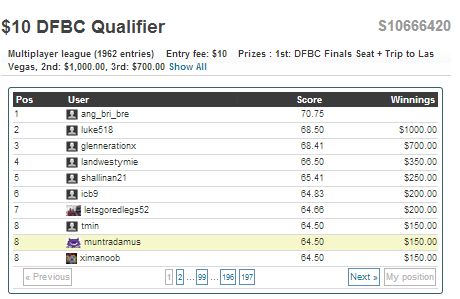 It did not take long for me to make a Splash in the Daily Fantasy Baseball Game nearly claiming a seat in the Star Street Championship.
I am on a mission to win them all.  While everyone else is sleeping, I'm putting together championship caliber teams.
The V.I.P. Experience of Daily Pitcher Rankings and everything you need for Fantasy Baseball continues.  Enjoy the content while it is here, e-mail [email protected] if you are interested.
V.I.P. #3 = $50 for the Season.
V.I.P. 3b = $20 a Month.
Check out V.I.P. #2
You will get access to Pitcher Rankings/Bet Of The Day with that Price.

HR PICKS OF THE DAY
*Due to My accuracy in 2012 and Day 1 of 2013. V.I.P #3 (Season) E-mail only.*
BET OF THE DAY
*Officially Starts Monday*
Money Line Bet: 72-28 in 2012
MOST IMPORTANT FANTASY BASEBALL NEWS FRI (4/5)
– Dexter Fowler is on one this season as he hit his 3rd HR of the week.  A 20/20 season will come easy, 25/25 is what owners can shoot for.
– Prince Fielder got it going with an early multi-HR game, first two of the season.
– Angels bullpen crumbles, before Ernesto gets a chance for the save.  This could lead to Ernesto going back to the 8th INN role when Madson returns.
– Chris Davis is a machine, and that's why I ranked him higher than any expert at the 1B position.
– Royals offense explodes.  Everyone got a hit including pinch hitter Miguel Tejada.
– Barry Zito continues his amazing spring with a 1-0 win over Jake Westbrook and the Cardinals.
– Josh Johnson home debut ruined by Red Sox offense.
– Todd Frazier/Zack Cozart both hit multi HRs as Homer Bailey throws a shutout.
– Matt Moore 6 INN/8 K/0 ER debut, he's ready to go this season.
– Giancarlo Stanton projected HR leader still with 0.
– Mike Minor Ks 7 Cubs in 7 INN for a nice debut W.
– Kyle Lohse doesn't miss a beat with 6 K in 5 INN with 1 ER.
– Dan Straily Ks 11 as the A's 8 runs is more than enough.
– Tom Wilhelmsen pitched a horrible 10th with 3 BBs, but still got the Save.
– Zack Greinke throws 6.2 shutout INN with 6 Ks.  Gets the victory.
DAILY PITCHER RANKINGS (4/6)
BEAST
CLAYTON KERSHAW VS. PIT
ELITE
FELIX HERNANDEZ @ CWS
GOOD
JULIO TEHERAN VS. CHC
CHRIS TILLMAN VS. MIN
JONATHAN NIESE VS. MIA
A.J. BURNETT @ LAD
AVERAGE
RYAN VOGELSONG VS. STL
RICKY NOLASCO @ NYM
MAX SCHERZER VS. NYY
MIKE FIERS VS. ARI
ALEX COBB VS. CLE
MATT HARRISON VS. LAA
BUD NORRIS VS. OAK
TOMMY HANSON @ TEX
J.A. HAPP VS. BOS
PHIL HUGHES @ DET
BARTOLO COLON @ HOU
SHELBY MILLER @ SF
MIKE LEAKE VS. WAS
PATRICK CORBIN @ MIL
TREVOR BAUER @ TB
ROSS DETWILER @ CIN
VANCE WORLEY @ BAL
CARLOS VILLANUEVA @ ATL
JOHN LACKEY @ TOR
LUIS MENDOZA @ PHI
JOHN GARLAND VS. SD
JOHN LANNAN VS. KC
RISKY
DYLAN AXELROD VS. SEA
TYSON ROSS @ COL 
Muntradamus is a Fantasy Sports Expert who specializes in Fantasy Football/Baseball/Basketball. He is currently in his second season as a Pro on FantasyPros coming off of an impressive Rookie Campaign where he landed the #10 Overall In-Season Fantasy Football Rankings Expert.  Which also included #1 WR of all Expert Sites.  He is also one of two people to qualify for allDRAFTSTREET CHAMPIONSHIPS in 2012. Most Historically, Muntradamus was the #1 Fantasy Football Expert of IDP & Overall Rankings in One Week, first and only time in Fantasy Sports History.